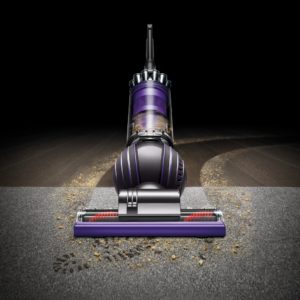 When it comes to brute cleaning strength, most of our team agrees that Dyson's upright vacuum cleaners are still at the top of the heap. Yes, there's more competition each year from Shark (e.g., the APEX DuoClean AX951), but if you're looking for suction in an upright, domestic (i.e., non-commercial) vacuum cleaner, we typically recommend you save your dollars (and time) and buy a Dyson the first time, instead of finding out the hard way that whatever else you bought wasn't the best. If you want a high-end canister, of course, you'll want a Miele. But in our experience, most people strongly interested in uprights aren't interested in canisters, or vice-versa, so if you're an upright fan, we'd recommend sticking with Dyson.
With that in mind, their engineers keep inventing new vacuums with slightly stronger cleaning abilities, and we're happy to compare them endlessly. Today we take a look at two of their newest releases: the Dyson Ball Animal 2, which we'll review below, and the Dyson Ball Multi Floor 2, which we fully review elsewhere. Which is the better value? We made it our goal to figure that out. Our ten second summary would be to buy the Ball Animal 2 for maximum power and accessories and the Ball Multi Floor 2 for a more minimal and cheaper setup. Our full review is below, and you can buy the Ball Animal 2 here. Canadians can buy the Ball Animal 2 here.
Where does the Dyson Ball Animal 2 fit into the Dyson ball ecosystem?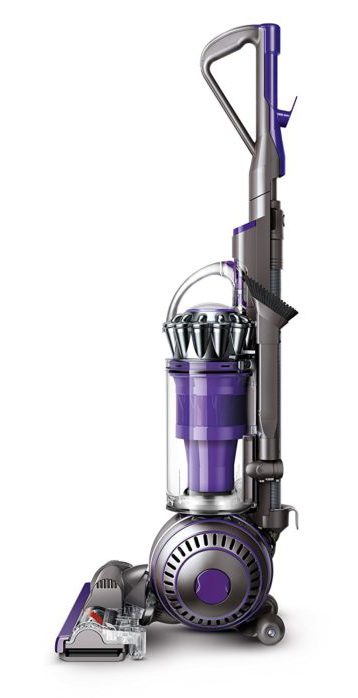 The Ball Animal 2 is one of an ever-increasing number of Dyson full-sized "ball" uprights. The Ball Animal 2 is the flagship in the Ball line, but you can also buy the Ball Multi Floor 2, which is a slightly stripped version of the Animal 2, the Ball Multi Floor Upright, which was succeeded by the Multi Floor 2, and the Ball Allergy, which includes slightly different accessories for families that suffer from allergies.
There's also the Cinetic Big Ball line, featuring the Cinetic Big Ball Animal, Cinetic Big Ball Animal+Allergy, and Cinetic Big Ball Multi Floor; all three are designed to run without the need to replace filters. There are compact uprights–the Small Ball Multi Floor and the DC50 Animal Compact–and there are previous generation models that include the DC65 Animal, and DC65 Animal Complete, and other models we can't think of right now. If this all seems like too much to take in, don't worry; the bottom line is that the Ball Animal 2 is the most powerful of all existing Dyson uprights when compared by suction.
Pros, cons, and key features of the Dyson Ball Animal 2 Upright Vacuum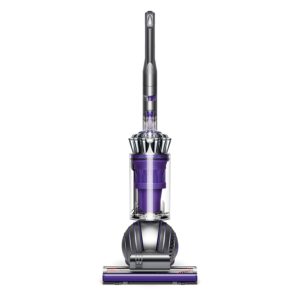 Key features of the Ball Animal 2 include its class-leading suction; at 270 airwatts, it has more than any other Dyson vacuum, whether upright, canister, or cordless. In fact, according to Dyson, it has more suction than any other upright on the market. We've yet to verify this claim by testing every other upright on the market, but we have no trouble taking their word for it from what we've seen. It has an impressive amount of suction.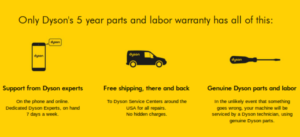 The Ball Animal 2 is designed for bare floor, low-, and medium-(though not high-pile) carpets and features a self-adjusting cleaning head that matches itself to each surface. Accessories include an instant-release wand and flexible hose to allow you to reach ceilings and beneath furniture, a combination accessory tool, a stair tool, a motorized brush, and a tangle-free turbine tool for pet hair removal from carpets and upholstery.
Like every Dyson upright, it includes a 5 year parts and labor warranty that features goodies like 24 hour, 7 day a week phone and online customer support and free shipping to and from Dyson service centers. The vacuum has a .5 gallon dust bin capacity, a 15.4 inch wide cleaning path, and weighs 17.4 pounds on our scale. The operating radius is 50 feet, which includes the hose, wand, and 35 foot power cord. Finally, the Ball Animal 2 includes whole-machine HEPA filtration.
How well does the Ball Animal 2 clean carpets, floors, and homes full of kids?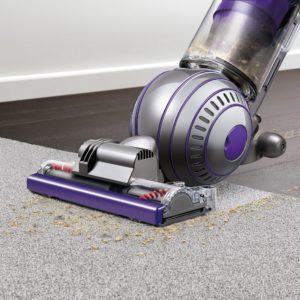 With the Ball Animal 2, Dyson continues to wave the flag of the "strongest suction" claim for uprights, and as noted above, we found it hard to argue with their assessment. It was noticeably stronger than the original Animal, and took significantly fewer passes to clean out fur from several kennels at the local animal boarding inn. We also found it did a surprisingly good job with damp-to-wet stains, even though this fell out of the recommended uses for it (it's not a wet vac, after all). We pushed it through cat hair, dog hair, muddy deposits from the kids' sneakers and sport equipment, and a range of leftovers they'd dropped after lunch, and the Animal 2 didn't bat an eye.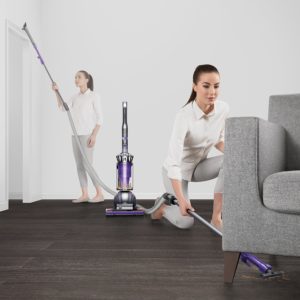 We found the turbine tool helpful for sucking out fur embedded in sofas and we were also fans of how long the cleaning wand and hose were, as they made it child's play to make cobwebs in the corners and popcorn below bunk beds disappear. In terms of durability, we had no concerns as the machine had a solid heft to it with well-fitting components, but we were comforted to see the continuation of Dyson's standard 5-year parts and labor warranty for all of their upright vacuums.
How loud is the Animal 2 and how easy is it to push?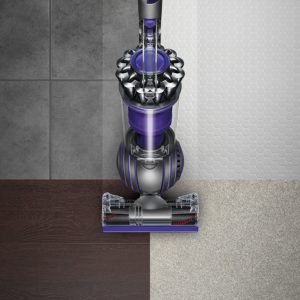 Sonically and behaviorally, we were very impressed with the Ball Animal 2's manners. It was a no-drama, no fuss cleaner. No, it's not as silent as an Oreck. However, it also cleans with far more depth than one, and when compared to how well it cleans, it's almost a silent machine.
We were happy to note a lack of high-frequency harmonics; it didn't have a "squeal." We did notice it was a puller; it's not a self-propelled cleaner, but it definitely wanted to go forward much more than backward; this was a vacuum that wanted to work. We also noted a lack of smell while operating; for those of you who never notice vacuum smells, this won't be a pro, but for those of you with sharp senses of smell who often sneeze while vacuuming, this is the vacuum for you. It doesn't add odors while it cleans out pathogens.
How does the Ball Animal 2 deal with allergens?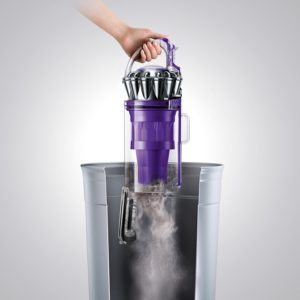 We were also impressed to see that the Ball Animal 2 came with an asthma and allergy-friendly certification by the Asthma and Allergy Foundation of America. It's worth noting that at the time of this review in 2017, only 22 upright vacuums carried the A&AF certification, and 16 of the 22  are Dysons. That's as much of an endorsement as you're going to find for a brand these days.
Beyond this, the Animal 2 also includes whole-machine HEPA filtration. It's one of the best vacuum cleaners you can use in your home if you or anyone in your home has asthma, allergen, or other respiratory issues. It's important to remember that your carpet is the largest air filter in your home, and the better a job a vacuum does of cleaning it, the more allergens you'll end up removing from your home.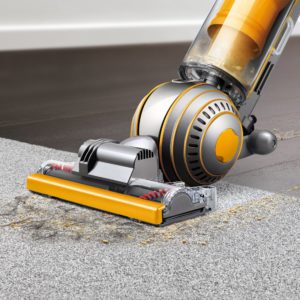 The Ball Multi Floor 2 brought Dyson's top level suction to every task; in that respect, it was almost equal to the Ball Animal 2. We felt that when it came to particularly messy areas (think an entire soccer team's worth of dirty cleats), the Animal 2 didn't need quite as many passes to get out all of the visible dirt from the carpets.
Like the Animal 2, we also found that the Multi Floor 2 exceeded the cleaning power of its predecessor; in this case, the MF2 picked up noticeably more dirt (specifically, one of our preschoolers brought in a small bucket's worth of sand and then proceeded to dump it into the carpet "to help with the vacuum!") than the MF1. As with the Animal 2, steering was top notch, it was almost too easy to reach everything between the ceiling and the floor thanks to the wand and hose system, and the suction power was enough to handle just about any mess we threw at it.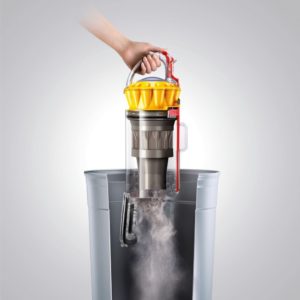 Like the Animal 2, it also featured a nifty hygienic bin emptying feature that allowed us to push a button and watch the dust go flying into the garbage. It's important to keep in mind that if you really need to make the most of the included HEPA system, you'll do this either outdoors or at the very least into a bag wrapped tightly around the canister to prevent all the dust, spores, allergens, and bacteria you just vacuumed from flying right back into your home and lungs. The 5-year warranty was of course present, as was the asthma and allergy-friendly certification.
What are the main differences between the Ball Animal 2 and Ball Multi Floor 2?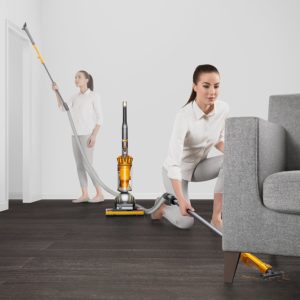 To be honest, aside from the cleaning differences at the extreme levels, it was actually quite hard to distinguish the two machines. The biggest differences that struck us were the fact that the Animal 2 weighed slightly more at just over 17 pounds vs just under 16 pounds in the Multi Floor 2; however, this kind of weight difference isn't one you're going to notice in day-to-day use unless you have a habit of vacuuming your scales. The color difference was more significant (we had some die-hard fans of the traditional Dyson purple, while others felt the iron-yellow combination was a breath of fresh air), but it also isn't a factor that would make most people choose one over the other, per the polling we did among our fellow professional cleaners and neighbors alike. The Ball Animal 2 also includes one more accessory than the Multi Floor 2–the motorized tool.
If suction is a priority, choose the Ball Animal 2 over any other Dyson
The most significant factors were the additional cleaning power at the extreme end for the Animal 2 (which was backed up by Dyson's air watt rating of 270 for the Animal 2 and 245 for the Multi Floor 2) and the attachment present in the Animal 2 that isn't available in the Multi Floor 2. We also noticed that the waste bin was slightly larger in the Animal 2. To reference how much suction power we're talking about with 270 or 245 airwatts, it's worth noting that the strongest Dyson cordless vacuum, the V8 Absolute, comes with 115 airwatts of suction, while their strongest handheld, the V7 Car+Boat, features 100 airwatts of suction. It's a huge difference, and you'll notice it every time you pull dirt, grime, dust, and pet hair out of a range of carpet styles and piles.
Which is the Better Vacuum, the Animal 2 or the Multi Floor 2?
To be frank, both are among the best vacuum cleaners on the market today when it comes to suction power. We'd recommend the Animal 2 if you want all the power, the additional accessories, the larger bin, or the purple color, go with the Animal 2. If you don't need as much power, already have or don't want the additional accessory, don't mind the smaller bin, or love yellow, go with the Multi Floor 2. Either will do a superb job for cleaning, and despite their prices, both deliver a stunning amount of value.

You can buy the Dyson Ball Animal 2 here on Amazon or save some money and skip out on additional features by buying the Dyson Ball Multi Floor 2 here.

Canadians can buy the Dyson Ball Animal 2 here on Amazon  or choose a more minimal setup by buying the Ball Multi Floor 2 here.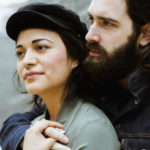 If you find our research on PMC helpful, you can follow our efforts to keep maniacally reviewing home cleaning tools by shopping through our links above. We promise to keep fighting the good fight against every horror children, animals, and grown, yet messy humans can inflict upon a clean home.