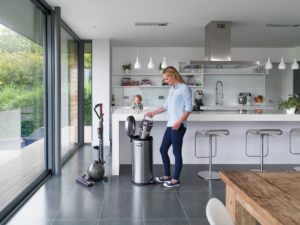 Let's face it: life is busy, and life is dirty. Whether you're juggling work, a spouse, kids, pets, bills, or all of the above, sometimes it's hard to get everything done and everything clean. Maybe you considered a cordless or robotic vacuum to lighten the load, only to find that it simply didn't clean with enough oomph to get things the way you want. Or maybe you got tired of the dog chasing the robot and the kids knocking it over. We don't know exactly what your life is like, but if you're like most people, you'd like a clean home, and you can't afford a live-in housekeeper. So what are your options?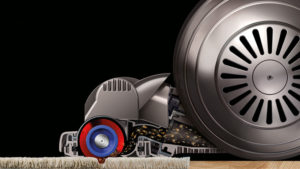 Well, if you're a fan of Dyson, you might have considered their Cinetic line, with options like the Big Ball Animal+Allergy and Big Ball Animal. But if you'd like a more minimal (and affordable) setup than both, you might want to consider the vacuum we'll review today: the Dyson Cinetic Big Ball Multi Floor. We'll compare it to the Animal+Allergy today to see which offers more value for your money. Our ten second summary is to choose the Animal+Allergy if you want every last accessory Dyson sells, and to stick with the Multi Floor if you'd like more money in your pocket. The vacuums themselves are identical. You can read our full review below and you can buy the Cinetic Big Ball Multi Floor here.
Pros, Cons, and Key Features of the Dyson Cinetic Big Ball Multi Floor Upright Vacuum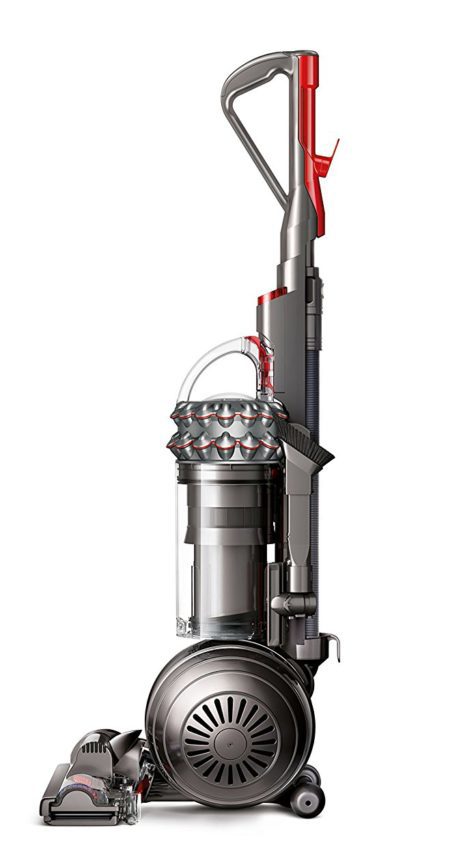 The Cinetic Big Ball Multi Floor is one of an endless series of Dyson full-sized "ball" uprights on the market. We're not entirely sure why there are so many besides from a desire to take over the world one vacuum at a time, but we're not in charge at Dyson headquarters, so we just stick to reviewing them as they're released. And a lot have been released.
In the Cinetic  series alone, you can choose between the Big Ball Multi Floor, which we're reviewing today, the Big Ball Animal, and the Big Ball Animal Plus Allergy. In the regular Ball series, you'll find the flagship model, the Ball Animal 2, the Ball Multi Floor 2, the Ball Multi Floor Upright, and the Ball Allergy. There are also the compact uprights like the Small Ball Multi Floor and DC50 Ball Compact Allergy to keep track of. And that doesn't even touch on previous generation models like the DC65 Animal, DC50 Animal Compact, and DC65 Animal Complete. Frankly, it's too much. Let's just get back to the Big Ball Multi Floor.
As with the other Cinetics, the Big Ball Multi Floor's star feature is its filter-free whole machine HEPA filter. Per Dyson, it's designed efficiently enough to do away with replaceable HEPA or motor filters, which saves you money and prevents the vacuum from ever losing suction. As we'e noted in other Cinetic reviews, this is generally correct, with a few exceptions we'll mention below.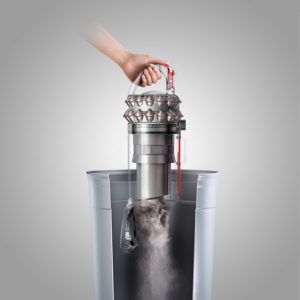 Besides the filter-free technology, you also get 180 airwatts of suction with the Cinetic Big Ball Multi Floor. This isn't nearly as much as the 270 watts of a Ball Animal 2, but it's still enough to clean bare floors and low- to medium-pile carpets with ease. The cleaning head self-adjusts and the flex hose and extension wand help contribute to an impressively long 50 foot cleaning radius. The power cord is 35 feet long, the hygienic dust bin holds nearly .6 gallons of litter, and you get two accessories with the Multi Floor: a combination tool and a stair tool. The Multi Floor weighs 19.2 pounds on our scale, is 43.4 inches tall, and has a 13.4 inch wide cleaning path at the brush head.
Unpacking the Multi Floor, you'll find the vacuum, the cleaning tools we mentioned above, a user's guide, and Dyson's standard–and wonderfully thorough–5 year parts and labor warranty.
What's the difference between the  Big Ball Multi Floor and Animal+Allergy?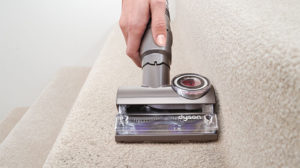 As we mentioned above, all three Cinetic vacuums are identical; the only differences between the packages are their names, their prices, and the accessories you'll find when unboxing them. Aside from the combination and stair tools that ship with the Big ball Multi Floor, the Animal+Allergy throws in a tangle-free turbine tool, a mattress tool, a multi-angle brush, a soft brush, and a reach tool. Of these, the three most useful are easily the turbine tool, the multi-angle brush, and the mattress tool.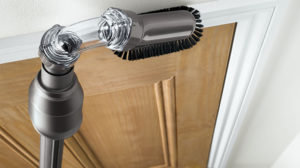 When using the Animal+Allergy, we enjoyed using the turbine tool to pull out fur and dirt embedded in stairs and sofas. We used the multi-angle brush, in contrast, to suck up dirt in shelves, sills, and frames that we wouldn't be able to reach without stepladders. It was particularly useful when cleaning ceiling fan blades. And the mattress tool, as you can imagine, came in handy when we went to war against dust mites, dirt, and cookie crumbs in our beds and mattresses. It's not that we couldn't clean without these tools; they just made it more convenient to do so, which meant we spent more time cleaning (and enjoying ourselves) as a result.
How well does the Big Ball Multi Floor remove allergens from upholstery, bare floors, and carpeting?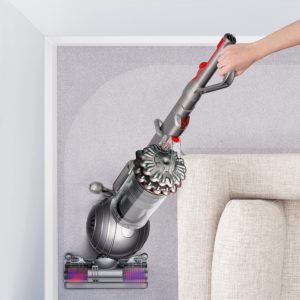 Having reviewed all three Cinetic vacuums, to keep from repeating ourselves too much in case you've read our other reviews, we'll just say that the Multi Floor is as effective as we'd expect a high-end upright vacuum to be. It'll pull dirt, dust, pet hair, pollen, and a range of allergens from hardwood, tile, laminate, and vinyl floors with ease. It'll also clean the majority of residential carpet styles (i.e., berbers, saxonies, and cut and loops) easily, and it'll push through low- and medium-pile height carpets.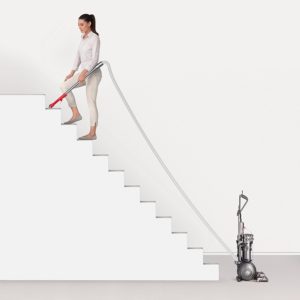 To put it simply, the Cinetic is a Dyson, and while it's not the most powerful (e.g., a Ball Animal 2), it's powerful enough for most jobs. Whether you own Synthetic fibers like nylon, polyester, olefin, and triexta or natural fibers like wool, you'll likely be happy with how it performs. And you'll get similar performance when cleaning a range of surfaces from stairs to sofas to car seats. The main areas where it'll struggle are those you'd expect from an upright: frieze carpets, soft carpets, and high-pile carpets. To clean those, you'll need a canister like a Miele Complete C2 Electro+. But the Cinetic will handle just about everything else.
Overall, the main issue to be aware of with the Multi Floor is that shared by all members of the Cinetic line: because it doesn't use motor filters, it is susceptible to clogging in some cases. This doesn't happen with the vast majority of Cinetics, but a few will develop clogs in their internal dust bin screens with time, which means you'll need to clean the mesh screen by hand to keep suction from decreasing. While you'll probably never have this issue, we wanted you to be aware of it, as it's unique to the filter-free members of the "ball" family.
Why buy the Cinetic Big Ball Multi Floor?
We recommend buying the Cinetic Big Ball Multi Floor if you want a filter-free Dyson with HEPA filtration but don't want to pay for the additional accessories found in the Big Ball Animal+Allergy. If you do want tools like the turbine and mattress tool or the multi-angle brush, you're better off buying the Animal+Allergy which includes them all from the start instead of buying them separately piece by piece. In either case, you're buying a powerful vacuum with one of the best warranties in the industry. It's a pity we can't buy more hours in the day to use it.

You can buy the Dyson Cinetic Big Ball Animal+Allergy here on Amazon or save some money and skip out on accessory overload by buying the Dyson Cinetic Big Ball Multi Floor here.

Canadians can buy the Dyson Cinetic Big Ball Animal+Allergy here on Amazon  or choose a more minimal setup by buying the Cinetic Big Ball Animal here, which is still cheaper than the Animal+Allergy. Unfortunately, the Multi Floor is no longer available.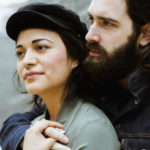 If you find our research on PMC helpful, you can follow our efforts to keep maniacally reviewing home cleaning tools by shopping through our links above. We promise to keep fighting the good fight against every horror children, animals, and grown, yet messy humans can inflict upon a clean home.