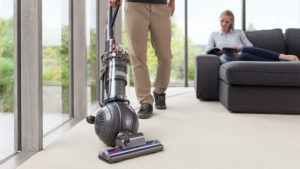 There's no doubt that the home cleaning market is moving ever-more toward cordless and robotic vacuums; we've seen the sales figures and know they'll only continue to grow. But for now, the majority of homeowners still value power more than portability, and that's where full-sized canisters and uprights come in. If you want unparalleled cleaning power in a canister, you need a Miele. But if you want comprehensive cleaning in an upright, you're going to want a Dyson.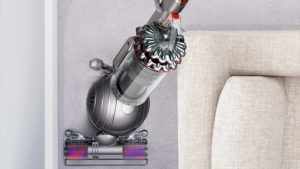 We've been reviewing lots of their full-sized "ball" uprights lately, including the current flagship, the Ball Animal 2. But today we're going to focus on the Dyson Cinetic Big Ball Animal Plus Allergy and compare it to the Cinetic Big Ball Animal to see which is worth the money. To summarize our thoughts in ten seconds, the vacuums are exactly the same, but you get four additional cleaning tools with the Animal+Allergy for only a bit more money. Our full review is below, and you can buy the Cinetic Big Ball Animal+Allergy here.
Pros, Cons, and Key Features of the Dyson Cinetic Big Ball Animal Plus Allergy Upright Vacuum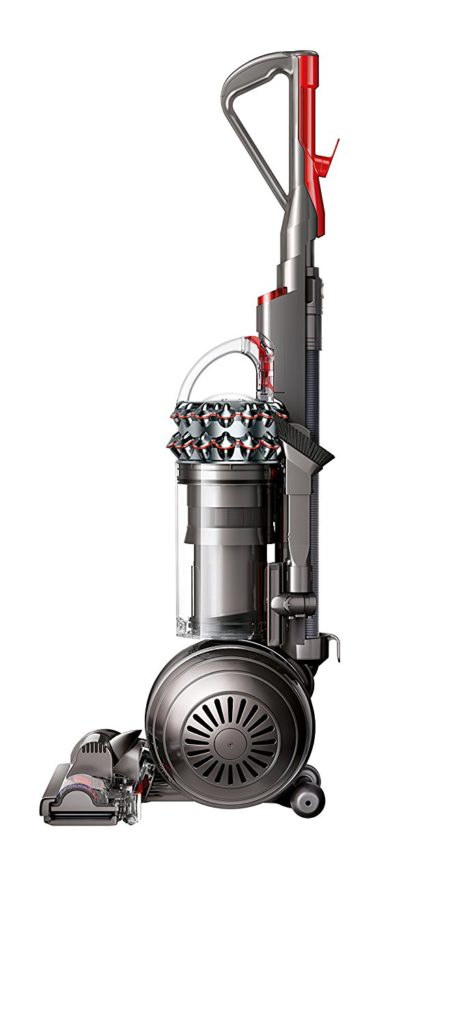 The Cinetic Big Ball Animal+Allergy is perhaps the longest-named Dyson in history. It's also one of an ever-growing number of full-sized "ball" uprights released by the company.
The most powerful ball is currently the aforementioned Animal 2, but you can also buy the Multi Floor 2, Multi Floor Upright, Allergy, and Small Ball, which, as its name suggests, is smaller. In the Cinetic line, which involves bigger balls (seriously), you can choose between the Cinetic Big Ball Animal and Cinetic Ball Animal Plus Allergy, which we're reviewing today. Previous generations also include the DC65 Animal and DC65 Animal Complete. Frankly, there are too many balls to keep track of. They all clean in more or less the same way, but vary mainly in the accessories they include.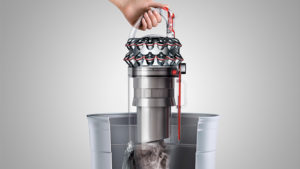 The most significant feature differentiating the Cinetic Big Ball Animal+Allergy from other "ball" Dysons is the fact that it's HEPA-certified but doesn't require a changeable HEPA filter or pre- or post-motor filters due to an internal filtration system. Per Dyson, this cuts maintenance costs considerably and results in a machine that won't lose suction. We agree with their overall assessment with some caveats: namely, some Big Balls require frequent cleaning to keep their suction strong.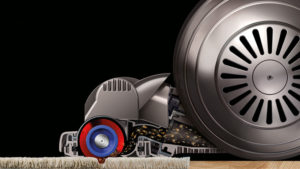 Additional key features include 180 airwatts of suction (an impressive amount, but one still dwarfed by the 270 watts in the Ball Animal 2), bare floor, low-pile, and medium-pile carpet cleaning capacity, a self-adjusting cleaning head, and a dazzling range of accessories we'll discuss in a moment. The one-touch release dust bin holds nearly .6 gallons of dirt and the vacuum has a 50 foot operating radius with a 35 foot power cord. It is 43.3 inches tall, weighs 19.2 pounds on our scale, and has a 13.4 inch wide cleaning path.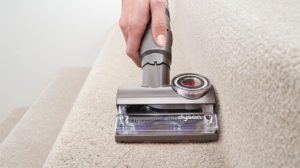 Aside from the Big Ball, inside the box, you'll find a cornucopia of cleaning tools–a tangle-free turbine tool, a carbon fiber soft dusting brush, a self-explanatory reach under tool, a multi-angle brush, a mattress tool, a combination tool, and a stair tool. The vacuum itself, of course, also includes a smooth-release wand and flexible long-reach hose. You also get a tool bag to store all of these accessories as they won't fit in the vacuum, an operating manual for quick and easy setup ,and the paperwork documenting Dyson's 5 year parts and labor warranty, which you hope to never need but will appreciate having if something goes wrong.
What's the difference between the  Big Ball Animal+Allergy and Animal?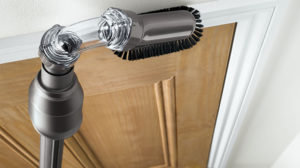 The only differences between the Cinetic Big Ball Animal Plus Allergy and Cinetic Big Ball Animal are in the accessories they ship with. As noted above, you get the turbine tool, soft brush, reach tool, multi angle brush, mattress tool, combination tool, and stair tool with the Animal+Allergy, in addition to the much-needed tote bag. The Animal non-Allergy removes the multi angle brush, soft brush, reach tool, and mattress tool, leaving you with the tangle-free turbine tool, combination tool, and stair tool. Does this matter? It depends on how you clean.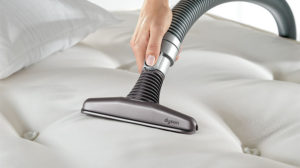 For us, the most useful accessories by far were the tangle-free turbine tool, multi-angle brush, and mattress tool. The turbine tool was our go-to tool for pulling cat hair and Golden retriever fur off sofas and beds without needing to stop to clean it out after each use, as is frequently the case with small upholstery tools. The multi-angle brush was handy for cleaning shelves and high, out of the way panels and cases that we'd otherwise ignore since they'd be too hard to reach. The mattress tool was, as you'd expect, highly useful for pulling dirt, dust, and other icky things out of bedding and mattresses.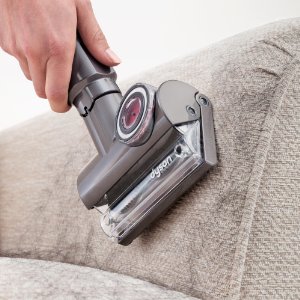 The other tools, while interesting, didn't see nearly as much use; it was often faster to just use the vacuum itself with its cleaning wand or one of the three accessories we just mentioned. The remaining tools just lived in the tote bag most of the time. Unfortunately, the Animal non-Allergy doesn't include the mattress tool or multi-angle brush, which does limit it in comparison to the Animal+Allergy. That said, if we could only keep one tool, it would be the turbine tool, and that comes with both.
How effective is the Big Ball Animal+Allergy in removing dirt and pet hair from carpets, bare floors, and upholstery?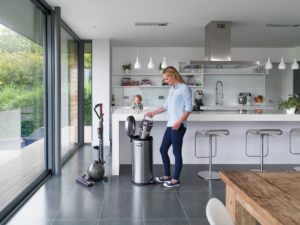 We'll be brief here, because much of what we'd say would apply to every other ball Dyson. The Cinetic Big Ball Animal+Allergy cleans well–very well. It can't handle high-pile carpeting–save that for a Miele Complete C2 Electro+ –but it can handle hardwood and other bare floors as well as any residential carpet style that's low- to medium-pile.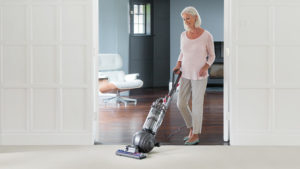 You'll be fine with berbers, saxonies, and cut and loops from synthetic and natural fibers. You'll also be able to clean up dirt, dust, Lab hair, German shepherd hair, border collie hair (can you tell we love our dogs?), and just about any amount of food from car seats, sofas, and everywhere else in your life. In short, while it doesn't have the suction of a Ball Animal 2, it has more than enough to cope with life. And while we couldn't tell a difference between it and other Dyson balls for allergy reduction, we know there are plenty of believers who do.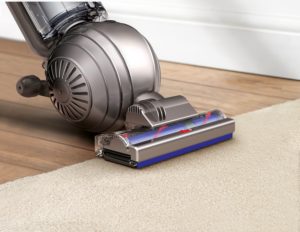 Our main issue with the Big Ball Animal+Allergy is one we never personally experienced, but know others have. Dyson went all out to market it as a HEPA vacuum that didn't need a HEPA filter, or any other filter, and to some degree they're right. It cleans perfectly well without one. The issue is that a few (not all) Cinetics have an unfortunate habit of clogging a mesh screen within the dust bin over time. If this happens, you lose suction until you clean the screen by hand. It doesn't happen to the vast majority of Cinetic owners, but it does happen to a few, and it's an issue unique to the Cinetics because of their filter-free design.
Why buy the Cinetic Big Ball Animal+Allergy?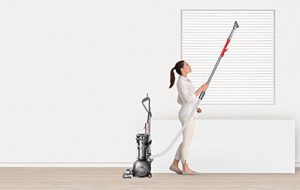 In conclusion, if you're looking for a Dyson with more accessories than you can shake a stick at, the Cinetic Big Ball Animal+Allergy is the upright for you. It's powerful enough to deal with anything you're likely to encounter in your home and it has the convenience of being one of only two current Dyson uprights that never need filter swaps. The main issue to watch out for is the potential for suction loss if you have one with a poorly designed mesh screen. That said, the vast majority of owners we've heard from report their Big Balls have worked for years without noticeable suction loss, suggesting your odds of being satisfied are high. We'd recommend considering the Animal non-Allergy if you don't want a lot of accessories and sticking with the Animal+Allergy to get every option, especially since the prices are so similar.

You can buy the Dyson Cinetic Big Ball Animal+Allergy here on Amazon or save some money and skip out on accessory overload by buying the Dyson Cinetic Big Ball Animal here.

Canadians can buy the Dyson Cinetic Big Ball Animal+Allergy here on Amazon  or choose a more minimal setup by buying the Cinetic Big Ball Animal here.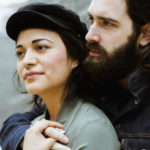 If you find our research on PMC helpful, you can follow our efforts to keep maniacally reviewing home cleaning tools by shopping through our links above. We promise to keep fighting the good fight against every horror children, animals, and grown, yet messy humans can inflict upon a clean home.