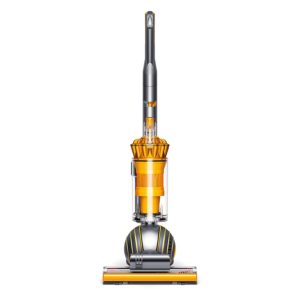 While cordless and robotic vacuums continue to gain popularity, sometimes you want all the power you can get in a vacuum. If you want full-sized power in a canister, the answer's easy: get a Miele. But if you want it in an upright, you're going to want a Dyson. We recently reviewed and answered frequently asked questions about the most powerful Dyson–and indeed, the most powerful upright vacuum–on the market: the Ball Animal 2.
Today we're going to review its slightly smaller and golden sibling, the Dyson Ball Multi Floor 2, and compare both to see which offers more value for most homeowners and families. If we had to summarize our thoughts in ten seconds, we'd suggest buying the Ball Animal 2 if you want unparalleled suction and an additional accessory, and buying the Ball Multi Floor 2 if you'd like a slightly smaller, lighter, and cheaper equivalent. Our full review is below, and you can buy the Ball Multi Floor 2 here.
Pros, Cons, and Key Features of the Dyson Ball Multi Floor 2 Upright Vacuum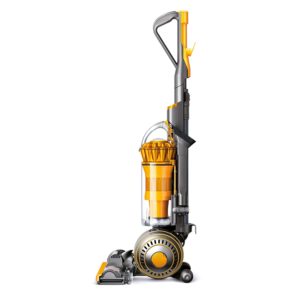 The Ball Multi Floor 2 is one of a long line of powerful Dyson uprights. It's part of the 2nd "ball" generation, and shares a lineup with other high-end models like the aforementioned Ball Animal 2, Ball Allergy, the Cinetic Big Ball Animal, Cinetic Ball Animal+Allergy, and the Small Ball. Previous generation models include the Ball Multi Floor Upright (which the Ball Multi Floor 2 succeeds), the DC65 Animal,  DC65 Animal Complete, and DC50 Animal Compact. All are distinguished by their class-leading suction and the bowling-ball shaped axis on which they turn.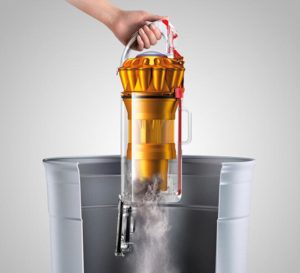 Key features of the Ball Multi Floor 2 include 245 airwatts of maximum suction power (only second to the Ball Animal 2), the capacity to handle bare floors as well as low-to-medium-pile carpeting, a self-adjusting cleaning head, and whole-machine HEPA filtration. It includes three accessories–a combination accessory tool, a stair tool, and a motorized brush–as well as a built-in instant-release wand and flexible long-reach hose. The push-button release dust bin has a .4 gallon capacity and vacuum has an operating radius of 47 feet with a 31 foot power cord. It is 42 inches tall, weighs 15.6 pounds on our scale, and has a 15.4 inch wide cleaning path.
Inside the box, you'll find the Ball Multi Floor 2, the aforementioned accessories, and an operating manual to help you set up the vacuum in a few minutes. You'll also find the details of Dyson's 5 year parts and labor warranty, which is one of the best in the business.
What's the difference between the Multi Floor 2 and Animal 2?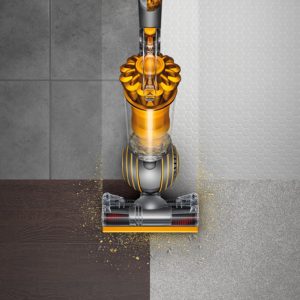 The main differences between the Ball Multi Floor 2 and Ball Animal 2 involve suction power, size, cleaning capacity, and accessories. The Ball Animal 2 is the current flagship Dyson, while the Ball Multi Floor 2 is marketed as a less expensive, more compact alternative that gets you most of what the Animal 2 offers but not quite all of it. Let's look at the differences in detail.
The Animal 2 is more powerful; it's currently the leader among Dysons (and all uprights on the market, per Dyson) in suction power, with 270 airwatts of suction. The Multi Floor 2 comes almost as close at 245 airwatts. In comparison, a cordless vacuum like the V8 Absolute tops out at 115 airwatts while a handheld like the V7 Car+Boat stops at 100 airwatts.
Practically speaking, while the difference between the Ball vacuums and portables is very noticeable, that between the Animal 2 and Multi Floor 2 isn't in most applications. Both do a fine job on bare floors, low-pile carpets, and medium-pile carpets, and neither can push through high-pile carpets due to the combination of powerful suction and the lack of a fully adjustable cleaning head height. In other words, we can tell the Ball Animal 2 is stronger, but it doesn't really matter.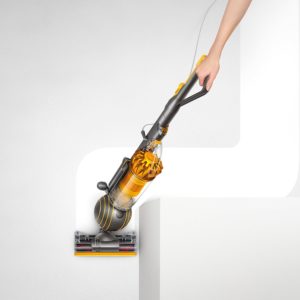 At 15.6 pounds in weight and 42.4 inches in height, the Multi Floor 2 is lighter but no shorter than the Ball Animal 2, which tips the scales at 17.4 pounds and measures 42.4 inches as well. The lighter weight does make the Multi Floor 2 slightly easier to push and carry up and down stairs, although both are still monsters compared to a V8 Animal that weighs all of 5.4 pounds.
The cleaning capacity of the Multi Floor 2 is slightly limited compared to that of the Animal 2; it has a slightly smaller dust bin at .4 gallons instead of .5 as in the Animal 2, and its reach tops out at 47 feet instead of at 50. Practically speaking, you're unlikely to notice either difference unless you're using either vacuum at the absolute limits of its capacity.
The Animal 2 also comes with one more accessory than the Multi Floor 2: a tangle-free turbine tool. We found this tool particularly useful for cleaning out Golden retriever and Labrador hair from sofas and beds, but frankly, you could make do with the motorized brush included in the Multi Floor 2 if you had to.
How effective is the Multi Floor 2 when cleaning carpets, bare floors, and kid and pet messes?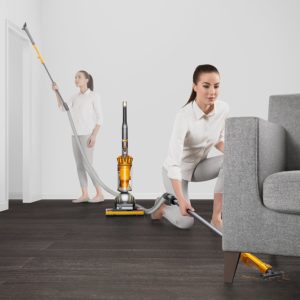 When buying a full-sized, high-end, upright vacuum like the Ball Multi Floor 2, we have high expectations. No, we don't expect it to clean plush, deep, or high-pile carpets the way a Miele Complete C2 Electro+ would, but we do expect it to easily and fluidly move from bare floors like hardwood, tile, vinyl, and laminate flooring to low- and medium-pile carpets without hesitation. We also expect it to provide enough suction to pull cat and dog hair, dirt, dust, and endless amounts of food from floors, sofas, car seats, beneath beds, and pretty much everywhere else in our homes and lives. And we expect it to do so for at least five years without issue, and ideally for twice that long or beyond.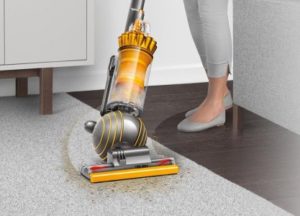 While we can't guarantee the Multi Floor 2 will last for decades, as it simply hasn't been around as long, we have no doubt it can meet all of the other requirements we laid out above. We found it powerful, ergonomic, and easy to use, and we never stopped to find ourself pining for the additional 25 airwatts of suction in the Ball Animal 2. It's an excellent vacuum, and given Dyson's impressively long warranty, we expect it to continue to work for many years to come.
Why buy the Ball Multi Floor 2?
In conclusion, we find it hard to say anything negative about the Ball Multi Floor 2. It's not quite as strong as the Ball Animal 2, and it doesn't include quite as many accessories. However, it's just as easy to use, very easy on the eyes (we prefer gold to purple), and plenty powerful enough for our tastes. Our suggestion would be to buy the Ball Animal 2 if you want all the bells and whistles and to save some money and stick with the Ball Multi Floor 2 if you can live with a bit less suction, the lack of a turbine tool, and want a slightly lighter Ball to push around. You won't regret either.

You can buy the Dyson Ball Animal 2 here on Amazon or save some money and skip out on additional features by buying the Dyson Ball Multi Floor 2 here.

Canadians can buy the Dyson Ball Animal 2 here on Amazon  or choose a more minimal setup by buying the Ball Multi Floor 2 here.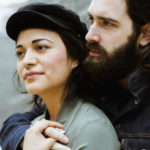 If you find our research on PMC helpful, you can follow our efforts to keep maniacally reviewing home cleaning tools by shopping through our links above. We promise to keep fighting the good fight against every horror children, animals, and grown, yet messy humans can inflict upon a clean home.