While uprights and canisters are going to provide more power for cleaning jobs than handhelds and robot vacuums, we've spent enough time cleaning to know that not everyone prefers power over convenience. Sometimes portability is king, and companies like Dyson realize this, which is why they've got their hands in every nook and cranny of the vacuum industry. We've reviewed many of their uprights and ultralights in the past, with the Ball Animal 2 being our favorite upright of their so far. Today we're going to review one of their newest handheld vacuums, the Dyson V7 Car+Boat Handheld Vacuum, and compare it to its previous generation twin, the V6 Car+Boat to find out if the newer twin is worth the upgrade. Our ten second summary is to buy the V7 if you want a 30 minute runtime and to stick with the V6 if you want a more time-tested design. Our full review is below, and you can buy it here.
Pros, Cons, and Key Features of the Dyson V7 Car+Boat Handheld Vacuum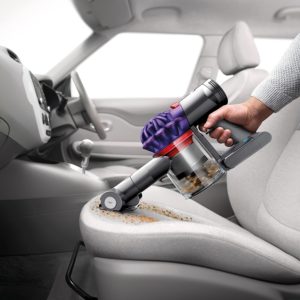 The Dyson V7 Car+Boat is one of a series of Dyson handheld vacuums that seems to grow each year. The V7 generation only includes the Car+Boat and the Trigger for the moment, but the V6 generation includes the Car+Boat, Baby+Child, Top Dog, and Mattress. Frankly, there doesn't seem to be any real reason to justify so many different models beyond a desire to increase quarterly profits, but we're carpet cleaners, not CEOs.
At any rate, key features for the V7 Car+Boat include its 30 minute runtime, increased suction levels (Dyson describes it as the "most powerful" handheld vacuum), a range of accessories with quick release connectors, a car charger, a hygienic dirt ejector, and the standard 2 year limited warranty. The V7 Car+Boat weighs 3.8 pounds on our scale and features up to 100 airwatts of suction. Its dust bin holds .15 gallons and the fade-free Lithium-ion battery requires 3.5 hours to charge.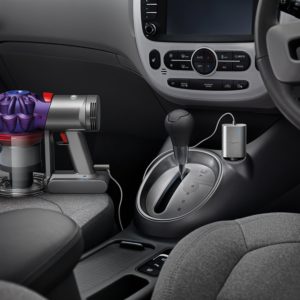 Inside the box, you'll find the vacuum itself and several tools–a combination tool, a crevice tool, a mini motorized tool, a mini soft dusting brush, an extension hose, and a stubborn dirt brush–all with quick release connectors. You'll also get both an AC charger and a 12 volt charger to let you charge the V7 while cleaning inside a car (or boat). Unfortunately, you  still can't use the V7 while it's connected to the charger–but you can use the charger to charge in spurts to glean a few minutes of battery life here and there.
What's the difference between the Dyson V7 Car+Boat and the V6 Car+Boat?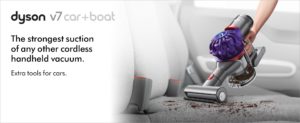 The V7 Car+Boat is the successor to the V6, and as a result, while most of what the two machines do is identical, there are some meaningful differences to be aware of that might be worth the upgrade (or skipping the V6 entirely and starting with the V7). The most significant difference involves battery life; the V7 boosts battery life up to 30 minutes from the 20 minutes in the V6, which is a 50% boost and noticeable when cleaning. That said, with the V7's car charger, you can essentially clean, pause for a few minutes to gain some battery charge back, and then get back to cleaning for a bit longer, which is why the charger is as much of an advantage over the V6 as the increased battery capacity.

Beyond the battery and charger differences, the V7 weighs a shade more (3.8 pounds vs 3.4 pounds) and has a larger bin volume at .15 gallons vs .11 gallons in the V6. Practically speaking, that's a capacity of 2.4 cups vs 1.8, and although it sounds small, it does mean a significantly greater amount of dirt or pet hair can be whisked away by the V7.
While the accessory list is identical between the V7 and V6, the V7 does feature quick release connectors on all of them, which makes changing them a quicker affair. Frankly, we didn't find it took too long on the V6, but it does make switching easier when you're knee deep cleaning out crumbs from car seats. Unfortunately, accessories between the V7 and V6 are not compatible or interchangeable. Fortunately, you'll get the full set with either vacuum, and they work exactly the same way in either.
A significant area where we did not see a difference was in actual cleaning power. Despite Dyson's claim of the V7's being the most powerful handheld vacuum on the market, it didn't seem to have any more suction than the V6. Granted, the V6 had a good amount of suction, so this wasn't a slight against the V7; it was more a slight against Dyson's marketing department. Adding to our confusion about the veracity of this claim was the fact that Dyson clearly specified the maximum air watts of both models as 100.
How well does the Dyson V7 Car+Boat clean car, truck, SUV, and minivan interiors, as well around the house?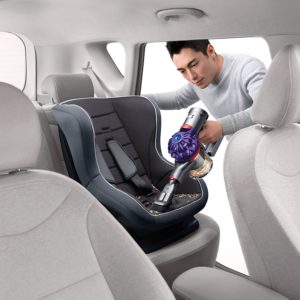 When you buy a handheld vacuum, you're not looking for as much power as what you'd get from an upright or canister; the V7 Car+Boat was in no way comparable to the Ball Animal 2, for example, in cleaning strength. However, you should expect a light, portable, and sufficiently powerful machine to clean up dirt, dust, crumbs, pet hair, and other small, unsightly things that wind up in car seats, on stair cases, in entry ways, behind knick knacks, on counter tops, in beds, recliners, boats, and pretty much everywhere else in your home and vehicles where dirt gathers. That's what we got with the V7 Car+Boat.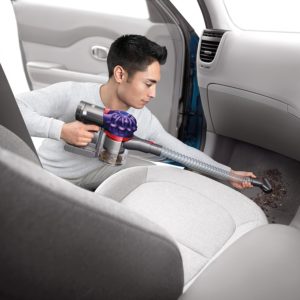 Like a good handheld vacuum, we found far more uses for it over time than we were expecting, and the range of attachments meant we could find one that would work in just about any situation. The crevice tool helped with baseboards and behind hard to move furniture. The mini motorized tool helped power through stains on upholstery; it was the tool we turned to the most. The extension hose got us additional inches when we needed them, and the dusting brush came in handy for cleaning keyboards–both the typing kind and musical kind.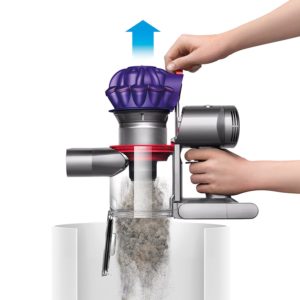 Battery life was strong until a few minutes before clunking out completely, giving us faith in Dyson's "fade-free" marketing. We weren't happy with how long it took to charge up the battery once it died completely, though, and we'd like to see a charge time shorter than 3.5 hours; our favorite budget robotic vacuums (e.g., the Shark Robot 750 or Roomba 690) typically took 2-3 hours and they had the manners to return to their chargers whenever they ran low on battery.
That said, we were pleased with the hygienic dirt ejector. Even though it seemed gimmicky, it was nice to be able to empty out pretty much all of the dirt from the bin each time without needing to touch any of it. We also appreciated the slightly larger bin, as it meant we could get more done before needing to accept defeat and return to the charger. Noise levels were relatively quiet and the whine of the vacuum wasn't offensive to our ears.
Why buy the Dyson V7 Car+Boat?

We'd recommend the V7 Car+Boat if you're new to the world of handheld vacuums and want a quality machine without spending a small fortune. It features a great battery runtime, comes with a healthy number of accessories, feels good in your hands with good ergonomics, and is backed by a 2 year warranty from one of the biggest companies in the vacuuming scene right now. In our books, the only reasons to get the V6 are if you're wary of the new technology in the V6 and want a model that's been tested by a much larger field of homeowners. In our books, both are great machines for the money.

You can buy the Dyson V7 Car+Boat vacuum here on Amazon. If you're wary of too-new technology, you can buy the V6 Car+Boat here instead.

Canadians can buy the Dyson V7 Car+Boat vacuum here on Amazon or stick with the proven V6 Car+Boat here instead.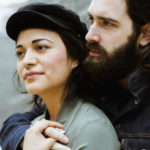 If you find our research on PMC helpful, you can follow our efforts to keep maniacally reviewing home cleaning tools by shopping through our links above. We promise to keep fighting the good fight against every horror children, animals, and grown, yet messy humans can inflict upon a clean home.