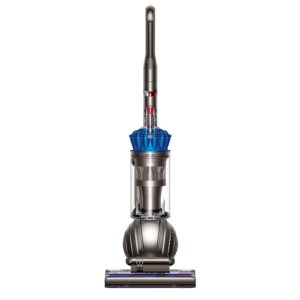 Although cordless and robotic vacuums grow more popular by the year, we've spent enough time cleaning and speaking to homeowners to know that full-powered vacuum cleaners aren't going anywhere any time soon. Portability and automation have their place, yes, but sometimes you just need power. If you want that power in a full-sized canister, the answer's easy: get a Miele. But if you need suction and unparalleled filtration in an upright, Dyson is still the best option on the market.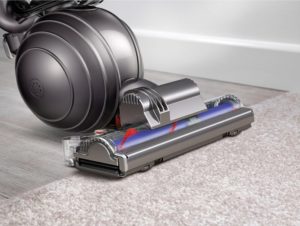 We've made it a project to cover every full-sized "ball" upright Dyson currently has on the market, and lately, we've been reviewing those made specifically for homeowners with allergies, like the Cinetic Big Ball Animal+Allergy. Today we'll review the Dyson Ball Allergy Upright and compare it to the Big Ball Animal+Allergy to see which cleans better for the money. If we had to summarize our review in ten seconds, we'd suggest choosing the Cinetic Big Ball Animal+Allergy if you want more accessories and the filter-free technology and sticking with the Ball Allergy for a cheaper, more powerful, and ultimately more reliable design. We fully review it below, and you can buy the Ball Allergy here.
Pros, Cons, and Key Features of the Dyson Ball Allergy Upright Vacuum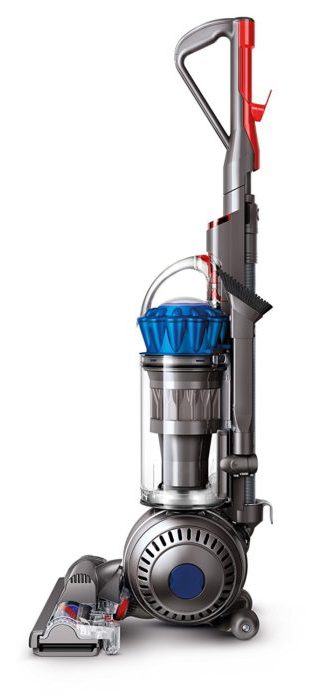 We're going to be honest: Dyson has too many balls in the air. Specifically, there are more than a dozen full-sized "ball" uprights you can currently buy, and in our books, the differences aren't nearly large enough to warrant so many models. However, we aren't chairing a multi-million dollar cleaning company, so we understand if Dyson doesn't take our advice.
At any rate, if you want a Dyson ball, the current flagship and most powerful model is the Ball Animal 2. However, you can also buy the Multi Floor 2, Multi Floor Upright, Allergy (which we're reviewing today), and Small Ball. In the Cinetic line, which features vacuums with bigger balls (we're not joking), you can choose between the Cinetic Big Ball Animal and aforementioned Cinetic Ball Animal Plus Allergy. Previous generations also include the DC65 Animal and DC65 Animal Complete. If all of this is too much to take in, here's the summary: the Ball Allergy is basically the DC65 Animal with some design updates and most of the accessories of the Cinetic Big Ball series.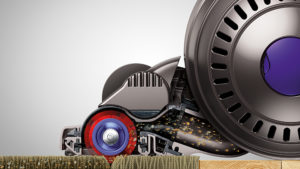 The star feature of the Ball Allergy  is its 245 airwatts of suction (Dyson mistakenly lists this as 270 on their website, but the only Dyson with that much suction is the recently-released Ball Animal 2, which is two years newer than the Ball Allergy). At any rate, it's one of the most powerful Dyson uprights, matched only by the Multi Floor models mentioned above.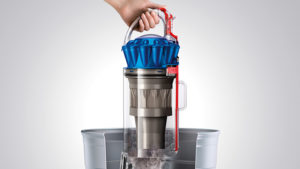 It can clean bare floors and carpets up to medium-pile height, includes an auto-adjust cleaning head, a long-reach hose and extension wand, and several accessories we'll discuss shortly. As with most modern Dyson uprights, you get whole-machine HEPA filtration. The Ball Allergy in particular uses a hygienic dust bin that holds close to .6 gallons of potential allergens and has an impressive 51 foot operating radius that includes a 35 foot long power cord. It weighs 17.3 pounds on our scale, is 42.4 inches tall, and the main cleaning head is 13.4 inches wide.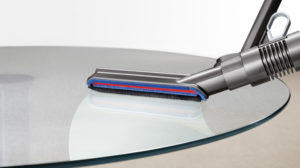 Inside the box, you'll find the vacuum itself and five cleaning tools–a carbon fiber soft dusting brush, a reach under tool, a mattress tool, a combination tool, and a stair tool. You'll also find an instruction manual that you won't really need (Dyson's ball uprights are no different to set up than typical vacuums) as well as paperwork for your 5 year parts and labor warranty, which you hopefully won't need but will be well served by if you do. Virtually no other manufacturers offer a parts and labor warranty as comprehensive as Dyson.
What's the difference between the Ball Allergy and Cinetic Big Ball Animal+Allergy?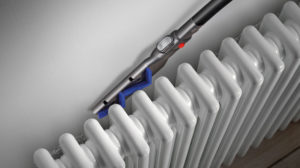 While both the Dyson Ball Allergy and Cinetic Big Ball Animal Plus Allergy are marketed toward (you guessed it) homeowners with allergies and asthma, they have some rather significant differences to be aware of. These differences mainly involve price, suction, accessories, filtration, and reliability. Let's look at each in detail.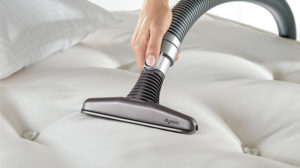 First, the Ball Allergy is much cheaper than the Cinetic. You've likely realized this if you've compared the two, but you might not know that the Ball Allergy is actually the more powerful vacuum–much more powerful. While the Cinetic puts out a respectable 180 airwatts of suction, the Ball Allergy can generate up to 245 airwatts, or 36% more.
Practically speaking, this means spending less time vacuuming a given area to remove a certain amount of dirt, dust, and other allergens. It's not that the Cinetic isn't powerful–it is–it's just that you get more power for less money with the Ball Allergy, and it'll either lead to you spending less time vacuuming or getting a deeper clean for the same time spent vacuuming.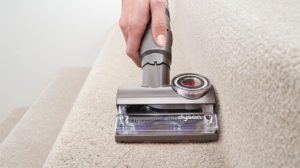 Beyond price and power differences, you get a few more accessories with the Cinetic than you do with the Ball Allergy–specifically, a tangle-free turbine tool and a multi-angle brush. Both are useful in different ways; the turbine tool was great for pulling pet hair off stairs and sofas while the multi-angle brush helped us reach odd places like above bookshelves without resorting to stepladders. However, you can still clean a home without them.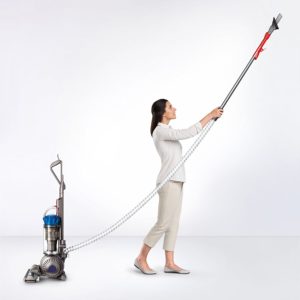 Finally, the Cinetic uses an internal filtration system to achieve HEPA filtration without a HEPA filter; it also doesn't need a pre- or post-motor filter. As a result, it costs less to maintain than the Ball Allergy, or any non-Cinetic Dyson Ball, for that matter. However, it comes at a price: the Cinetic design can get clogged in rare cases, requiring you to clean a mesh screen in the dust bin to maintain suction. You won't face this issue with the Ball Allergy because it uses a more traditional design (that shared by every other Dyson Ball), which is ultimately more reliable.
Can the Ball Allergy remove pet hair from furniture and maintain carpets and hardwood floors?
We won't spend too much time here to avoid repeating ourselves too much if you've read our other Dyson reviews. In a nutshell, the Ball Allergy cleans with power and confidence across hardwood, low-pile, and medium-pile carpets. It can't clean high-pile carpets or friezes effectively; you'll need a machine like a Miele Complete C2 Electro+ for those.
However, it'll take care of any other residential carpet style, including berbers, saxonies, and cut and loops made from synthetic and natural fibers. It will remove an impressive (some would say horrifying) amount of dirt, pet hair, and all kinds of contaminants from furniture, flooring, car seats, and stairs, and even if it's not quite as strong as a Ball Animal 2, you won't feel like you're missing anything if you aren't cleaning with both side by side.
Why buy the Ball Allergy?
Buy the Ball Allergy because it's the vacuum the Cinetic Big Ball was meant to be. It doesn't have fancy filter-free technology, but it's more reliable, more powerful, and includes more accessories than you're likely to end up using on a regular basis since it does such a good job with the cleaning head and wand built into the vacuum. It also costs less than the Cinetic, weighs less, and has a shade more reach. In our books, if you're looking for an allergy-focused vacuum, this is the one to get.

You can buy the Dyson Cinetic Big Ball Animal+Allergy here on Amazon or save a lot of money and gain reliability by buying the Dyson Ball Allergy here.

Canadians can buy the Dyson Cinetic Big Ball Animal+Allergy here on Amazon. Unfortunately, as the Ball Allergy is rarely available, we'd recommend buying the Ball Animal 2 instead for more power and reliability.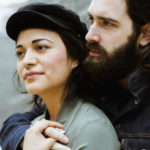 If you find our research on PMC helpful, you can follow our efforts to keep maniacally reviewing home cleaning tools by shopping through our links above. We promise to keep fighting the good fight against every horror children, animals, and grown, yet messy humans can inflict upon a clean home.