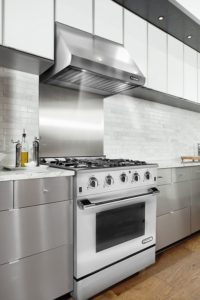 No matter what you do when it comes to your kitchen floor decor (and there are a lot of options, from traditional setups to hardwood floors), you're going to need a range and an oven. And if you want a gas range instead of a wall oven and cooktop (because both options have their pros and cons), you're going to need to find the right blend of quality and affordability for your budget. Yes, it's possible to a brand new range for a few hundred dollars, but you're probably not going to get decades of use from it. Planned obsolescence prematurely ruins most appliances these days long before they would otherwise need replacement. And the money it costs to buy a Wolf or Viking range is just out of reach for most of us, even if they're built to last for decades.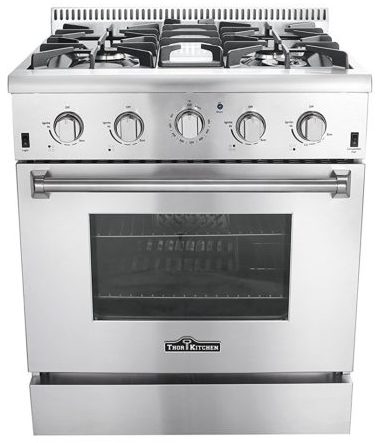 The good news is that with the Internet, it's possible today to buy well-made appliances that last for years without spending the equivalent of a down payment. Want a vacuum that won't break down for at least 20 years? Try a Miele canister made in Germany and say goodbye to disposable vacuums. And if you're in the market for a high-end gas range that only costs mid-range prices, you've got more options today than ever. We recently reviewed two of them, the Thor Kitchen HRG3080U 30″ range and the Kucht KRG3080U 30″ range, and were impressed by the build quality and professional-grade power.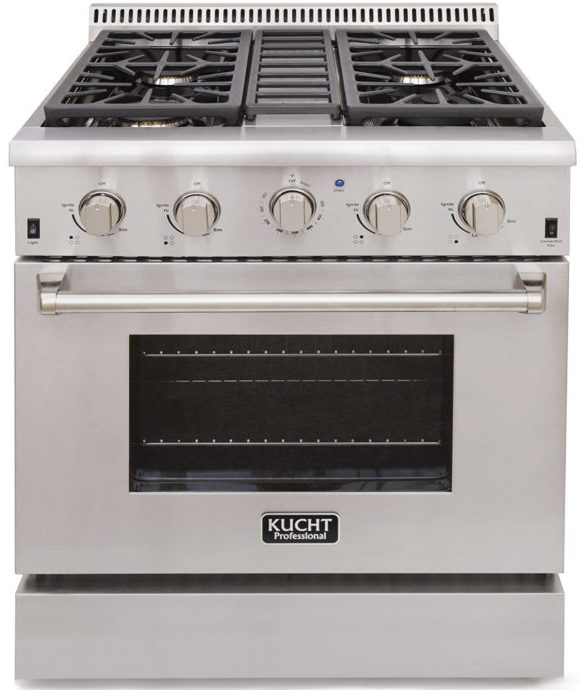 Today we'll compare both to the NXR DRGB3001 Professional Style 30″ Gas Range in Stainless Steel to see if it offers as much value as the Kucht and Thor Kitchen ranges. Here are our thoughts in ten seconds:  the Thor and Kucht are built much more solidly than the NXR. We'd recommend buying the Thor Kitchen to save a bit of money and to upgrade to the Kucht for a comparable upgrade in customer service, avoiding the NXR if long term reliability is a priority. We'd also recommend using Amazon's expert installation option if possible. Our full review of the NXR is below, and you can buy the NXR DRGB3001 here in the US. Our Canadian readers can buy a better and cheaper substitute, the Kucht KRG3080U, here.
Pros, cons, and key features of the NXR DRGB3001 30″ Gas Range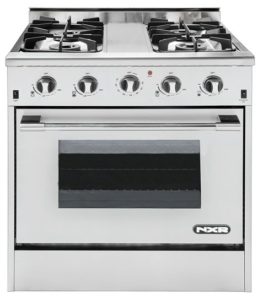 The NXR range is one of a number of gas and liquid propane (LP) ranges produces by California-based Duro Corporation. Like its more expensive range siblings, the DRGB3001 was made to compete with high-end ranges while offering middle-class price points. To that end, the range is made from parts sourced around the world, including safety valves from the US, the burners from Germany, the door hinge from Italy, and automatic reignition modules from Australia, with final assembly in China and shipping from the US.
The range itself has a 4.2 cubic foot capacity, 22,000 BTU convection oven and a 4 burner stovetop. The stovetop has 3 power outputs; the front left burner puts out 18,000 BTU; the front right delivers 15,000 BTU; the two twin rear burners can generate up to 12,000 BTU each. The broiler has a max output of 13,000 BTU. The range is made from stainless steel and includes a blue internal enamel finish.
How easy is it to use and cook with the NXR range?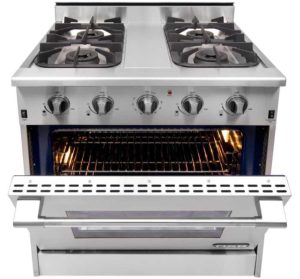 Cooking with the NXR range is a pleasant experience; it's solidly constructed, aesthetically pleasing, and easy to use. The control knobs turn smoothly and the cast-iron cooking grates are stable even under heavy dishes. The burners light quickly and deliver a strong amount of power; water boils quickly and meals cook evenly. The oven is powerful and the internal thermometer appears accurate to within 5 degrees. We can see clearly through the window, especially when using the internal halogen lights, giving us a bright view of whatever we're baking.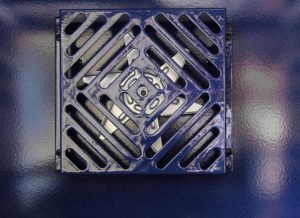 We're also fans of the simple, minimalistic design of the NXR. It has a straightforward, no-nonsense interface; aside from the control knobs for the burners, the only other means of interacting with the range are the oven control knob, which sets the thermostat (which ranges from 150 degrees Fahrenheit to 500F), a blue light that illuminates when the desired temperature is reached inside the oven, a switch for the oven light, and a switch for the convection fan (without which the oven operates like a normal oven, which is more optimal for foods like breads and cookies). There are no digital displays, clocks to set, features to program, or anything else to cause premature oven death through electronic brain damage. We love it.
What's the difference between the NXR DRGB3001, Kucht KRG3080U, and Thor Kitchen HRG3080U gas ranges?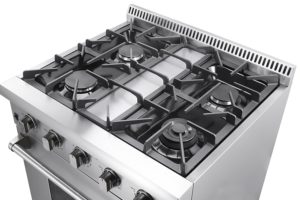 The NXR DRGB3001, Kucht KRG3080U, and Thor Kichen KRG3080U stainless steel ranges are frequently compared among shoppers because, as we reported in our reviews of the Kucht and Thor Kitchen ranges, all three machines are almost certainly produced in the same factory in China. However, unlike with the aforementioned competitors, we've noticed some significant differences when it comes to long term reliability of the NXR version of the range, and we suspect they come down to quality control (or a lack thereof). This is underscored by the fact that the NXR range, unlike its competitors, only comes with a 1 year warranty on parts and labor instead of a 2 year warranty. As we've written in our reviews of carpets and flooring, a manufacturer's warranty won't tell you everything, but it will give you a good idea of reliability when comparing otherwise equivalent products.
The NXR is beautiful, but it's not built to last, and customer support is lacking
Cosmetically, the only difference that readily stands out is the absence of a central cooking grate; however, the lack of the central grate means there's no way to transfer cookware across burners without lifting pots and pans, which can get tiresome and increase the risk of spills. Functionally, the stainless steel is a very soft grade, meaning the surface will pick up scratches within months, if not weeks. In some ranges, the ignition sparks don't stop once you reduce power, creating an annoying noise at best and a potential fire hazard at worst. In others, the burner valves may not fully shut off, resulting in a small but persistent gas leak at the nozzle,  After a few years, the ignitors and burners may need replacement, rendering either a given burner or the entire oven useless, depending on which goes. If you need replacement parts, they're a struggle to find, and you might have an even bigger struggle on your hands when it comes to obtaining service from the parent company if problems occur.
Which of the three ranges do you recommend?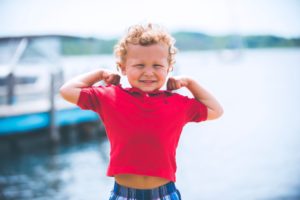 If choosing between the NXR DRGB3001, the Thor Kitchen HRG3080U range, and the Kucht KRG3080U range, we'd wholeheartedly recommend the Kucht range first due to build quality and customer service (which is by far the best of all three manufacturers), the Thor Kichen second due to build quality and affordability (and decent, if not exceptional customer service), and the NXR model last due to a lack of both build quality and customer service. Whichever model you purchase, we'd strongly suggest using Amazon's expert installation service to have your old range removed and the new one installed; moving 200 pound ranges in and out of your home and setting up gas lines isn't how most people enjoy spending an afternoon, and the bit of extra money spent to have the installation and removal taken care of quickly and safely is well worth it.

You  can buy the NXR DRGB3001 30″ gas range here on Amazon, but if long-term reliability is a priority, we'd highly recommend buying the Thor Kitchen HRG3080U 30″ range here or buying the Kucht KRG3080U range here instead for a little more money and a lot more customer support. If you use propane, get the Kucht KRG3080U/LP instead.

Canadians, the NXR DRGB3001 30″ gas range isn't available, but that's really a blessing in disguise. You'd be better off buying the Thor Kitchen HRG3080U 30″ range or the Kucht KRG3080U range, which is cheaper, instead. Use propane? Buy the Kucht KR3080/LP here.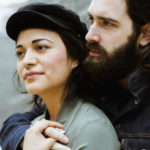 If you find our research on PMC helpful, you can follow our efforts to keep maniacally reviewing home appliances by shopping through our links above. We promise to keep fighting the good fight against every horror children, animals, and grown, yet messy humans can inflict upon a clean home.