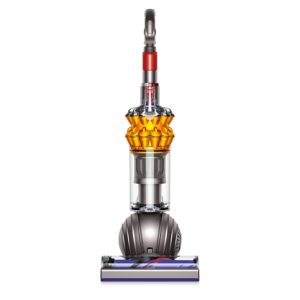 If you're looking for a blend between power and portability in a vacuum, you've got a few options. To fully do away with pushing your vacuum, you can buy a robotic vacuum like a Roomba 960 that will clean by itself and put itself away when done. But it's not going to clean upholstery. So perhaps you look into a handheld like the Dyson V7 Car+Boat that you can take with you in and out of the house. But as good as it is, it's going to be a pain to use on flooring. So then you upgrade to a stick vacuum like the Dyson V8 Absolute, which you can use both as a full-sized machine for floors and as a handheld for upholstery. But it's not that strong compared to a real upright, and your battery life will be limited to about 20 minutes of real work. What's a busy family to do?
Well, you could just cave in and get a full-sized upright like the Dyson Ball Animal 2; it'll give you all the power you could want and will clean nearly any surface. But it's much heavier than a stick vacuum, and it's going to take up a lot of space in a closet. If only there were something smaller, lighter, yet more powerful than a stick to fill the gap.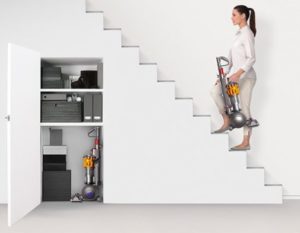 If you've ever felt this way, you want Dyson's compact upright line. Today we're going to review the flagship of that line, the Dyson Small Ball Multi Floor Upright and see how well it fits the bill. We'll also compare it to a previous-gen compact upright, the DC50 Animal Compact, to see if it's worth the upgrade. Our ten second summary would be to buy the Small Ball for more suction, reach, and ease of use, and to buy the DC50 for a few more accessories. You can read our full review below and you can buy the Small Ball Multi Floor here.
Pros, Cons, and Key Features of the Dyson Small Ball Multi Floor Upright Vacuum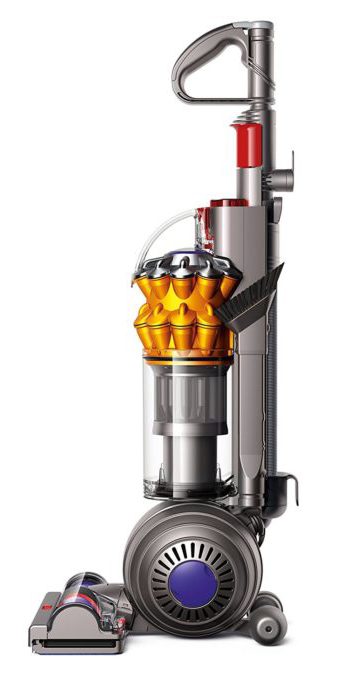 The Small Ball Multi Floor Upright is one of two compact members of Dyson's full-sized upright line; the other is the aforementioned DC50 Animal Compact, which preceded it.
Although Dyson has more than a dozen Ball uprights currently on the market, if you want a full-sized model, we'd advise you to skip most of them and simply get either the flagship, the Ball Animal 2, or its slightly smaller clone, the Ball Multi Floor 2. The rest (e.g., the Ball Allergy, the Cinetic Big Ball Animal, Cinetic Ball Animal+Allergy, Ball Multi Floor Upright, DC65 Animal, and DC65 Animal Complete, and another six we can't remember) are larger, heavier, and have poorer suction.
Key features of the Small Ball Multi Floor Upright include 150 airwatts of suction, bare floor, low-pile, and medium-pile carpet cleaning capacity, an instant-release wand, and a flexible long-reach hose.
The cleaning head is self-adjusting and the vacuum includes internal HEPA filtration. It includes two accessories–a combination tool and a stair tool–and a one-touch release dust bin with a .2 gallon capacity. The vacuum stands 32 inches tall, weighs 12.2 pounds on our scale, and has a cleaning path 11 inches wide. It has a maximum reach of 42 feet with 31 of those feet coming from the power cord.
Inside the box, you'll find the vacuum, the accessories we mentioned above, and a quick-start operating manual that you probably won't need, as the Small Ball is rather intuitive to set up (unbox it, unwrap it, check for plastic, and plug it in). You'll also receive your paperwork confirming Dyson's ever-impressive 5 year parts and labor warranty.
What's the difference between the Small Ball Multi Floor and Animal Compact?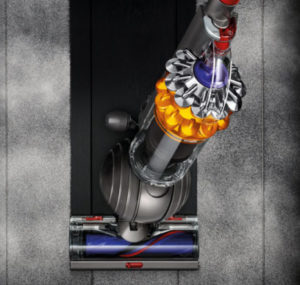 The Small Ball Multi Floor is a large step forward compared to Dyson's previous attempt at a full-sized compact upright, the DC50 Animal Compact. The Small Ball is more powerful, has more reach, and is more enjoyable to use. The Animal Compact, however, does come with more accessories. Let's take a closer look at these differences.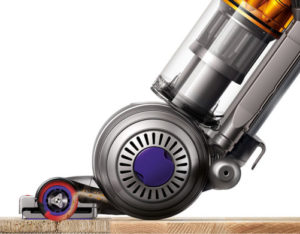 Regarding power, the prize goes to the Small Ball. While it's not nearly as powerful as the Ball Animal 2, which boasts a class-leading 270 airwatts of suction, the Small Ball offers a respectable 150 airwatts. In comparison, the DC50 Animal Compact is limited to 128 airwatts, which is only slightly higher than the 115 airwatts you can pull out of a V8 Absolute. However, a V8 Absolute weighs less than half as much as the DC50 (5.6 vs 11.7 pounds) and doesn't need to be plugged in.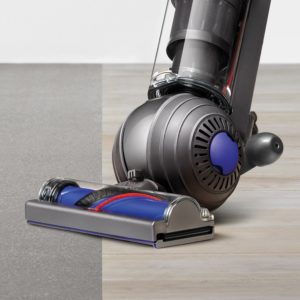 For our money, we'd pick the Ball Animal 2 for max power, the V8 Absolute for max portability, and the Small Ball for the best of both; the DC50, however, is a bit unbalanced on the power-portability continuum. And while the power difference wasn't noticeable on hard floors, we noticed it every single time we cleaned on carpets and upholstery, where you want as much suction as possible.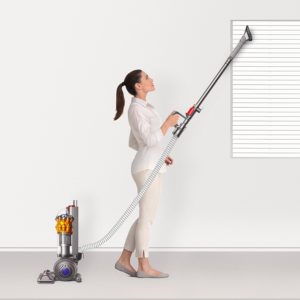 Beyond power, we also enjoyed the additional reach of the Small Ball at 42 feet compared to the DC50 Animal Compact, which topped out at 33 feet. Once again, the difference was noticeable once we actually started cleaning, as we constantly found ourselves tugging (and tipping) the DC50 wherever we went, while we felt far less tethered when using the Small Ball. For reference, the Ball Animal 2 provides an additional 8 feet of reach at 50 feet, which isn't nearly as noticeable as the difference between 33 and 42 feet.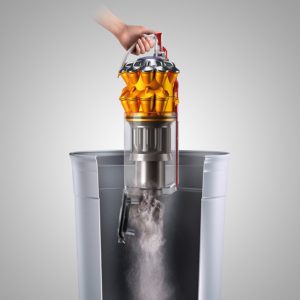 Finally, while the DC50 offered two more accessories–in addition to the combination and stair tools, it included a carbon fiber floor tool and tangle-free turbine tool–we were happy to trade those for the greater reliability of the Small Ball. It's not that the DC50 is a bad vacuum, because it isn't. But being an older model and Dyson's first attempt at a full-sized compact, it suffered from built quality issues; the plastic squeaked, the vacuum lost balance far more easily than the Small Ball, and the comically short hose made it difficult to use the vacuum in a practical fashion. If you can overlook these issues, there's nothing wrong with the ergonomics per se. But then you'd still have the reduced suction, which, for homeowners used to regular Dysons, is throttled enough to be disappointing.
Why buy the Small Ball Multi Floor 2?
In order to keep from repeating ourselves too much from the section above, it's best to summarize our thoughts this way: the Small Ball Multi Floor is an effective vacuum as long as your expectations are realistic. It will clean hardwood floors, low-pile carpets, and some medium-pile carpets without trouble, although if you want high-pile cleaning capacity, you'll need a canister like a  Miele Complete C2 Electro+.
But for picking up pet hair, dirt, food, dust, and grime from floors, stairs, sofas, car seats, carpets, and everywhere around your home, the Small Ball Multi Floor 2 will do a satisfying job. No, it's not going to be nearly as powerful as the Ball Animal 2, but it's also much lighter at 12.2 vs 17.4 pounds and is one of the best compromises between power and portability on the market today. We'd recommend buying it over the DC50 Animal to take advantage of the improvements in suction, reach, and ergonomics.

You can buy the Dyson Small Ball Multi Floor here on Amazon or go retro by buying the Dyson DC50 Animal Compact here.

Canadians can buy the Dyson Small Ball Multi Floor here on Amazon or choose a more minimal setup by buying the Dyson DC50 Animal Compact here.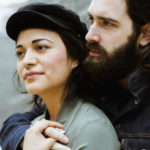 If you find our research on PMC helpful, you can follow our efforts to keep maniacally reviewing home cleaning tools by shopping through our links above. We promise to keep fighting the good fight against every horror children, animals, and grown, yet messy humans can inflict upon a clean home.