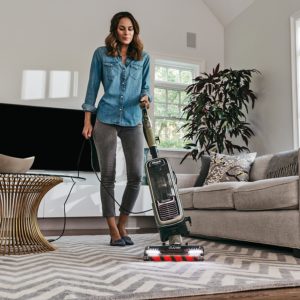 Even though robotic vacuums and mops are all the rage these days, particularly among people interested in controlling their lives through their smart phones, the truth of the matter is that full-sized vacuums aren't going anywhere soon. Sometimes power trumps portability when it comes to cleaning. As we've said before, if you want the best in a canister–a machine that will clean everything from bare floors to high-pile carpets–you're going to need a Miele. But if you're looking for quality in an upright, it's going to come down to whether you trust the traditional leaders in the market or whether you 're a fan of uprisings.
If you want a long track record, you want a Dyson, and the current flagship is the Dyson Ball Animal 2. But if it's you're a fan of underdogs and small companies, Shark has been making some of the most impressive uprights on the market for a few years now, and they show no signs of slowing down. We've reviewed a number of their full-sized offerings in the past, including the Shark Rotator Powered Lift-Away TruePet NV752, and have been thoroughly impressed by them. Today we're going to review a member of their newest flagship line, the Shark APEX DuoClean Powered Lift-Away Upright AX951, and see if it's worth the upgrade over the Rotator. Our advice in ten seconds would be to buy the APEX for greater suction and buy the Rotator for a bit less suction and a bit less money. Our full review is below, and you can buy the APEX here.
Pros, Cons, and Key Features of the Shark APEX DuoClean AX951 Upright Vacuum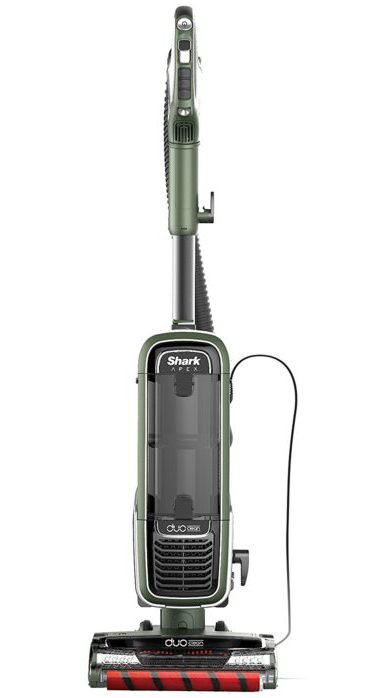 The APEX DuoClean AX951 is the newest member of an ever-expanding family of Shark full-sized upright vacuums. The APEX line is the current flagship series of Shark uprights and, according to Shark, combines the cleaning abilities and technologies of their DuoClean and Powered Lift-Away models to create the ultimate full-sized vacuum cleaner. We're not sure how true this is, but it's certainly true that Shark has been coming out with a seemingly endless number of uprights in the last several years.
It's particularly difficult to keep up with them when they use unnecessarily similar and confusing naming schemes; the NV752, for example, is essentially the NV753 with different accessories, while the NV755 is the NV752 with a larger dirt tank. Then there are the NV510, NV501, and NV341 clones, and the NV682 that fits in somewhere among the rest. Frankly, it's exhausting, and makes us yearn for Dyson's approach: at least their vacuums have memorably different names.
At any rate, key features of the APEX include an estimated 300 airwatts of maximum suction (Shark wouldn't say, so we had to estimate it by comparing it to the Ball Animal 2 and Multi Floor 2, whose values we knew ahead of time), bare floor and low-to-medium-pile carpet cleaning capacity, an adjustable cleaning head, and whole-machine HEPA filtration.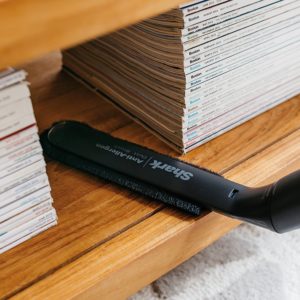 It includes four accessories–a pet multi-tool, a duster crevice tool, an anti-allergen dust brush, and an under appliance wand. The one-touch release dust cup holds 1.5 dry quarts at max capacity, or nearly .4 gallons, and the vacuum has a 42 foot radius with a 30 foot power cord. It is 46.5 inches long, weighs 16 pounds, and has an 11 inch wide cleaning path. It also has spiffy LED lights that turn on whenever the vacuum is in operation and that, per Shark, are designed to last for the life of the vacuum.
Inside the box, you'll find the APEX, the aforementioned accessories, a quick start guide to help you start cleaning in a few minutes, a user manual for a deeper look into the vacuum's capabilities, and Shark's 7 year limited warranty that covers free replacements or repairs at their discretion.
What's the difference between the APEX AX951 and the Rotator NV752?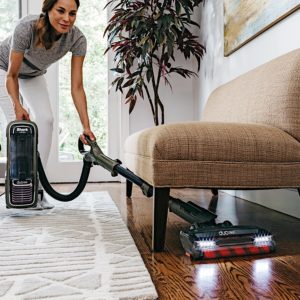 Practically speaking, there are more similarities than differences between the APEX AX951 and Rotator NV752; considering that the APEX is the current flagship and the Rotator TruePet line was the previous flagship, this isn't surprising. Both have strong suction, powered lift-away modes, washable filters, and LED lights on the main cleaning head. In fact, when comparing them side-by-side, aside from color and aesthetic variations, the only meaningful differences to be aware of include suction power and accessory counts.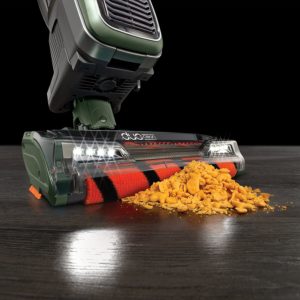 Regarding suction, the APEX is the stronger of the two. We couldn't scientifically test this, but by unscientifically emptying bags of flour on bare floors and carpets, we felt it took fewer passes and less work overall to clean them with the APEX than it did with the Rotator. That said, it was still work with both. As noted above, using the Dyson Ball Animal 2 (270 airwatts) and Multi Floor 2 (245 airwatts) as references, we'd estimate the APEX brings 300 airwatts to the table while the Rotator brought 270. In either case, both were as strong as the strongest Dyson, but the APEX was stronger.
Regarding accessories, you get a hard floor tool, mini motorized brush, pet multi tool, and duster crevice with the Rotator. The APEX drops the hard floor tool and motorized brush to add an anti-allergen dust brush and under appliance wand. Frankly, we didn't spend much time using any of the accessories; with Sharks, we've always been of the opinion that the main cleaning head and wand are efficient enough to do anything their vacuums are capable of doing.
How does the APEX handle carpets, bare floors, and families with kids and pets?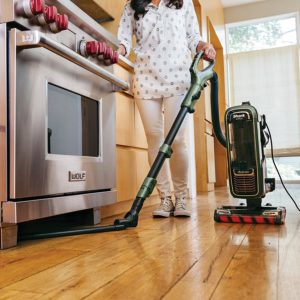 To sum up our thoughts, the APEX is a powerful, ergonomic, and intelligently designed upright vacuum. It's easily the best Shark has yet come up with, and it's the first upright we've come across stronger than the strongest Dysons on the market. It's not a perfect machine–we'd like a longer cord, an an auto-adjusting cleaning head, a wider cleaning head, and a larger dust bin. It's also not going to tackle plush or high-pile carpeting despite its high suction; you'll need a machine with a fully-adjustable cleaning head for that, such as a Miele Complete C2 Electro+.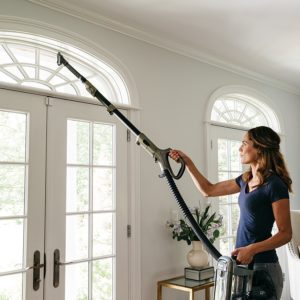 That said, it will handle bare floors (e.g., hardwood, vinyl, ceramic tiles, marble, bamboo, etc) or most residential and commercial carpets (e.g., Saxonies, berbers, and cut and loops) with ease. It'll also give you enough suction to make quick work of cat and dog hair, dust, dirt, and several pounds of food scattered on sofas, stairs, beds, car seats, and everywhere else where life gets in the way of a clean home and car. We understand why Shark called it the APEX; it's certainly the best Shark we've come across so far. We'd recommend buying the APEX over the Rotator for the upgrades in power and only buying the Rotator if you'd rather save a bit of money. Both are excellent vacuums.

You can buy the Shark APEX DuoClean AX951 here on Amazon or save some money and skip out on additional suction by buying the Shark Rotator NV752 here.

Canadians can buy the Shark APEX DuoClean AX951 here on Amazon  or choose a more minimal setup by buying the Rotator NV752 here instead.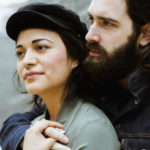 If you find our research on PMC helpful, you can follow our efforts to keep maniacally reviewing home cleaning tools by shopping through our links above. We promise to keep fighting the good fight against every horror children, animals, and grown, yet messy humans can inflict upon a clean home.