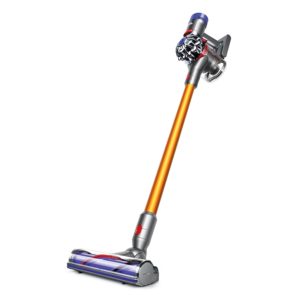 There's no doubt that upright and canister vacuums are more powerful than portable and robotic vacuums for whole-house cleaning tasks. However, more and more families and young professionals have realized lately that sometimes, convenience is more important than pure power. Sometimes that convenience comes in the form of a robot like the Roomba 960 that cleans while you're at work. At other times, it looks like a portable vacuum that you can use to touch up the sofa and counter tops before the in-laws get home.
Dyson gets this, which is why they've got full-sized uprights like the Ball Animal 2, handhelds like the V7 Car+Boat, and cordless or stick vacuums (which are essentially upgraded handheld vacuums) like the Dyson V8 Absolute Cord-Free Vacuum, which we're going to review today. Along the way, we'll also compare it to a slightly lower end twin, the V8 Animal, to see which offers more value for most families. If we had to summarize our review in ten seconds, we'd suggest buying the Absolute if you want the additional soft roller cleaner head (which we recommend), and buying the Animal if you don't. Our full review is below, and you can buy the V8 Absolute here.
Pros, Cons, and Key Features of the Dyson V8 Absolute Cordless Vacuum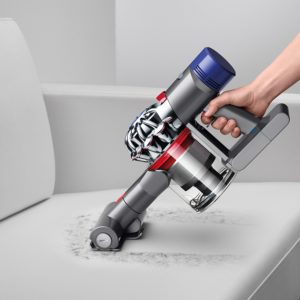 The Dyson V8 Absolute is one of a growing number of portable vacuums released by Dyson in recent years, and is the current flagship of all of them. As a primer, Dyson calls their stronger portables "cordless" or "cord-free" while referring to their weaker portables as "handheld" vacuums. The cordless vacuums include an extension hose that allows them to be used like full-sized uprights when connected and function like enhanced handheld vacuums without it. The handheld vacuums don't have this option and feature less suction and battery life.
The handheld flagship is the V7 Car+Boat while the top cordless model, as noted, is the V8 Absolute we're reviewing today. There are currently two vacuums in the cordless V8 series: the Absolute and the Animal. The V7 series includes the V7 Motorhead while the V6 series features the V6 Absolute, V6 Animal, V6 Fluffy Pro, V6 Fluffy, V6 Motorhead, and V6 Cord-Free.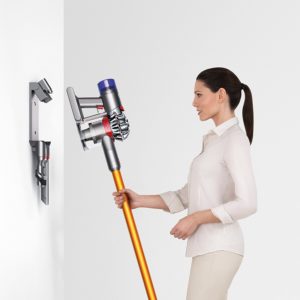 The V8 Absolute's key features include a 40 minute runtime (25 minutes when using the direct drive cleaner head and 7 minutes on max power mode), increased suction levels (Dyson calls it the most powerful cordless vacuum on the market), several accessories with quick release connectors, a docking station, whole machine HEPA filtration, and Dyson's 2 year parts and labor warranty. The V8 Absolute weighs 5.8 pounds on our scale and can generate up to 115 airwatts of suction. Its dust bin holds .14 gallons and you'll need 3.5 hours to fully charge the fade-free and replaceable Lithium-ion battery.
Inside the box, you'll find the V8 and a number of tools–a direct-drive cleaner head, which was our favorite of the bunch, a soft roller cleaner head (our second favorite), a mini motorized tool, combination tool, crevice tool, and mini soft dusting brush. Every tool besides the cleaning heads features quick release connectors. You'll also get a docking station to charge and store the V8 on a walled surface.
What's the difference between the Dyson V8 Absolute and the V8 Animal?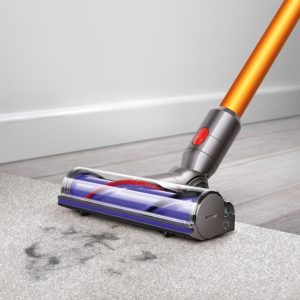 Although Dyson spends a lot of time hyping up the Absolute as the be-all, end-all of cordless vacuums, the truth is that only a few features set it apart from the Animal; both share the same battery and runtime (40 minutes with all tools except for the motorized cleaning head), suction (115 airwatts), HEPA filtration, and dust capacity (.14 gallons). Almost all the accessories are the same as well; the only difference is the presence of a soft roller cleaner head in the Absolute that is absent in the Animal. However, that's a rather significant difference if you value every minute of battery life or have a significant amount of bare flooring.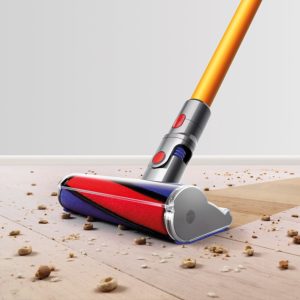 The roller cleaner is designed for bare floors (e.g., hardwood floors, tile, and laminate surfaces) and is basically the Dyson cordless equivalent of the Parquet twister on a Miele C1 Cat & Dog or Electro+. When using it, we found it picked up dust and debris more efficiently than using the powered head, which tended to push dirt around sometimes instead of vacuuming it due to the air currents it created from the rotating brushes. More practically, we also preferred having the option of the roller cleaner head on the Absolute when cleaning bare floors because it used much less battery life than the direct-drive motorhead, which cut battery life from 40 minutes down to 25 (and even that was optimistic at times).
Aside from the lack of a soft roller cleaner head, the only other differences between the two worth mentioning are color–the extension hose is gold on the Absolute and silver, or "titanium" on the Animal–and weight; the Absolute weighs around 5.8 pounds while the Animal weighs 5.6. Practically speaking, this isn't a difference you're going to detect by hand; we only became aware of it when comparing them on a scale.
How well does the Dyson V8 Absolute clean car, minivan, and SUV interiors, as well as around the house?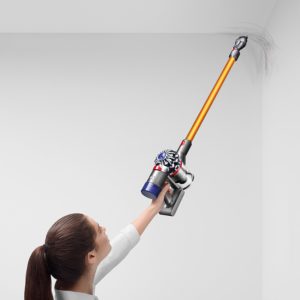 When buying a cordless vacuum, especially one lauded as much as the V8 Absolute, you need to keep your expectations realistic to be happy. It's not going to clean with as much power as a full-sized upright like a Ball Animal 2, and it won't let you tackle low-pile, medium-pile, and high-pile carpets with ease the way you would with a Miele C1 Cat & Dog or Electro+. It's a Dyson, but it's not magic.
That said, with a quality cordless like the Absolute, you should get enough power to clean dust, dirt, food, and pet hair from any bare surface with ease, as well as from a range of upholstered surfaces like car seats, sofas, and vehicle interiors. You should be able to clean low-pile carpets easily and have enough battery life to get through a full cleaning session without feeling like you're leaving things undone.
It won't replace a full-sized vacuum, but it should supplement it enough to let you leave it in the closet except for when you really want to deep clean. And this is about where the Absolute falls in our books. It's not perfect, but it's powerful, lightweight, flexible, and easy enough to use at the drop of a hat that we clean more frequently because it feels like less of a chore than ever before. Compared to the handheld series like the V7 Car+Boat, it's a clear upgrade in power, battery life, and flexibility.
Our main complaints when using it were tied to how long it took to charge the battery; at 3.5 hours, we weren't able to spend entire afternoons cleaning on those rare occasions when the house was empty of kids and pets (and spouses), because by the time it was done recharging, we'd lost interest. Given the fact that it only takes about2-3 hours to charge high-end robotic vacuums like the Roomba 980, 960, and 890, we'd like to see Dyson move toward more efficient charging technology; it would make an already impressive machine even better.
Why buy the Dyson V8 Absolute?
We recommend the Absolute because it's the best cordless vacuum on the market today. Is it perfect? No. As noted, we'd like a shorter charging time, and we're always greedy for more battery life. But for as well as it cleans, as light as it is, and as easy as it is to use in pretty much every environment and among people of every age (our 10 year old daughter and 65-year old grandmother were equally capable of cleaning with it), it's one of the most user-friendly and capable vacuums we've ever come across.

You can buy the Dyson V8 Absolute vacuum here on Amazon. If you don't need the soft roller head, you can buy the V8 Animal here instead.

Canadians can buy the Dyson V8 Absolute vacuum here on Amazon or save some money with the V8 Animal here instead.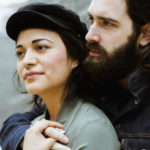 If you find our research on PMC helpful, you can follow our efforts to keep maniacally reviewing home cleaning tools by shopping through our links above. We promise to keep fighting the good fight against every horror children, animals, and grown, yet messy humans can inflict upon a clean home.