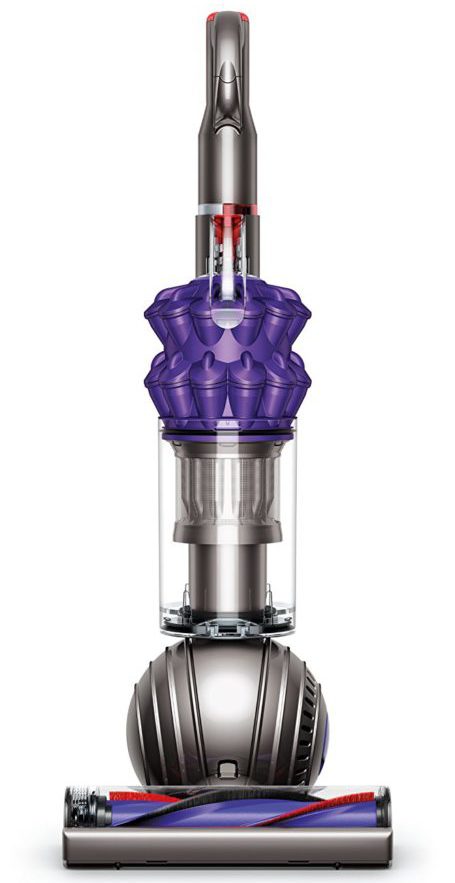 Lately, we've been discussing the merits of power vs portability in a vacuum cleaner, and we've decided it's best expressed as a continuum. On one end, you can buy hands-free robotic vacuum cleaners like the Roomba 960; these will tackle bare floors and light carpets but are helpless with upholstery.
A more practical compromise is a handheld like the Dyson V7 Car+Boat, which you can pick up and move wherever you want. However, you're not going to want to vacuum floors and carpets while on your hands and knees. So maybe you upgrade to a stick vacuum like the Dyson V8 Absolute, which works in full-sized mode for floors and handheld mode when cleaning upholstery. But you're not going to get the strength of a real upright, and you're going to run out of juice after about 20 minutes of cleaning. So what's left?
Well, you could swing all the way to the other end of the continuum and buy a full-sized upright like the Dyson Ball Animal 2. The problem is that, while it'll give you all the power you could ask for, it's still going to be large, heavy, and loud. So what you're really looking for, then, is something stronger than a stick vacuum but not as unwieldy as a full-sized beast. Are there any options?
Per Dyson, yes. They've got a few compact uprights, including the Dyson Small Ball Multi Floor, which we reviewed the other day, and the Dyson DC50 Animal Compact Upright, which we're going to review today and compare to the Small Ball. To summarize our thoughts in ten seconds, get the Small Ball for better suction, longer reach, and a more satisfying user experience, and get the DC50 if you don't mind compromising those areas to get a few more accessories. Our full review is below and you can buy the DC50 Animal Compact here.
Pros, Cons, and Key Features of the Dyson DC50 Animal Compact Upright Vacuum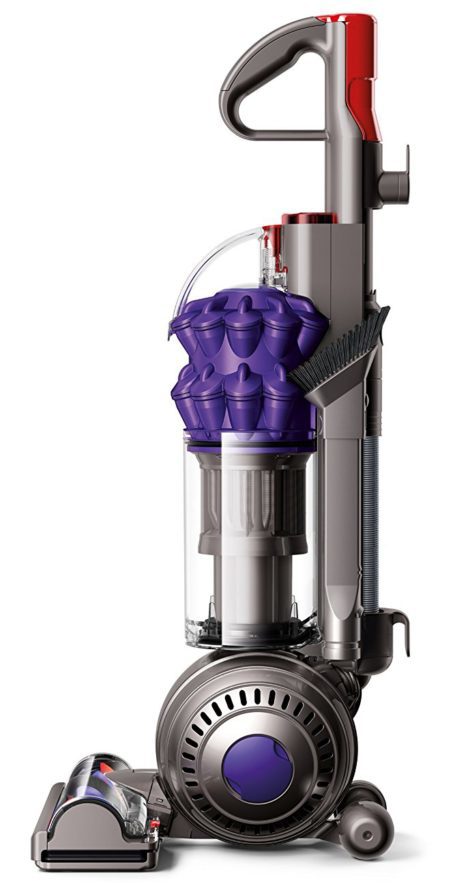 There are only three compact uprights in Dyson's lineup: the Small Ball Multi Floor, the DC50 Ball Compact Allergy, and the beauty you see on the left, the DC50 Animal Compact.
While there are a ridiculous number of Dyson Ball uprights on the market, most of them are pretty much the same aside from accessories. Our favorite full-sizers are the Ball Animal 2 and its slightly smaller clone, the Ball Multi Floor 2. The remaining Ball siblings (e.g., the Ball Allergy, the Cinetic Big Ball Animal, Cinetic Big Ball Multi Floor, Cinetic Big Ball Animal+Allergy, Ball Multi Floor Upright, DC65 Animal, and DC65 Animal Complete, and several more we don't feel like typing out) weigh more, have poorer suction, and generally worse ergonomics.
The DC50's key features include 128 airwatts of suction, the ability to handle bare floors, low-pile carpets, a flexible hose, and an instant-release wand. Its cleaning head automatically adjusts itself in height and the vacuum features whole-machine HEPA filtration. It ships with four accessories–a combination tool, a stair tool, a carbon fiber floor tool, and a tangle-free turbine tool–and its dust bin holds .2 gallons of dirt. The DC50 Animal Compact is 30 inches tall, weighs 11.7 pounds on our scale, and has an 11 inch wide cleaning path. It has 33 feet of maximum reach with 25 of those feet coming from the power cord. Unboxing it, you'll find the vacuum, its accessories, an owner's guide, and Dyson's marvelous 5 year parts and labor warranty.
What's the difference between the Animal Compact and the Small Ball Multi Floor?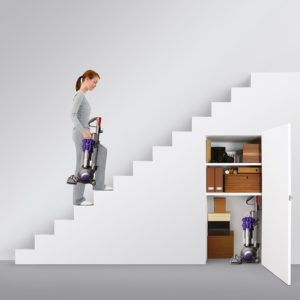 When comparing both vacuums, you realize how much Dyson learned from the Animal Compact when designing the Small Ball. The main differences between the DC50 Animal Compact and the Small Bull Multi Floor have to do with power, reach, and ease of use–all of which are much, much better in the Small Ball than they are in the DC50. That said, you do get two more accessories in the DC50. Let's look at these differences in detail.
In terms of power, the Small Ball is a significant step forward with 150 airwatts compared to the 128 airwatts in the DC50. Neither is nearly as powerful as the Ball Animal 2, which puts out a class-leading 270 airwatts, but the Small Ball offers a much more satisfying experience when cleaning. The DC50, in contrast, is barely any more powerful than the V8 Absolute stick vacuum, which offers 115 airwatts, weighs half as much (5.6 vs 11.7 pounds), and runs on batteries.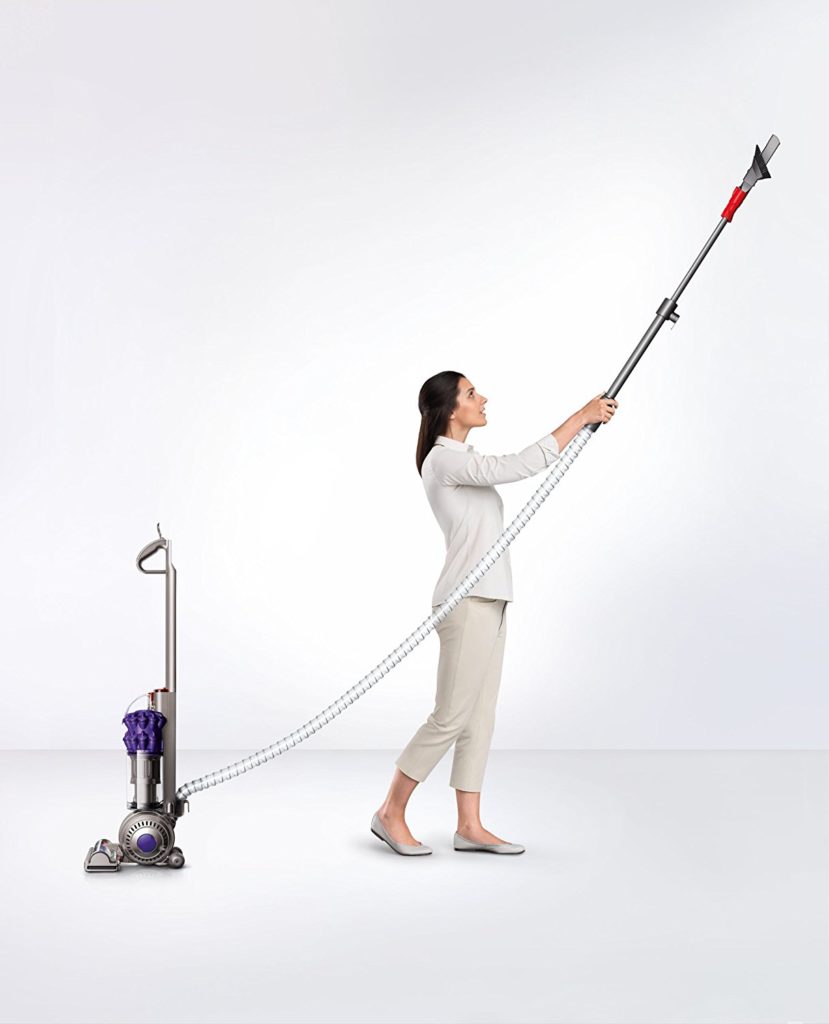 Beyond power, the Small Ball wins on reach, with a 42 foot radius that dwarfs the DC50's 33 foot cleaning radius. As with the power differences, we noticed the difference immediately when cleaning, as we frequently tugged and tipped the DC50 due to an inability to reach whatever we were trying to reach. The Small Ball, in contrast, was much closer to the 50 feet of the Ball Animal 2, and felt much more like a "normal" vacuum and not one with a power cord that was chopped in half at the factory.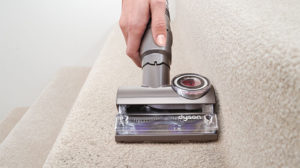 Finally, even though you get two more accessories–the carbon fiber floor tool and tangle-free turbine tool–with the DC50 than with the Small Ball, we'd have happily traded those back for the greater reliability and ergonomics of the Small Ball. While the DC50 isn't bad at all for a compact vacuum, it noticeably differs in build quality from the Small Ball. You'll hear much more plastic squeaking, the vacuum will struggle to stay up instead of tipping over, and its ridiculously short hose and wand make it hard to use without constantly feeling the vacuum pull behind you like a needy toddler. We'd recommend just saving yourself these frustrations and buying the Small Ball instead.
Why buy the DC50 Animal Compact?
Although the DC50 Animal Compact will do a competent job as a compact version of some rather stellar full-sized upright vacuums, we have trouble recommending it in a world where the Small Ball Multi Floor exists. Both will clean hardwood floors, but the Small Ball will be less likely to slip and slide while you do so. Both can handle low-pile and some medium-pile carpets, but the Small Ball will clean them with more suction, which will mean less time spent revisiting troublesome sections (e.g., the spot of carpet where your cats or Golden Retriever happily shed a pound of fur each week).
Overall, if you decide to buy a lightweight full-size replacement, you want to enjoy the experience. We could tolerate the DC50 Animal Compact, but we enjoyed the Small Ball more.

You can buy the Dyson Small Ball Multi Floor here on Amazon or go retro by buying the Dyson DC50 Animal Compact here.

Canadians can buy the Dyson Small Ball Multi Floor here on Amazon or choose a more minimal setup by buying the Dyson DC50 Animal here.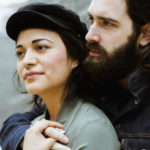 If you find our research on PMC helpful, you can follow our efforts to keep maniacally reviewing home cleaning tools by shopping through our links above. We promise to keep fighting the good fight against every horror children, animals, and grown, yet messy humans can inflict upon a clean home.