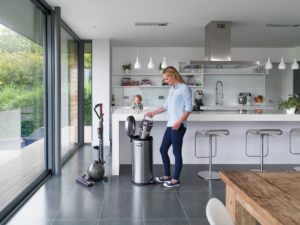 Even though portable and robotic vacuums are gaining ground on full-sized uprights and canisters in homes across the US and Canada, we don't see them dominating the market for a while yet. Why? Because they still can't offer more than a fraction of the cleaning power of dedicated, AC-powered, full-sized vacuum cleaners. Of course, if you want a buy-it-for-life canister, you'll need to buy a Miele. But if you want the best of what upright vacuums have to offer, you're going to want a Dyson.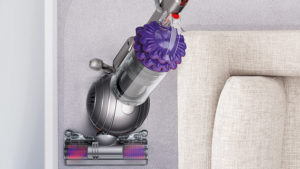 We're on a mission to review every Dyson upright on the market right now. The other day we reviewed the Cinetic Big Ball Animal Plus Allergy, and today we're going to review its twin, the Dyson Cinetic Big Ball Animal, to see whether it's worth springing for the upgrades in the Animal+Allergy or sticking with the Animal. If we had to condense our review to a ten second summary, we'd suggest choosing the Animal+Allergy if you want four extra cleaning tools and the Animal if you don't; the vacuums themselves are identical. You can read our complete review below, and you can buy the Cinetic Big Ball Animal here.
Pros, Cons, and Key Features of the Dyson Cinetic Big Ball Animal Upright Vacuum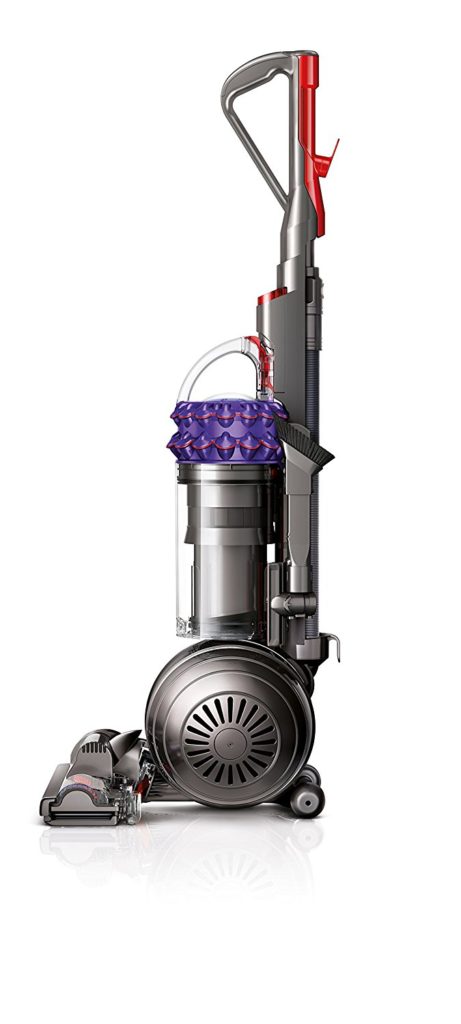 The Cinetic Big Ball Animal is one of an ever-widening series of full-sized "ball" upright vacuums released by Dyson in recent years. All share the ball-axis and some of the strongest suction ratings in the upright vacuum industry.
Aside from the Cinetic Big Ball Animal, you can buy its more accessorized twin, the Cinetic Big Ball Animal+Allergy; both are distinguished from remaining Dyson balls by the fact the lack of internal replaceable filters. Other options include the current flagship, the Ball Animal 2, as well as the Multi Floor 2, Multi Floor Upright, and Small Ball. Previous generation models include the DC65 Animal, DC50 Animal Compact, and DC65 Animal Complete. If you can't keep track of all the balls Dyson has thrown into the air, don't worry; they do this with their cordless and handheld vacuums too.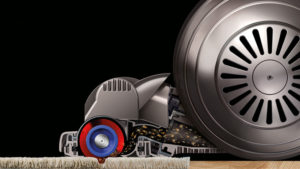 The top selling feature for the Cinetic Big Ball Animal is its whole machine HEPA filtration without the need for replaceable HEPA or motor filters; Dyson argues this cuts maintenance costs and also gives you a vacuum that won't lose suction. As we noted in our Animal+Allergy review, this is generally correct, with few exceptions that we'll discuss below.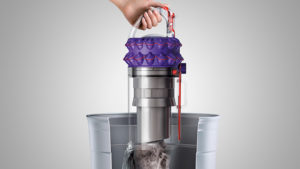 Aside from the filter-free technology, the Cinetic Animal has 180 airwatts of suction (less than the 270 watts of a Ball Animal 2, but still impressive), the ability to clean bare floors and low-to medium-pile carpets, an auto-adjust cleaning head, and three accessories: a tangle-free turbine tool, a combination tool, and a stair tool. The hygienic dust bin holds almost .6 gallons of waste and the vacuum has a 35 foot power cord and 50 foot operating radius. It tips the scales at 19.2 pounds, is 43.4 inches tall, and has a cleaning path 13.4 inches wide.
Inside the box, you'll find the Animal, which also includes a flexible hose and instant-release wand, the aforementioned cleaning tools, an instruction manual, and Dyson's impressive 5 year parts and labor warranty.
What's the difference between the  Big Ball Animal and Animal+Allergy?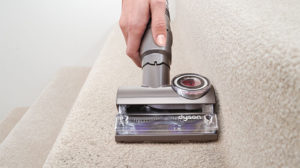 As we noted above, the Cinetic Big Ball Animal and the Animal+Allergy are exactly the same vacuum; they only differ in accessories. In addition to the turbine, combination, and stair tools in the Animal, the Animal+Allergy adds a soft brush, a reach tool, a multi-angle brush, and a mattress tool.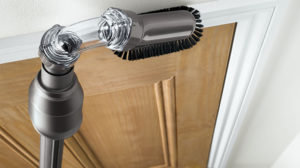 Of these tools, the ones we miss most in the Animal are the multi-angle brush and mattress tool. In the Animal+Allergy, we found the mattress tool particularly handy for removing dirt, dust, and (hopefully) dust mites from our bedding and mattresses. The multi-angle brush was helpful when it came to reaching shelves and upper-level cases and panels that we wouldn't be able to clean with any other tool but a stepladder. We're not saying we couldn't use the Big Ball Animal effectively without these tools; we could. They just added to our convenience and made it easier to do certain tasks that we'd otherwise have skipped or suffered through.
How well does the Big Ball Animal clean dirt, dust, and pet hair from upholstery, bare floors, and carpeting?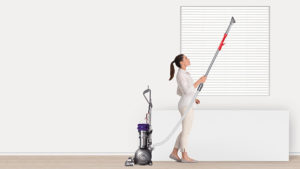 When you buy a high-end upright like the Big Ball Animal, you're going to have certain expectations, and rightly so. A machine of this caliber should be able to clean hardwood and other bare floors easily; it should tackle most residential carpet styles (i.e., berbers, saxonies, and cut and loops), and it should be comfortable with both low- and medium-pile heights. Synthetic fibers like nylon, polyester, olefin, and triexta should be well within its cleaning capabilities, as should natural fibers like wool. And it should be able to clean up dirt, dust, and dog and cat hair easily from all of these surfaces in addition to from stairs, sofas, car seats, and wherever else a busy family can make a mess.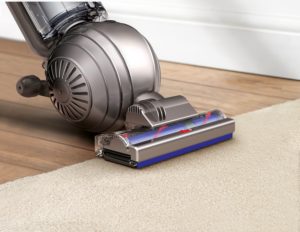 The Big Ball Animal can cope with all of these environments. The only cleaning limitations we noticed were the expected ones: frieze carpets, soft carpets, and high-pile carpets. For such carpets, you'll want a machine like a Miele Complete C2 Electro+. But for everything else, even though the Big Ball Animal didn't have as much suction as a Ball Animal 2, it certainly had enough for practical and powerful cleaning.
However, it's important to note that, as with the Animal+Allergy, some owners have reported issues with the filter-free design of the Animal. While it's true that the machine provides HEPA filtration without a HEPA filter, there are a few Cinetics that tend to clog their internal mesh screens (located inside the dust bins) over time. If this occurs, your suction will decrease until you hand-clean the screen. The vast majority of Cinetic owners will never see this issue, but a few will, and it can be frustrating to deal with if it affects you.
Why buy the Cinetic Big Ball Animal?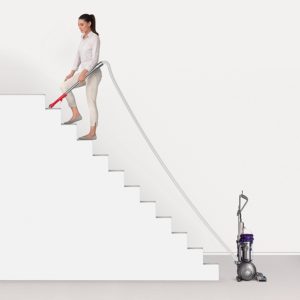 In conclusion, the Cinetic Big Ball Animal is a rather unique upright vacuum, even within the Dyson lineup. The only other vacuum quite like it is the Big Ball Animal+Allergy, which shares the same filter-free design but throws many more accessories in the box. We'd recommend buying the Animal+Allergy if you want the additional cleaning tools and sticking with the Big Ball Animal if you'd like a lighter setup. In our books, Both vacuums are big and powerful, and your odds of happiness with either are high.

You can buy the Dyson Cinetic Big Ball Animal+Allergy here on Amazon or save some money and skip out on accessory overload by buying the Dyson Cinetic Big Ball Animal here.

Canadians can buy the Dyson Cinetic Big Ball Animal+Allergy here on Amazon  or choose a more minimal setup by buying the Cinetic Big Ball Animal here.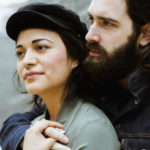 If you find our research on PMC helpful, you can follow our efforts to keep maniacally reviewing home cleaning tools by shopping through our links above. We promise to keep fighting the good fight against every horror children, animals, and grown, yet messy humans can inflict upon a clean home.