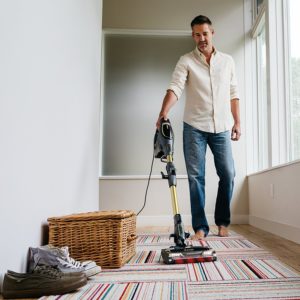 We're still waiting for a Jetsons'-like world where robots do our cleaning for us. Until then, we're not selling our vacuums any time soon. Yes, you can buy a robotic vacuum or mop if you're really sick of cleaning, and it'll do a far better job than training your pets to walk around with wet wipes beneath their paws, but you're not going to get a thorough job done with a robot. They won't clean stairs, sofas, countertops, car interiors, or pretty much anywhere else that doesn't involve bare floors or carpets. So what's a busy grown-up to do?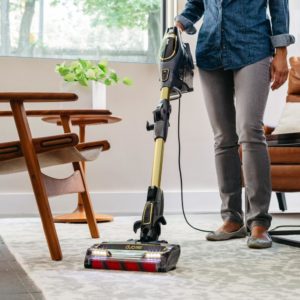 Well, if you're Shark or Dyson, the answer is to make a vacuum that makes cleaning more tolerable, efficient, and, if you're lucky, enjoyable. If you prioritize power and suction over anything else, the strongest uprights on the market right now are the Shark APEX DuoClean AX951 and the Dyson Ball Animal 2. But if you want a middle-ground between the portability of a handheld like the V7 Car+Boat and the power of a full-sized upright, you'll probably want to buy a stick vacuum.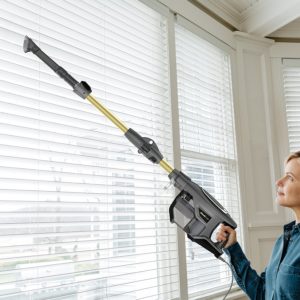 The best two on the market are the Dyson V8 Absolute and the Shark IONFlex 2x DuoClean IF251, while the V8 Animal and IONFlex DuoClean IF201 are right on their heels. But if you want stick convenience but don't mind using a power cord, or specifically want to be able to clean without worrying about battery life, you'll want to consider what we're going to review today: the Shark Flex DuoClean Corded Ultra-Light HV391 Upright. Our ten second summary is to buy the IONFlex IF201 if you value portability and to buy the Flex HV391 if you don't want to deal with batteries; the vacuums are essentially the same otherwise. Our full review is below, and you can buy the Flex HV391 here.
How does the Shark Flex DuoClean HV391 rank compared to other Shark cordless vacuums?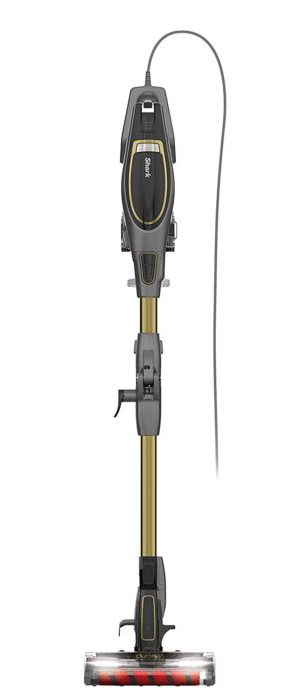 The Flex DuoClean HV391 is one of about two dozen ultralights, both corded and cordless, that Shark has flooded the market with in recent years to unseat Dyson from its long-held position of dominance. We won't try to review them all; we're not even sure Shark is keeping track. Here's where the HV391 stands compared to its fellow Shark ultralights.
Shark has some brand-specific jargon to be aware of. ION means the vacuum is powered by a Lithium-ion battery. Flex means the vacuum can bend in the extension hose to make it easier to reach beneath beds and furniture while saving your back and knees. DuoClean means the vacuum includes a dual brushroll system (unlike Dyson's multiple head system, such as in the V8 Absolute) for greater efficiency.
The Flex DuoClean HV391 is the company's highest-end corded ultralight. It's basically the IONFlex 2x DuoClean IF251 or IONFlex DuoClean IF201 with a power cord instead of with batteries. Close relatives include the HV382 and HV322, which are corded but don't flex, and the ION Rocket IR101, which lacks flex  and DuoClean but is cordless.
Pros, cons, and key features of the Shark Flex DuoClean HV391 Vacuum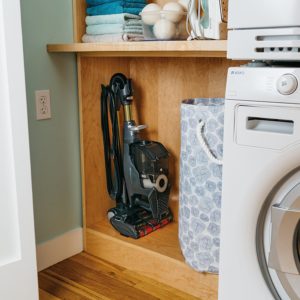 Key features of the Flex HV391 include its flex and dual brush systems outlined above and an estimated 115 airwatts of maximum suction based on our comparing it to the V8 Absolute. It can clean bare floors, low-pile carpeting, and upholstery, and features an adjustable cleaning head. When folded, it stands independently. It is 49 inches tall, weighs 9 pounds on our scale, and has a 10.2 inch wide cleaning path. Its reach is just over 40 feet with a 30 foot power cord and the dirt cup holds .07 gallons at full capacity. It also includes LED lights to help find dirt when vacuuming beneath furniture. It ships with three cleaning tools: a duster crevice tool, multiflex under appliance wand, and pet multi tool. Inside the box, you'll also find a user manual and quick start guide as well as Shark's 5 year limited vacuum warranty.
What's the difference between the Shark Flex HV391 and the IONFlex IF201?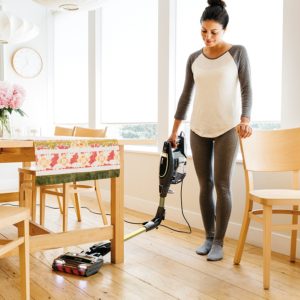 The only meaningful difference between the Flex HV391 and the IONFlex IF201 is the fact that the Flex runs on AC power and the IONFlex runs on a 30-minute Lithium-ion battery. You can swap the IONFlex's battery with additional batteries to have a theoretically unlimited runtime, but it ships with one battery by default.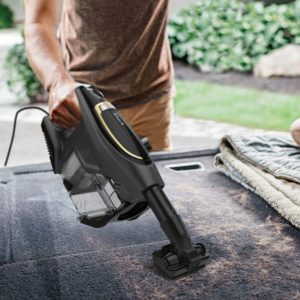 It's also worth noting that you get slightly different accessories with both vacuums; while both include the duster crevice tool, the HV391 then adds an under appliance wand and pet multi tool while the IF201 adds a dusting brush, wide upholstery tool, and anti-allergen dust brush. Practically speaking, you won't use any of them nearly as much as the main cleaning head for the vast majority of your cleaning jobs and the handheld mode for spot cleaning here and there. Both vacuums are already highly functional out of the box; it's just a question of whether you want a cord or batteries.
How thorough is the Shark Flex HV391 when cleaning floors, furniture, and pet hair?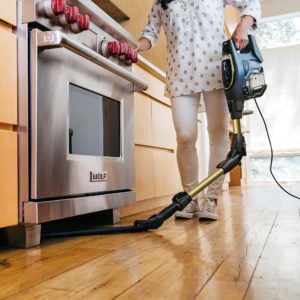 To summarize our thoughts and conclude our review, the Flex HV391 is every bit as powerful as the IF251 and IF201, which says a lot when the IF251 is the best ultralight vacuum Shark has made so far. We're not saying the HV391 is a perfect vacuum; the fact that it's corded will be a deal-breaker for many, especially anyone comparing it to a Dyson ultralight like the V8 Animal.
That said, the HV391 is as powerful as any Dyson cordless and offers the foolproof assurance of never running out of battery life or dealing with diminished runtimes due to battery decay over time. It'll easily take care of bare floors (e.g., hardwood, vinyl, ceramic tiles, marble, bamboo, etc) or most residential carpets (e.g., Saxonies, berbers, and cut and loops). It'll also have the flexibility to clean in both stick and handheld mode, which means you'll be able to handle dirt, grime, pet hair, and dust throughout your home and life, including in your car and kids' car seats, which seem to become magnets for crumbs over time. Our main recommendation would be to buy the IF201 if you know you don't want to deal with a power cord and to stick with the HV391 if you don't want to deal with a battery.

You can buy the Shark IONFlex IF201 vacuum here on Amazon. If you don't need cord-free portability, you can buy the Flex HV391 here.

Canadians can buy the Shark IONFlex IF201 or IF201C vacuum here on Amazon or skip the battery and embrace corded reliability with the Flex HV391 here instead.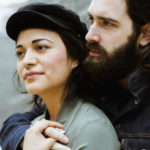 If you find our research on PMC helpful, you can follow our efforts to keep maniacally reviewing home cleaning tools by shopping through our links above. We promise to keep fighting the good fight against every horror children, animals, and grown, yet messy humans can inflict upon a clean home.