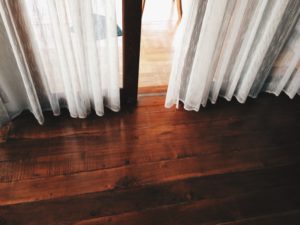 When home buyers are polled for the features they most value when buying a new house, hardwood floors rank increasingly higher on the list. However, if you buy a home that didn't include hardwood floors from the start, buying and installing them can be rather expensive, and caring and maintaining them can be a challenge. Today we'll look at typical hardwood flooring options and their pros and cons to help you decide whether or not they're a good fit for your home, condominium, or town-house.
How is hardwood flooring usually sold?
Hardwood floors are typically sold in three options: strip flooring, plank flooring, and parquet flooring. Wood strip flooring is, as it sounds, strips of wood laid down one after another to make a full floor. Each segment will typically be between 1-1/2 inches and 2-1/4 inches wide. Plank flooring strips are essentially strip floors with greater width. Parquet floors are the most unique of the three; they're essentially a geometric pattern (e.g., a zig-zag) made of individual squares.
You can buy hardwood floors with or without finishing, although you won't get such a choice if you're moving into a house where they've already been installed. When unfinished, you can choose a stain finish that complements your home décor.
Home buyers find hardwood flooring attractive and are willing to pay more for it
Perhaps the primary advantages of hardwood floors in modern markets are that they're aesthetically pleasing and hold their value. Thanks to a range of home-based shows, magazines, and entire channels like HGTV, new home buyers have been tuned to the allure of homes with hardwood floors and are willing to pay above asking prices for them in many markets.
Housing market data shows homes with hardwood flooring spend less time on the market than properties with wall-to-wall carpeting. To put it another way, builders won't increase prices for builder's grade residential carpeting, but they will charge upgraded prices for hardwood flooring.
Hardwood floors can last as long as you own a home
Budget-minded home owners love hardwood floors because of their durability. A solid wood floor, when properly maintained, can last for hundreds of years as long as it's properly cared for. Day to day maintenance is limited to sweeping, vacuuming, and cleaning from time to time with hardwood floor cleaners. Carpets, in contrast, are vulnerable to staining, soiling, mold, mildew, and a range of additional issues depending on whether you choose natural or synthetic fibers.
You can match it to almost any decorative style in your home
Hardwood flooring is flexible; if you've got a décor anywhere between ultra-traditional and hyper modern, you'll probably be able to find a wood floor style to match it. You can choose from a range of woods, including walnut, cherry, oak, and maple, and with sanding and staining, you can change your wood to match your tastes. And if and when you change your style, your floors can change with you.
But if you want wood flooring, you're going to pay for it
While there are several merits to hardwood flooring, it's important to understand their limitations. Cost is perhaps the most obvious. While it's possible to spend as little as $3 for each square foot of wooden flooring, such as when buying unfinished oak strips in brick-and-mortar stores, you can easily head in the other direction and spend more than $13 per square foot when using exotic woods from sustainable sources. Similarly, the installation itself can be a challenge; although some homeowners can DIY a hardwood floor installation, most are going to want to hire the job out, which adds to labor costs.
Even though it's durable, it still needs refinishing
Beyond cost, you'll need to think of the long term maintenance of your flooring if you choose to go the hardwood route. While hardwood floors can be more durable than the strongest carpets, you'll still need to refinish scuffed, scratched, or otherwise damaged floors every now and then. The degree to which you'll need to will vary with the hardness of the wood; softer woods will blemish sooner than harder woods. And if your flooring is installed in a high-traffic area such as your stairs, hallway, or family room, it's going to wear sooner and reveal damage in less time than if you're using it in a low-traffic area like a bedroom or nursery. If you've got pets or young children, the damage will be even more noticeable.
The refinishing process itself will cost anywhere from $1.50 to $5.00 or even more for each square foot if you have it done professionally; the rate will vary with the wood used, how it's finished, your room layout, and more. You'll also spread dust when you have a floor refinished, whether you do it yourself or call in the pros, due to the sanding. That's not even mentioning the fumes you'll spread due to the coating with polyurethane.
They'll never be as silent or as soft as carpeting
Finally, no matter how much you spend on your floors, if they're made of wood, they're going to make noise when you walk on them. If you live in a single family home, this won't bother anyone but those in your home, but if you're in a condo, town-house, or apartment complex, you might need to keep neighbors in mind. An area rug will help mute sounds, but it won't completely mask them. And no matter which bare floor you use, it's never going to match a rug or carpet–especially a frieze, high-pile, or soft carpet–when it comes to comfort, softness, warmth, or insulation. As a result, if you have young children or elderly family members or guests to keep in mind, you'll want to consider carpeting or at least rugs for their safety.
Which vacuum cleaners best care for hardwood floors?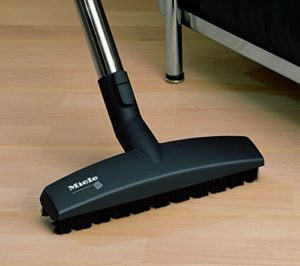 If you own hardwood floors, you'll generally be able to care for them with sweeping or with just about any vacuum cleaner. However, some tools are better than others, and we typically recommend vacuums with Parquet heads. A Parquet head, such as one found in a Miele Complete C3 Soft Carpet or the Miele Compact C2 Electro+, include such heads to effectively clean bare floors, in addition to powered electric heads to clean low-pile, medium-, and high-pile carpeting with ease.

You can buy the Miele Complete C3 Soft Carpet here on Amazon or buy the Miele Compact C2 Electro+ here.

Canadians can buy the Miele Soft Carpet here on Amazon or buy the Compact Electro+ here.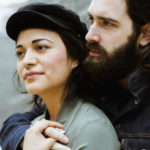 If you find our research on PMC helpful, you can follow our efforts to keep maniacally reviewing home cleaning tools by shopping through our links above. We promise to keep fighting the good fight against every horror children, animals, and grown, yet messy humans can inflict upon a clean home.