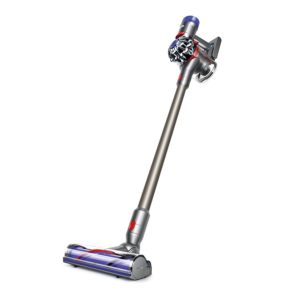 Sometimes in life, portability trumps power. It's why people choose laptops over desktops, tablets over laptops, and smart phones over all of the above when in the checkout line at the grocery store. It's the same with vacuums; while uprights and canisters are typically going to do a more thorough job cleaning than portable or robotic vacuums, sometimes that extra power isn't as important as the ability to squeeze in a few minutes of cleaning before your mother-in-law drops by. And yes, we're speaking from experience.
Dyson gets this. It's why they'll sell you full-sized uprights like the Ball Animal 2, handhelds like the V7 Car+Boat, and stick vacuums like the V8 Absolute we reviewed the other day. Today we're going to review the Dyson V8 Animal Cord-Free Vacuum and compare it to its V8 sibling, the Absolute, to see if it's worth the upgrade. Our ten second summary is to upgrade to the Absolute if you want the soft roller head and to save your money with the Animal if you don't. We review it fully below, and you can buy the V8 Animal here.
Pros, Cons, and Key Features of the Dyson V8 Animal Cordless Vacuum
The Dyson V8 Animal is one of several portables Dyson's put out in the last several years, and is the second-highest model in the lineup. Dyson generally calls their high-end portables "cordless" or "cord-free" vacuums and calls their low-end line "handheld." The main differences are better battery life in the cordless line as well as an extension hose to turn them into stick vacuums. The best handheld is the V7 Car+Boat and the best cordless is the V8 Absolute. Other cordless options include theV7 Motorhead,  V6 Absolute, V6 Animal, V6 Fluffy Pro, V6 Fluffy, V6 Motorhead, and V6 Cord-Free.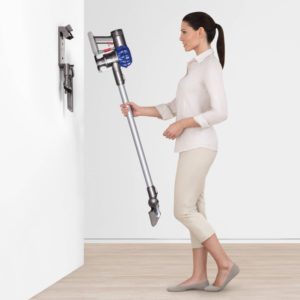 Key features of the V8 Animal include 40 minutes of runtime (which drop to 25 minutes with the direct drive cleaner head and 7 minutes with max power mode), more suction (per Dyson, it's the most powerful cordless vacuum you can buy), a range of accessories with quick release connectors, a charge-docking station, full HEPA filtration, and Dyson's famous 2 year warranty. We weighed the Animal at 5.6 pounds, and per Dyson, it tops out at 115 airwatts of suction. You can fit .14 gallons of dirt in the dust bin and fully charge its fade-free Lithium-ion battery in 3 and a half hours.
Unboxing the Absolute, you'll find the vacuum and several tools–a direct drive cleaner head, which you'll probably spend the most time using, a mini motorized tool (a favorite when using the vacuum in handheld mode), a combination tool, a crevice tool, and a mini soft dusting brush. Aside from the cleaner head, the rest of the tools use quick release connectors. As mentioned earlier, a docking station for charging and storing the V8 is also included.
What's the difference between the Dyson V8 Animal and the V8 Absolute?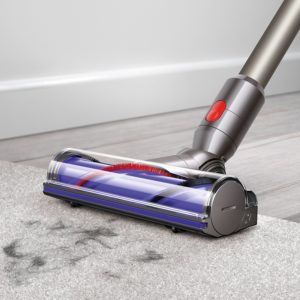 Despite Dyson's marketing of the Absolute as a must-have cordless vacuum, it only has one significant difference from the Animal: a soft roller cleaner head in addition to the motorized cleaning head. Everything else is the same–the battery runtime at 40 minutes, the 115 airwatts of suction, the HEPA filtration–as well as all of the accessories. However, if you prioritize battery life or have a lot of bare flooring, the soft roller head can make the Absolute worth the upgrade. Let's look at it more closely.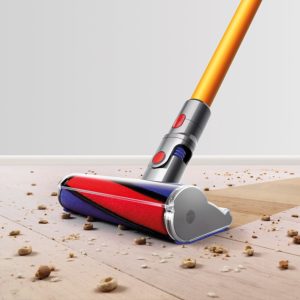 The roller cleaner is an additional cleaning head for bare floors like hardwood floors and tile. If you've ever owned a Miele like the C1 Cat & Dog or Electro+, it's Dyson's version of the Parquet twister. It makes cleaning dust and debris on bare floors a quicker and more efficient process than using the powered head, which sometimes pushed dirt around due to the air currents the spinning brushes created. However, the main reason we liked having it on the Absolute was because it allowed us to clean floors while using a lot less battery life than the motorhead, which chopped battery life from 40 minutes to 25 minutes, and even that was hard to get sometimes.
If you can look past the lack of the soft roller head, the only other differences worth mentioning between the Absolute and Animal are in color–you get a gold extension hose with the Absolute and a titanium hose with the Animal–and weight. The Animal, at 5.6 pounds, is a hair lighter than the Absolute at 5.8 pounds. Practically speaking, you're not going to notice; we only noticed it because we put both on a scale.
How well will the Dyson V8 Absolute clean minivans, SUVs, and a house full of kids and pets?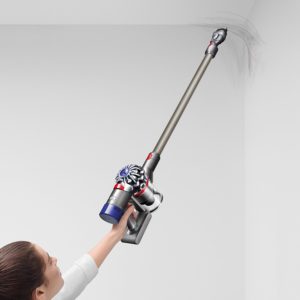 When buying a cordless or stick vacuum, you need to know what it can and can't do to avoid buyer's remorse. It's not going to give you the cleaning power of a full-sized upright like the Ball Animal 2, and you're not going to glide through high-pile carpets the way you would with a Miele C1 Cat & Dog or Electro+. It's a Dyson, but it's not a magic wand.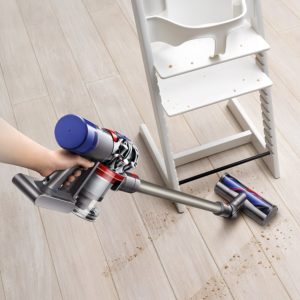 That said, a high-end cordless vacuum like the Animal will let you clean food, dirt, dust, pet hair, and unknown grimy objects (UGOs) from bare surfaces easily, as well as from many upholstered ones, including car seats, sofas, and the insides of your minivans, SUVs, cars, and pickup trucks. While high-pile carpets will be out of reach, low-pile carpets will definitely be within range, and you should be able to get through a decently-sized cleaning session without needing to take a charging break (as long as you don't get trigger happy with the max power mode).
The main things we'd like to see improved in the Animal are the flaws we already pointed out in the Absolute; at 3.5 hours, it takes a bit too long to charge the battery for our tastes, especially given how rare it is to have a full afternoon cleaning without kids, pets, and spouses at home. When you can buy high-end robovacuums like the Roomba 960 and 890 that fully charge in 2-3 hours, we'd like to see such charging technology brought to the land of Dyson. And of course, we'd like more battery life on max mode.
Why buy the Dyson V8 Animal?
For the money you pay for the Animal, in our books, it's a steal. You get the best cordless vacuum on the market for hundreds less than its twin (the Absolute) because it lacks an additional head for bare floors. It's not a perfect vacuum; we'd like more battery life and less charging time, which is always the case with cordless vacuums. But it cleans very well, it's lightweight, easy to maneuver, and is simple enough for everyone to use (we've tested it with 10 year old girls and 65-year old grannies and both have given it a thumbs-up). Our main suggestion for improvement would be to upgrade to the Absolute if you have a good amount of hardwood floors and want to maximize battery life. Both are amazing, functional vacuums.

You can buy the Dyson V8 Absolute vacuum here on Amazon. If you don't need the soft roller head, you can buy the V8 Animal here instead.

Canadians can buy the Dyson V8 Absolute vacuum here on Amazon or save some money with the V8 Animal here instead.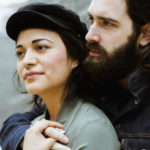 If you find our research on PMC helpful, you can follow our efforts to keep maniacally reviewing home cleaning tools by shopping through our links above. We promise to keep fighting the good fight against every horror children, animals, and grown, yet messy humans can inflict upon a clean home.