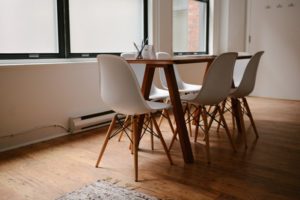 If you want bare flooring for your home, town-house, or condominium, statistically, you're going to choose hardwood floors. But if you don't want hardwood (and we don't blame you if you don't; like every floor, they have cons as well as pros), you might be a good candidate for laminate flooring.
Like hardwood, laminate is classified as a hard floor on the resiliency scale, and offers a number of advantages related to longevity and affordability compared to many other floor coverings. However, once again, as with every floor, it has its sticking points. Today we'll consider the benefits, drawbacks, and costs of laminate flooring to help you figure out if it's the right choice for your living space.
What are the pros and cons of laminate flooring when it comes to durability and maintenance?
One of the biggest reasons people choose laminate flooring is due to its durability. Unlike wooden floors, which are prone to denting and scratching, it's next to impossible to damage laminate by either method. Laminate flooring is built in layers, and the top layer is a wear or protective layer, which is designed to protect the image below (the photographic layer).
When comparing warranties (a good idea before buying carpets and bare floors alike), you'll even see 10 or 15 year warranties covering the wear layer. The longer the warranty, the greater the confidence the manufacturer holds in its product. Aside from dent and scratch resistance, you'll also find it hard to stain laminates due to their hydrophobic (water-resisting) composition. If, by some chance, your floors do end up stained, you'll typically be able to wipe or wash them off easily.
On the other hand, unlike solid hardwood floors, you're not going to be able to sand or refinish a laminate floor if it ends up deeply scratched, grooved, or simply worn down over time. Once it reaches a point of wear and tear where it's in need of renovation, you'll need to replace it instead.
How hard is it to clean laminate floors and how resistant are they to moisture and humidity?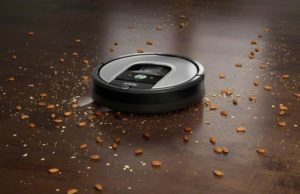 As noted above, laminate floors are easy to clean; you can take care of most dirt, dust, and pet hair with a broom, although it'll be faster to use a good vacuum. If you don't want vacuums with dedicated Parquet heads (which we recommend below for maximum efficiency), you can typically use a robot vacuum (e.g., a Roomba 960) to clean your floors to a satisfactory level. For mopping, a damp mop will do in a pinch, as will a robotic mop like a Braava 380t. You can add a few drops of laminate floor cleaner to a cleaning cloth or robotic mop if you'd like to get your floors shining. You don't need to wax your floors.
When it comes to handling moisture and humidity, laminate fares better than carpet (which is highly susceptible to mold, mildew, and buckling when wet), but not nearly as well as essentially waterproof surfaces like ceramic and porcelain tiles or vinyl. You can install laminate in areas with moderate levels of moisture–places like your kitchen or your powder room. Slight, temporary moisture is fine. However, it's not going to stand up to standing water, which might occur in kitchens and bathrooms with ongoing water leaks. If you have frequent spills or high moisture levels, laminate flooring might not be for you.
How expensive is laminate flooring compared to other bare floors?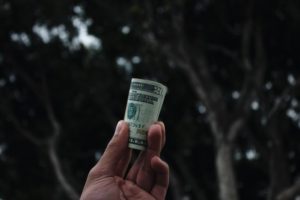 Compared to most bare floors, laminate is cheap. In fact, it consistently ranks as one of the cheapest surfaces on the market, and is comparable to basic low pile residential carpeting like berbers or Saxonies. However, the money you save on purchase and installation is money that won't be available to raise the value of your home when you decide to sell it. If you want the resale value of hardwood, tile, or engineered woods, you're going to have to pay for it when you install the floors.
How hard is laminate underfoot and does it come with higher risks of falls?
While laminates are classified as hard floor coverings (along with solid wood, ceramic and porcelain tiles, natural stone, and engineered wood), it's likely the softest of the hard floors, and will be easier to bear underfoot for long periods of time than many fellow floorings. A con in its construction, however, is that traditional laminate flooring can be very slippery, increasing a fall risk. Modern laminate floors, however, often include wear layers that are slip-resistant.
A bigger problem is static electricity; laminate floors readily generate static, particularly in the winter, although you can reduce the effects somewhat by adhering to a frequent cleaning schedule.
Which vacuums can clean both laminate floors and carpets easily?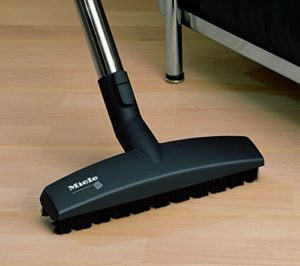 Unlike with hardwood floors, people who buy homes with laminate floors (or who install them later) are often quite willing to mix and match them with carpets. As a result, it makes sense in our books to buy vacuums capable of cleaning both kinds of surfaces effectively.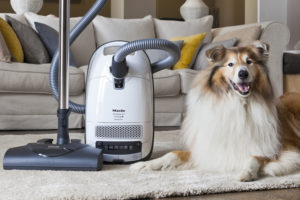 While you can clean laminates with just about any vacuum on the market, we prefer using machines with Parquet heads, as these help pick dirt up efficiently instead of simply pushing it around due to air currents around the suction head. A good canister like the Miele Complete C3 Cat & Dog (reviewed here and here) or Miele Compact C2 Electro+ (reviewed here and here) will include both Parquet heads for efficient bare floor work and powered electric heads for cleaning carpets of every pile and style, making it easy to have one machine to handle all cleaning tasks with ease.

You  can buy the Miele Complete C3 Cat & Dog here on Amazon or buy the Miele Compact C2 Electro+ here.

Canadians can buy the Miele C3 Cat & Dog here or buy the Compact Electro+ here.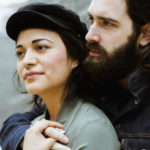 If you find our research on PMC helpful, you can follow our efforts to keep maniacally reviewing home cleaning tools by shopping through our links above. We promise to keep fighting the good fight against every horror children, animals, and grown, yet messy humans can inflict upon a clean home.