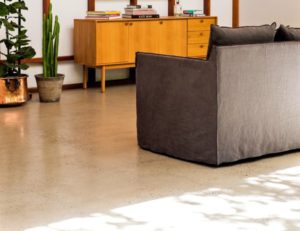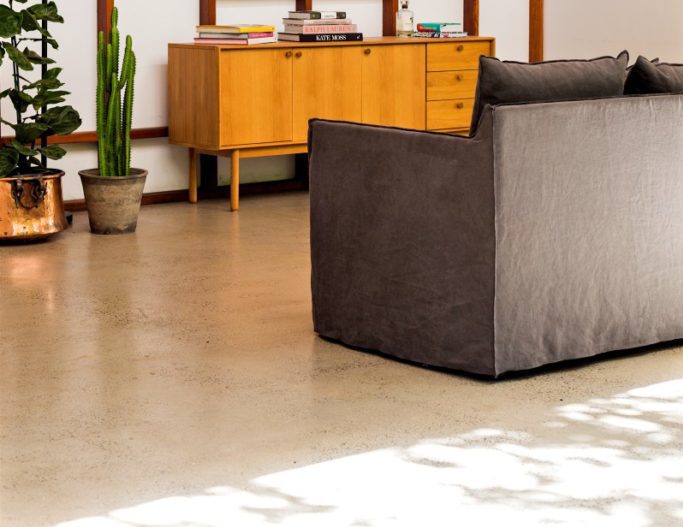 If you're in the market for bare floors, the most trendy option today is undoubtedly hardwood, followed by other bare floors like bamboo, ceramic tiles, laminates, and even marble. However, if you're more interested in longevity, water resistance, and affordability than you are in having the fanciest floors in town, you might want to consider good-old fashioned vinyl. Although it's  been around since the 1930s, it's still relevant as one of the best water-tolerant and budget-minded flooring options on the market. That said, like any floor, it has its pros and cons. Today we'll look at reasons to consider and reasons to avoid resilient vinyl sheet flooring to help you decide if it's a good fit for your home.
Why choose vinyl flooring? Because it's affordable!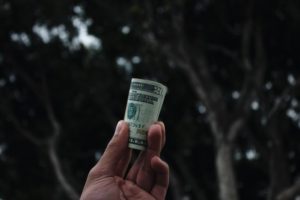 Perhaps the most frequently cited reason for choosing vinyl is its price. If you're on a budget, you can find vinyl for as little as sixty cents a square foot, and even higher-end vinyl won't reach the outrageous prices you'll see for certain floors (e.g., marble and stone). That said, you can pay up to ten dollars per square foot for premium vinyl if you're interested, and you will see differences in build quality and design options, although for most vinyl shoppers, a happy medium will be found long before that price range.
Vinyl is more durable than nearly any other bare floor
Aside from how affordable it can be, vinyl is also a durable flooring option, which makes it attractive to families with children and pets. If you install vinyl sheets and tiles properly and maintain them as indicated, they can easily last up to twenty years without breaking down. That said, you'll need to start with quality vinyl to get quality years out of it.
Solid and composite vinyl are manufactured with colors in each layer, which results in vinyl that doesn't scratch nearly as easily. Printed vinyl, on the other hand, relies on a clear protective surface layer to keep the sheets and patterns from damage; it's less durable as a result. You can even buy fiberglass-reinforced vinyl, which will hold up more than solid and composite vinyl while retaining flexibility.
Vinyl is water resistant, comfortable, and requires minimal maintenance
Unlike solid woods, which are vulnerable to rot, and tiles, which can take on water if they aren't sealed, or stones, which are inherently porous, vinyl, when installed well, is nearly waterproof. It makes sense when you consider that vinyl is essentially plastic sheeting, and plastics, which are really just oils with high melting points, repel water. As a result, if you're looking for a bare floor option for rooms likely to see moisture or spills, like bathrooms, laundry rooms, and kitchens, vinyl is one of the best options you can consider.
Aside from its water resistant properties, vinyl is considered a resilient, or medium-pressure, flooring option. Carpet is an example of a soft floor covering while hardwoods, as their name suggest, are considered hard floor coverings. Vinyl is in the Goldilocks zone–not so hard that you feel uncomfortable standing on it for extended periods of time, but not so soft that you feel like you're walking on a sponge–which is part of why it has such of a following among savvy shoppers. Similarly, vinyl is a good thermal insulator, and won't be shockingly cold underfoot in the winter, unlike ceramic and porcelain tiles.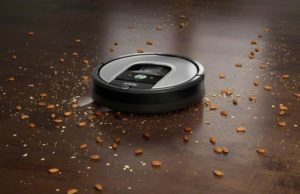 Finally, as vinyl retailers will endlessly remind you, vinyl is one of the most maintenance free flooring options around. The main things to do are to sweep or vacuum it frequently to keep dirt and grit away from the surface, as these can wear away the floor with time. An occasional mop will be enough to remove any stains that stick to the surface. If you don't want to go through the trouble of doing these things yourself, you can invest in robotic vacuums and mops; a Roomba 960 will easily vacuum vinyl and a Braava 380t will do a more than acceptable job mopping it.
However, vinyl is impossible to repair without replacement
Although there are many admirable qualities to vinyl, ease of repair is not one of them. High-end, commercial-level vinyl flooring will easily last for decades, but if you buy low quality sheets and tiles, you'll pay for them quickly in the rips and tears they'll develop in a few years. Because you can't refinish vinyl flooring, you're going to need to remove and replace it if it develops tears (and no, you can't sew them back together). As a result, if you're going to go cheap with vinyl, make sure you do so with tiles instead of with sheets, as you'll find tiles easier to replace.
Vinyl is an off-gasser of volatile organic chemicals, or VOCs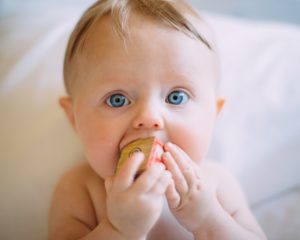 For the the health-minded among us, it's important to note that vinyl, being plastic, is made from a concoction of chemicals that out-gas, or release themselves into the air, once the vinyl is laid out in your home. The volatile organic chemicals, or VOCs, can have a variety of effects if their concentrations are high, including breathing issues, asthma reactions, and eye, nose, and throat irritation. Essentially, they're part of the gases that make up the "new car smell" or "new shoe smell", except a floor has a lot more surface area than a shoe, and you spend much more time around it than you do in a car. These effects are most likely to be noticed immediately after vinyl is laid down, and will vary widely with the chemicals used to make the floor itself.
Do you need special vacuums to help maintain vinyl floors?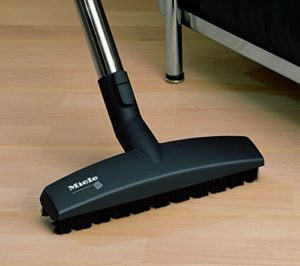 The good news about vinyl is that you don't need special tools to maintain it in most cases; just about any vacuum will do, and you can even keep it in good shape with a broom and dustpan. However, as with every bare floor, we find vacuums with Parquet heads to be the most efficient solutions, as these heads help polish the floor while effectively removing dust, dirt, and pet hair instead of simply blowing them around due to a vacuum's suction.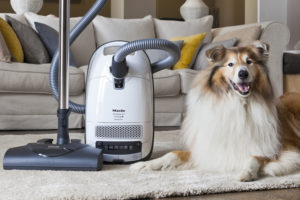 Given a choice, we also prefer vacuums with interchangeable heads, as a good electric powered head will allow you to clean any carpets you also have in your home, regardless of pile or style. Two examples that fit the bill are the Miele Complete C3 Cat & Dog (reviewed here and here) and Miele Compact C2 Electro+ (reviewed here and here).  Between the two, we prefer the Cat & Dog due to its additional efficiency when it comes to managing allergies, but either is a good choice for a family vacuum.

You  can buy the Miele Complete C3 Cat & Dog here on Amazon or buy the Miele Compact C2 Electro+ here.

Canadians can buy the Miele C3 Cat & Dog here or buy the Compact Electro+ here.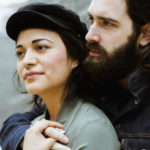 If you find our research on PMC helpful, you can follow our efforts to keep maniacally reviewing home cleaning tools by shopping through our links above. We promise to keep fighting the good fight against every horror children, animals, and grown, yet messy humans can inflict upon a clean home.