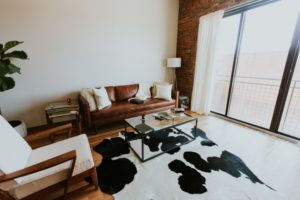 While we're undeniably fans of carpeting (and have written dozens of carpeted flooring guides), there are many reasons why you might want an area rug instead for your living or family rooms. By themselves, area rugs are comfortable, warm, and visually interesting, with plenty of options for patterns, colors, and textures. Aesthetically, they can turn your floors into a work of art; from a design standpoint, they can help define spaces and frame furniture placement. Compared to wall-to-wall carpeting, they're cheaper to install, simpler to clean, and far easier to replace if you're in the mood for a change than dedicated carpeting. Today we're going to look at what's important (and what's not) when choosing and using area rugs.
Make sure you get an area rug big enough to work for your living or family room
If you plan to lay out your area rug in your living room, you'll want to make sure the rug is big enough to fill the space. People rarely buy rugs that are too large, but frequently buy rugs that end up looking tiny due to underestimating how much rug was necessary for a given room. Whichever rug you choose should be large enough to extend to all of your main furniture pieces in a room; in a family room, for example, you'll want it to fit beneath your sofas or sectionals. If you can't fit it beneath furniture, aim for the front legs of any major pieces in the room; the back legs can remain on bare flooring. Any small pieces, however, such as love seats or coffee tables, should ideally have all of their legs on the rug if at all possible. In other words, consider various configurations of your existing furniture arrangements before bringing a rug home.
Consider combining rugs, remember to center them, and leave foot space for everyone
If you want to add rugs to a very large room, think sectionally instead of globally for rug placement and globally instead of sectionally for a harmonious arrangement. In other words, picture the room as a series of conversational areas (i.e., areas where people are likely to gather), and buy a separate rug for each section. However, even though you'll use multiple rugs, make sure they're connected to each other thematically, whether by related patterns or by a common color scheme.
If you're dealing with an average-dimensioned room, aim for at least 10 to 20 inches of bare floor separating an area rug's edges from the room's walls. If it's a slightly larger room, up to 24 inches of separation is fine; for smaller rooms, down to 8 inches is also appropriate. However, regardless of your dimensions, you'll want to center your rug relative to the room. Aim for the same amount of distance between your walls and the rug on each side of the rug if choosing a square or rectangular rug. If you choose a circular or oval rug, aim for the same distance between the center of the rug and each pair of opposing walls.
No matter how large or small the rug you choose, you'll want it to be large enough for a person to walk on the rug with both feet. Rugs that require people to walk with one foot on them and the other on bare flooring always look out of place.
Keep your walls and furniture in mind when choosing colors and patterns
When choosing a rug, think of the existing colors and patterns in your walls and furniture to make sure the new addition is harmonious with existing themes. Your rug is like a piece of artwork for your floor and an easy way to set the mood of your living room. If you want a playful feel, for example, look toward bold colors or patterns.
However, while bold can be beautiful, whatever patterns and designs you choose will only be appreciated if people can see them. Make sure you have enough rug to work with your furniture so your sofas, couches, love seats, or whatever else you have don't fully cover the patterns that led you to that particular rug in the first place. Again, furniture placement is key.
Consider maintenance schedules for your rugs (and stick to them)
While each rug will have its own maintenance schedule and requirements, general tips to help keep your rugs lasting for long term include keeping in mind your overall purposes for the rug, how long you want it to last, and what you're willing (or not willing) to do to maintain it.
If dealing with a medium- or high-pile rug, you'll want to deep clean it with a carpet cleaner at least once a year to thoroughly clear out allergens, dust, hair, and dirt that will naturally accumulate within the fibers. Using a vacuum designed for higher pile carpeting is also essential for week-to-week (or day-to-day) cleaning. We share our recommendations for carpet cleaners and vacuums below.
Low-pile rugs don't need as thorough cleaning, but you'll still want to take them outside from time to time in order to beat or shake them.
More broadly, try to review cleaning instructions before buying a rug. Certain rugs are more difficult to clean than others, while some with particular natural fibers (e.g., jute or sisal) can't really be cleaned, which means that any large spills (e.g., of red wine, orange juice, or coffee) might never fully leave them.
That said, rugs with such fibers are often less prone to revealing minor stains or soiling compared to other fibers. Learning the difference between staining and soiling and how your rug responds to both is important. Similarly, your rug warranty will tell you a lot about how long your rug's manufacturers expect your rug to last, and what they see as its strengths and weaknesses.
Which carpet cleaners and vacuums are best for cleaning rugs?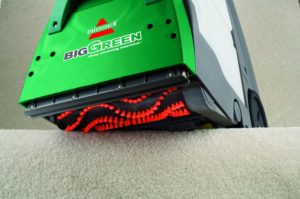 While you don't need specific carpet cleaners or vacuums for most rugs (high pile rugs and soft carpets being the main exceptions), we still recommend buying machines capable of cleaning not only your rugs but any additional carpeting you have or might install in the future. For carpet cleaners, the Bissell 86T3 Big Green is a safe bet. It's powerful and reliable and will beat any other carpet cleaner that costs under $1,000, based on our observations.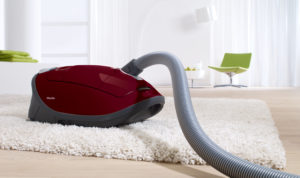 For vacuuming, we recommend buy-it-for-life canisters that can cope with any style and pile of carpeting; this means machines like the Miele Complete C3 Soft Carpet or the Miele Compact C2 Electro+. Either will give you the power you need to efficiently clean and the reliability to keep cleaning, year after year. The Soft Carpet is our favorite all-around vacuum while the Electro+ is a runner up that will do almost as much for significantly less money.

You can buy the Bissell 85T3 Big Green carpet cleaner here on Amazon. You can buy the Miele Complete C3 Soft Carpet here or buy the Miele Compact C2 Electro+ here.

Canadians can buy the Miele Soft Carpet here, the Compact Electro+ here, and the Bissell Big Green here.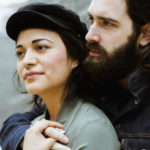 If you find our research on PMC helpful, you can follow our efforts to keep maniacally reviewing home cleaning tools by shopping through our links above. We promise to keep fighting the good fight against every horror children, animals, and grown, yet messy humans can inflict upon a clean home.