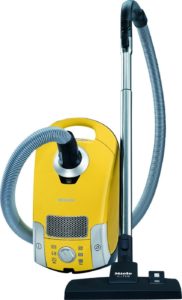 If you're looking for a quality upright vacuum, you're going to want a Dyson. But if you want a buy-it-for-life canister, it's got to be a Miele. We've reviewed dozens of models available in the US and Canadian markets, with the Complete C3 Cat & Dog being our overall favorite. However, not everyone needs quite as much power or is able to spend quite as much money, especially when many Mieles are significantly more expensive in Canada than they are in the United States.
Fortunately, Miele is aware of this. They've slowly developed a number of limited-release and lower-priced alternatives exclusive to the Canadian market, and we're going to review all of them in the coming weeks. Today we'll review the Miele 41CAE031CDN C1 Celebration Vacuum, Compact, Canary Yellow, a limited release canister, to see how well it works in bare floor and carpeted environments, as well as around kids and pets. Our thoughts in ten seconds are to buy the C1 Celebration if you primarily have hard floors and to upgrade to the C3 Cat & Dog if you want to clean bare and carpeted floors with equal ease. Our full review is below, and you can buy the C1 Celebration here.
Pros, cons, and key features of the Miele Compact C1 Celebration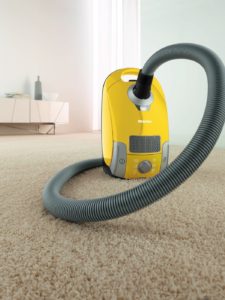 The Compact C1 Celebration is one of a growing number of Miele canisters only available in Canada; as with models available in the US and Canada, fellow members in the exclusive Canadian lineup are divided by C-cateogries. At the Compact C2 level, Canadian-only options include the Cat and Dog, Total Care, and Hard Floor. At the Classic C1 level, there's the HomeCare, Hard Floor, and Cat and Dog. At the Complete C3 level, there's the  HomeCare, Total Care, Power Plus, and Limited Edition. And at the Blizzard Cx1 level, which doesn't even exist in the US market, there's the Cat and Dog Cleaner, the Hard Floor Cleaner, and the Total Care Cleaner. If these sound like too many models to keep track of, don't worry; just read our reviews.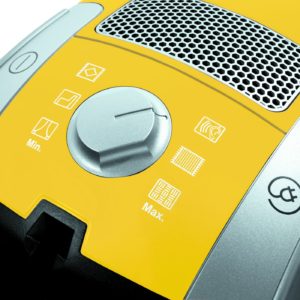 Key features of the Compact C1 Celebration include the standard 1,200 watt Vortex motor and 29.5 operating radius that includes the stainless steel telescoping wand, crush-proof hose, and power cord. You'll also find the same six power settings found on almost all Miele canisters, each adjustable via the rotary dial. We're happy to see the classic silent setting is still present, making it easy to vacuum without waking hyperactive toddlers and sleeping babies.
Miele estimates up to a 20 year lifespan with their canister vacuums, and we can easily see the C1 Celebration lasting that long if it's made as well as its fellow Mieles (which it is). Like the high-end C3 line, the C1 Celebration is also made in Germany, but it's priced comparably to Mieles made in China.
It's also worth noting that, per Miele, the C1 Celebration is a limited release model and will be pulled from the market once existing stock is sold. This is a good opportunity, as a result, to get a modern Miele canister without paying the typical Canadian tax compared to purchasers in the US.
Which accessories and cleaning heads ship with the C1 Celebration?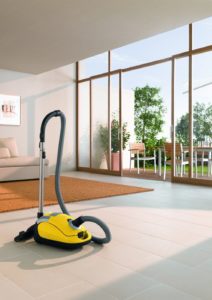 The C1 Celebration includes the standard accessories found with every Miele canister–a dusting brush, an upholstery tool, and a crevice nozzle–and you can connect all three to the C1 where the hose leaves the canister. It also includes a mini turbo brush, the STB 101, to make it much easier to clean upholstery. We're happy to see its inclusion whenever it makes an appearance in a cheaper Miele, such as on the C1 Cat & Dog, as it's typically only found on the high-end Mieles like the C3 Cat & Dog.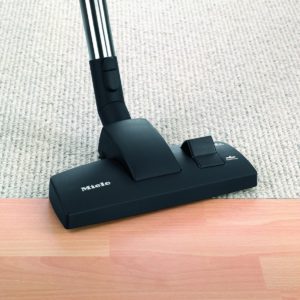 However, Miele wouldn't sell their higher-end vacuums if they didn't strip features from their more affordable models, and they continue the trend of differentiating their vacuums by cleaning brush heads. The C1 Celebration, like the C1 Limited or C2 Hard Floor, is aimed toward individuals and families primarily full of bare floors instead of carpets. This means hardwood, engineered wood, vinyl, laminate, ceramic tiles, marble, bamboo, concrete, brick, and similar surfaces. You can clean low pile carpets (e.g., typical Saxonies, berbers,and  cut and loops) and area rugs, but you won't be able to do any meaningful cleaning with medium- or high-pile carpets. The SBD285-3 combination rug and floor tool  is a decent one, but it's not designed for heavy carpet work. Read on for recommendations of Mieles that are.
Is the C1 Celebration a good fit for homes with lots of carpeting? If not, which Mieles are?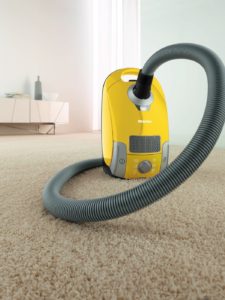 To sum up this information, the Miele C1 Celebration is an excellent choice if you primarily have hard or bare floors mixed with low-pile carpets and area rugs. For a few hundred dollars, you can buy a vacuum that will last for the next several decades. But if you have medium-pile carpeting, you're going to need a turbo head, and instead of buying one separately, we'd recommend buying a Miele that ships with one in the box like the Compact C1 Turbo.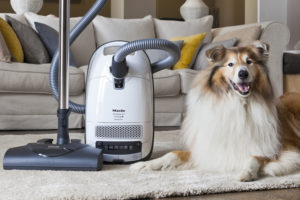 You'll get a significant boost in power if you ditch turbo brush heads altogether for an electric brush head; the powered head will let you effectively clean low-, medium-, and high-pile carpeting. The Compact C2 Electro+ includes both an electric brush head to deal with any kind of carpet pile and style and a Parquet head to polish hardwood floors while cleaning them. The only thing better is our favorite all-around Miele, the Complete C3 Cat & Dog, which features the electric brush head, the Parquet head, and a powered mini brush to make quick work of upholstery.
Why buy the Miele C1 Celebration?
In conclusion, if you're simply interested in an affordable Miele canister with buy-it-for-life engineering and sharp looks, look no further than the C1 Celebration. As long as your home doesn't include any flooring more challenging than low-pile carpeting, it can easily serve as the only vacuum you ever need. Just keep in mind our other recommendations if you do have lots of carpeting or higher piles to deal with.

Canadians can buy the Miele Compact C1 Celebration here on Amazon. If you want a turbo brush, upgrade to the Compact C1 Turbo here.  For access to high-pile and soft carpets, get the Compact C2 Electro+ here or upgrade to the best all-around Miele canister, the Complete C3 Cat & Dog, here.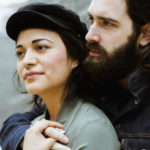 If you find our research on PMC helpful, you can follow our efforts to keep maniacally reviewing home cleaning tools by shopping through our links above. We promise to keep fighting the good fight against every horror children, animals, and grown, yet messy humans can inflict upon a clean home.