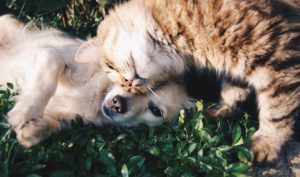 We recently had the pleasure of reviewing two of the lower-end models of the Miele Complete C3 series, the Alize and Calima. We liked both for different reasons but each left us yearning to put more C3s to the test in similar conditions (we're currently cleaning a renovated condominium…so many floors…). As a result, when we learned some of our team members were already using the C3 Cat & Dog and C3 Kona on separate projects, we decided it was time to review and compare both. We compared them on overall cleaning abilities, high pile carpet cleaning facility, and on their abilities to deal with pet messes. If you simply need our recommendation and are ready to buy, we recommend the C3 Cat & Dog by a nose. Canadians can buy the C3 Cat & Dog here.
Pros, Cons, and Key Features of the Miele Complete C3 Cat & Dog Canister Vacuum Cleaner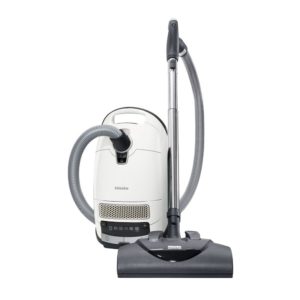 The Cat & Dog is one of the few Miele canisters capable of tackling every kind of carpet–low-pile, medium-pile, and high-pile out of the box. These abilities are entirely due to the addition of the SEB 228 Electro Plus Electro brush. More powerful than the regular Electro brush (the SEB 217-3) and far more powerful than the Turbo brush (we won't even bother comparing it to any of the combination brushes), the Electro Plus brush head gave us the power to power through rugs without fear of getting stuck in them or even slowed down. Of course, we weren't running at full speed all the time; the Cat & Dog, like every Miele canister, featured six speed settings we could choose from, and because this was a C3-series vacuum, we could control them with footswitch controls instead of through needing to lean down and turn the power knob. It doesn't sound like something that would make a difference, but believe us when we tell you it did.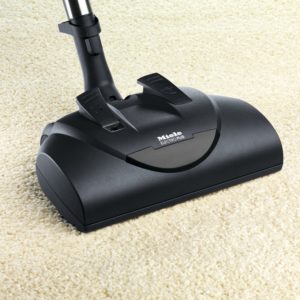 Besides the Electro Plus brush (which, by the way, was also capable of tackling hardwood flooring), our hardwood and smooth floor tool of choice was the SBB 300 Parquet Twister brush. This is a brush that's fairly common on mid-to-high end Miele canisters, and we were pleased to see it included here, as it meant we'd finally come across a Miele canister capable of tackling every kind of floor surface (bare, low-pile carpet, medium-pile carpet, high-pile carpet) with a full range of power. We didn't need to worry about damaging delicate wooden floors with the Cat & Dog paired to the Electro Plus brush; we just switched to the Parquet head and off we went. It was liberating.
What makes the Cat & Dog particularly pet-friendly?
Beyond these features, we were particularly interested in a pair of accessories that Miele stated they'd included specifically to make the Cat & Dog the best canister vacuum for pet owners: the Active AirClean filter, which was basically a filter with a built in charcoal cassette, and the STB 101 Mini Turbobrush, which was an upholstery tool for pulling out pet hair from upholstery and other hard-to-reach or delicate upholstery.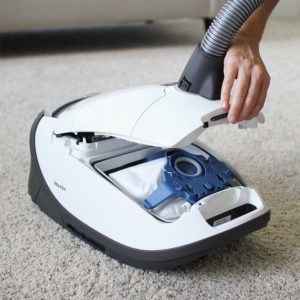 At first we didn't notice much of a difference between the charcoal filter and a regular filter we placed inside the Cat & Dog, but when a few team members who hadn't been vacuuming entered the room, they noted several times how much cleaner the air smelled. It's worth noting that this might also have been due to how well we were able to clean with the Electro Plus brush. Besides the charcoal filter, we both noticed and appreciated the Mini Turbobrush each time we came to an upholstery piece; it was a significant step up from the standard upholstery tool (which, along with the crevice tool and dusting brush, was a standard feature in the C3 line). Oh, and we were a fan of the included HEPA filtration system.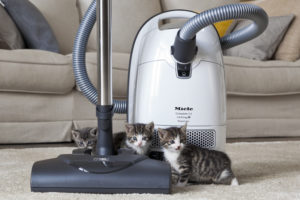 Beyond the features unique to the Cat & Dog, it included a number of C3 standards, including the 1,200 watt motor, a scale weight of just over 19 pounds, and an AirClean sealed system to minimize dirt and dust escape from the vacuum. It also included the silent mode to make it possible to vacuum with sleeping children upstairs or downstairs, and frankly, it was very attractive just to look at; we found ourselves staring at it between jobs and admiring its sleekness.
We appreciated all of these features as well as how easy it was to move the Cat & Dog throughout its 36-foot operating radius. Overall, we were happy to rank it as the best all-around vacuum, as well as the best canister vacuum, under $1,000. And yes, that meant we'd put it ahead of the Kona, which we'll describe further below.
Pros, Cons, and Key Features of the Miele Complete C3 Kona Canister Vacuum, Obsidian Black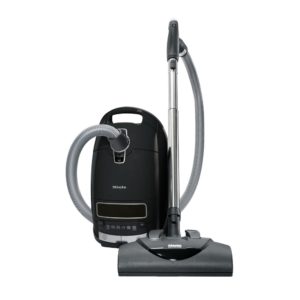 While we ultimately ranked it behind the Cat & Dog, the C3 Kona more than held its own in a number of ways. First and foremost, it came with the same primary dedicated brush heads: the Electro Plus brush and the Parquet head. This meant that, for all practical purposes, the Kona shared the same cleaning power over bare and carpeted surfaces as the Cat & Dog. Given how transformative we found using the Cat & Dog on carpeted environments, this is high praise.
In fact, there were far more things that tied the two vacuums together than there were to separate them. Besides the color, name, and price tag, the differences were few and far between. The most salient were the lack of the Mini Turbo brush and charcoal filter. However, if you can live without those two tools, it really becomes a question of which color you like more and how much you're willing to pay for it.
Which is the Better Value? The C3 Cat & Dog or C3 Kona?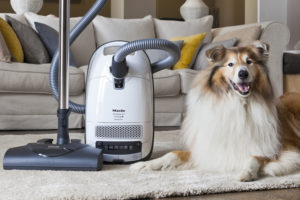 Between the two canisters, most members of our team felt the C3 Cat & Dog was the better deal for the money. The Kona was an amazing vacuum, but it simply left us wanting. What we wanted, of course, were the charcoal filter and Mini Turbo brush. It's worth noting that there were a few members who preferred the Kona simply because they felt black was a more traditional color for a vacuum cleaner and less likely to show wear and tear on the canister. Overall, it's hard to go wrong with either vacuum; both are capable of tackling any carpeted environment and both will do a solid job on pet stains; the Cat & Dog will just do more while also cleaning out room smells.

You can buy the Miele Complete C3 Cat & Dog here on Amazon. If you don't want all of its features, you can buy the Miele Complete C3 Kona here instead.

Canadians can buy the Complete C3 Cat & Dog here and buy the Kona here. You won't be disappointed with either.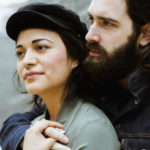 If you find our research on PMC helpful, you can follow our efforts to keep maniacally reviewing home cleaning tools by shopping through our links above. We promise to keep fighting the good fight against every horror children, animals, and grown, yet messy humans can inflict upon a clean home.