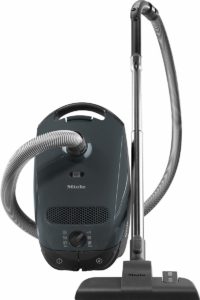 When most people write us with vacuum recommendations, we frequently suggest Dysons if they want uprights or ultralights. But if you want a buy-it-for-life canister with endless suction, you're going to want a Miele. Dozens of reviews later, our top overall recommendation is the Complete C3 Cat & Dog. However, most people don't need as much power or want to spend as much money; this is particularly the case when our Canadian readers realize that Mieles cost much more in Canada than they do in the United States.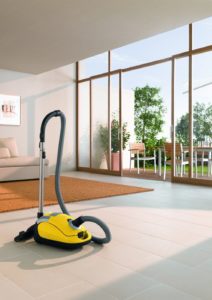 Miele must have listened to some of the emails we sent them over the years, because they've slowly grown their line of Canada-only canisters, and we've been enjoying reviewing them one by one as we find the time. Last week we reviewed the Miele 41CAE031CDN C1 Celebration; today we're going to review the Miele Classic C1 Hard Floor in Lava Grey and see how it compares to the Compact C1 Celebration in value. Our thoughts in ten seconds are to buy the Classic C1 Hard Floor if you want a larger cleaning capacity, a slightly longer cleaning radius, and a more muted vacuum color, and to buy the Compact C1 Celebration if you love saving money, like the color yellow, and want the mini turbo brush. Our full review is below, and you can buy the C1 Hard Floor here.
Pros, cons, and key features of the Miele Classic C1 Hard Floor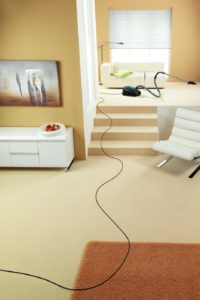 The Classic C1 Hard Floor is one of several new Miele canisters only sold in Canada. As with US/Canada models, they're sorted by C-Categories. In the Compact C1 level, the only model at the moment is the limited release C1 Celebration. In the Compact C2 category, some Canada-exclusive Mieles include the Cat and Dog, Total Care, and Hard Floor. At the Classic C1 level, besides the Hard Floor we're reviewing today, there's the HomeCare and Cat and Dog. At the Complete C3 level, there's the  HomeCare, Total care, Power Plus, and Limited Edition. And at the Blizzard Cx1 level, which doesn't even exist in the US market, there's the Cat and Dog Cleaner, the Hard Floor Cleaner, and the Total Care Cleaner. If you're having trouble keeping up with these  models, don't worry; that's why we've reviewed all of them.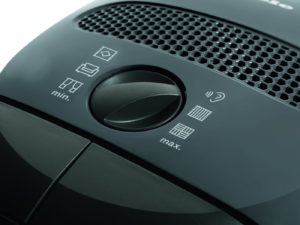 The Classic C1 Hard Floor's key features include the ubiquitous 1,200 watt Miele Vortex motor and a 30 foot operating radius. The reach comes from an 18 foot power cord, a stainless steel telescoping wand, and a crush-proof hose. The canister includes the standard six power settings, including our preferred quiet mode for easy cleaning around sleeping children. Miele estimates a 20 year lifespan with their canisters, and we see no reason why the made-in-Germany C1 Hard Floor should fail to reach that longevity.
Which accessories and cleaning heads ship with the Classic C1 Hard Floor?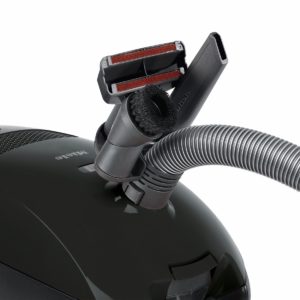 The Classic C1 Hard Floor includes Miele's standard canister accessories–the dusting brush, the crevice nozzle tool, and the upholstery tool–all of which can be connected to the C1 at the hose junction with the canister. Miele's standard approach of differentiating their identically-powered vacuums by the usefulness of their cleaning heads continues unabated; the C1 Hard Floor, like the Compact C1 Celebration, is aimed toward families and individuals whose homes primarily feature bare floors instead of carpets.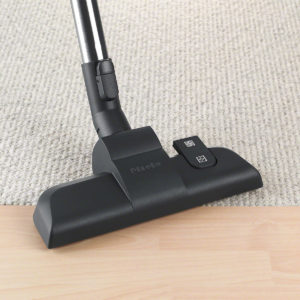 This means hardwood, engineered wood, vinyl, laminate, ceramic tiles, marble, bamboo, concrete, brick, and similar surfaces. You'll be able to clean low pile carpets (e.g., typical Saxonies, berbers,and  cut and loops) and area rugs, but you'll need an electric brush head to meaningfully clean medium- or high-pile carpets, not to mention soft carpets. While the SBD 350-3 universal floor tool is a decent one, it's not meant for heavy carpet work. We'll cover Mieles that are below.
If the Classic C1 Hard Floor isn't a good choice for homes with lots of carpeting, which Mieles are?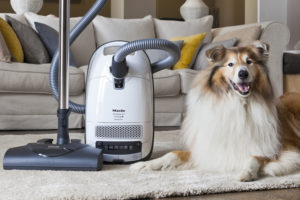 While the Classic C1 Hard Floor is the only vacuum you'll need for the next few decades if your home is primarily floored with bare floors, low-pile carpets, and area rugs, if you have higher pile carpets, you're going to want a Miele designed to handle them. Rather than simply upgrading to a turbo brush, which will still struggle with anything beyond medium-pile carpeting, we recommend Mieles with electric brush heads.
The Compact C2 Electro+ includes both an electric brush head to deal with all carpet styles and piles and a Parquet head to polish hardwood floors while cleaning them. Our absolute top pick is the Complete C3 Cat & Dog, which features the electric brush head, the Parquet head, and a powered mini brush to make quick work of upholstery. We've reviewed it several times (e.g., here, here, and here), and see it as the best all-around vacuum on the market today.
What's the difference between the Miele Classic C1 Hard Floor and Compact C1 Celebration?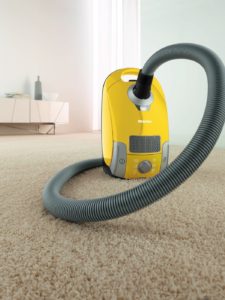 Finally, the main differences between the Classic C1 Hard Floor and Compact C1 Celebration are price, color, cleaning capacity, reach, and accessories. The Hard Floor is more expensive and has a more demure color that'll draw less attention if you're ever vacuuming around guests. It also holds more dust in its bags due to its larger design and has a few inches more reach (30 feet vs 29.5 feet) when cleaning. The Celeration is cheaper, brighter, smaller, and includes a mini turbo brush for upholstery work.
To sum up our thoughts, both are excellent vacuums, and it's heartening to see Canadians finally having fair pricing options for some of the best vacuums on the planet. We'd recommend the Hard Floor over the Celebration if you prefer a more subdued color and larger intervals between bag swaps and the Celebration over the Hard Floor if you're on a tighter budget and don't mind yellow.

Canadians can buy the Miele Classic C1 Hard Floor here or save some money with the more compact and significantly cheaper Miele Compact C1 Celebration. For access to high-pile and soft carpets, get the Compact C2 Electro+ here or upgrade to the best all-around Miele canister, the Complete C3 Cat & Dog, here.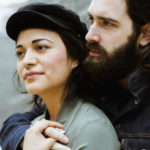 If you find our research on PMC helpful, you can follow our efforts to keep maniacally reviewing home cleaning tools by shopping through our links above. We promise to keep fighting the good fight against every horror children, animals, and grown, yet messy humans can inflict upon a clean home.