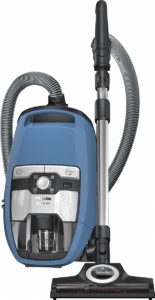 It's no secret that we're fans of Miele vacuums. We've reviewed dozens of their canisters and have found nearly every single one of them to be well-made and durable enough to last for decades of daily use in the home. Part of what has always drawn us to them has been their simple, fuss-free, bag and canister design. Miele, however, is breaking new ground, and has lately been attempting to enter the bagless vacuum market. While we've got mixed feelings about this, we're always willing to give new things a chance. Is it possible for a bagless Miele to deliver as much power and reliability as one of their traditional bagged canisters? We wanted to find out.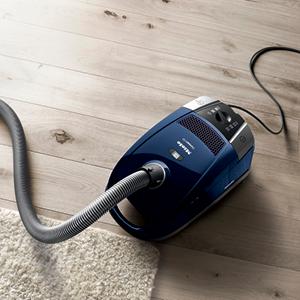 We recently reviewed the Miele Compact C2 Total Care and Complete C3 Total Care; today we'll review the Miele 41KCE036CDN Blizzard Cx1 Total Care Cleaner in Tech Blue and see how it compares to its bagged Total Care counterparts in value and cleaning power.
To sum up our thoughts, we'd recommend the C3 due to its stronger cleaning power, greater range, silent mode, and potential for upgradability, and recommend the Cx1 for the convenience, financial savings, and environmental responsibility of a bagless system. Our full review is below, and you can buy the Cx1 Total Care here.
Pros, cons, and key features of the Miele Blizzard Cx1 Total Care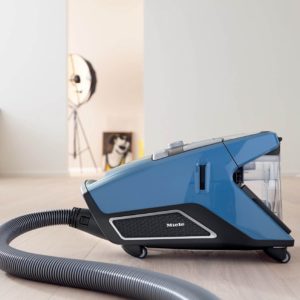 The Cx1 Total Care Cleaner is one of three members of a bagless line of Miele canisters, the Blizzard Cx1 line, which was recently released in Canada and is unavailable in the United States. Siblings of the Cx1 include the Cat and Dog Cleaner and Hard Floor Cleaner. More broadly, other Miele canisters only available in Canada include the Compact C1 Celebration and the Classic C1 Cat & Dog at the C1 level, the Compact C2 Cat and Dog, Total Care, and Hard Floor, and the Complete C3 HomeCare, Total Care, Power Plus, and Limited Edition. These are a lot of Mieles to keep track of; fortunately, we've got reviews for all of them.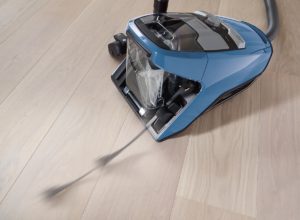 Key features of the Blizzard Cx1 Total Care include its bagless design; it collects dirt in a plastic canister that's designed to be easy to empty without spilling dust in the process. It also features a 1,200 watt motor (not the Vortex motor in their bagged canisters, but a different one) and a lifetime HEPA-grade exhaust filter. The operating radius is 33 feet (10 m) with 21 feet (6.5 m) coming from the power cord, which can be rewound at the touch of a button. The Cx1 Total Care also includes a telescopic tube and crush-proof hose. It weighs 19 pounds (8.6 kg) when fully loaded.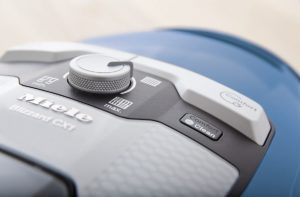 Instead of the standard six power settings found on Miele's bagged canisters, the Cx1 line ships with four.  Unfortunately, the silent mode that made Miele's canisters famous (due to being quiet enough to vacuum around sleeping babies) is no longer present; although the vacuum is still quieter than most on the market, there's just not as much precision when moving from minimum to maximum power in the Cx1 line as there are in the C1, C2, and C3 lines.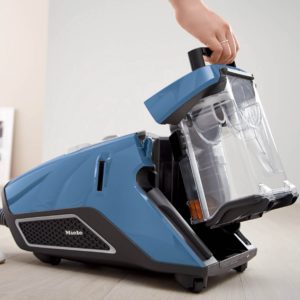 You can switch between settings via a power knob on the canister. You can also park and stand the cleaning wand and head by the vacuum the way you do on C3 models, allowing you to pause the vacuum to attend to other tasks (like that sleeping baby that eventually woke up). The canister includes caster wheels to allow for smooth movement across hard and soft surfaces and a fine dust filter that fits into the dust canister to help keep dust from spilling out when the canister is emptied. The filter needs periodic cleaning which is done automatically by the canister.
Which accessories and cleaning heads are included with the Cx1 Total Care?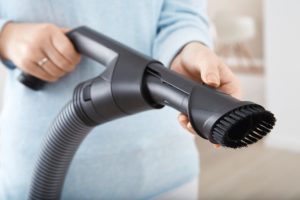 The Total Care includes three accessories by default, but they're arranged a bit differently than the three found on Miele's bagged canisters. You get a compact upholstery nozzle and crevice nozzle that both slide into a storage compartment on the canister for easy availability, but you also get an integrated dusting brush that sprouts out of the vacuum's handle. The telescoping wand that connects to the cleaning head on one end slides into the dusting brush on the other.
As with Miele's bagged canisters, the Cx1 line is arranged by the effectiveness of the cleaning heads in each model. The Cx1 Total Care is a mid-range Cx1, and as a result, it ships with mid-range equipment, allowing it to clean bare floors and low- to medium-pile carpets and area rugs with the included cleaning heads. To tackle bare floors, you'll use the SBB 300-3 Parquet brush twister, which has long made an appearance on other Miele canisters. If you have one already, the good news is that it'll be compatible with the Cx1's telescoping wand. It'll tackle hardwood, engineered wood, vinyl, laminate, ceramic tiles, marble, bamboo, concrete, brick, and similar surfaces with ease.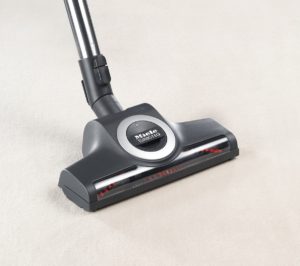 To help you tackle carpeting, you'll also get the TurboTeQ brush, which is just a fancy name for a TurboBrush Miele reworked for the Cx1 line. It's air-powered and designed to tackle low- and medium-pile carpets (e.g., typical Saxonies, berbers,and  cut and loops) and area rugs. However, it's not going to do anything with high-pile carpets, friezes, or soft carpets due to the lack of a motor to drive the brushes through dense fibers. To be frank, we also found it to struggle with medium-pile carpeting, and it seemed noticeably weaker than the air-powered TurboBrush supplied with the Compact C2 Total Care.
What's the difference between the Miele Blizzard Cx1 Total Care, the Compact C2 Total Care, and Complete C3 Total Care?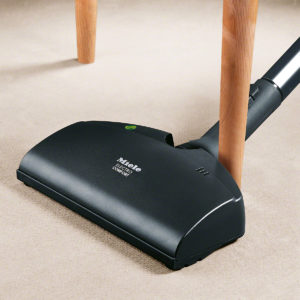 The main difference between the Cx1 and C2 and C3 versions of the Total Care are that the Cx1 is a bagless vacuum while the C2 and C3 are bagged. The bag-free design offers the advantages of never needing to buy another bag, which saves money as well as the Earth. However, we felt the TurboBrush in the Cx1 wasn't as strong as that in the C2, making the C2 a better choice for cleaning carpets in general and medium-pile carpets in particular. The C3, which includes an electric powerhead, the SEB 217-3 electrobrush, was better still, and offered the advantage of being upgradable to the king of electric brush heads, the the upgraded SEB 228 electrobrush, which made it possible to clean soft and high-pile carpets.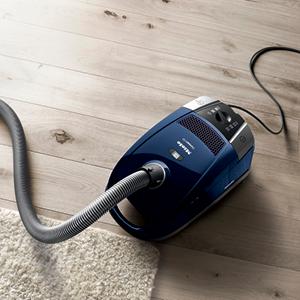 Because the Cx1 Total Care doesn't ship with an electric brush head or electro-telescopic wand, this upgrade isn't an option. Functionally, we felt the C2 and C3 were simply more powerful, which made a difference when cleaning carpeting. We also appreciated the greater range of the C3 (36 feet vs 33 feet) and lighter weight of both the C3 and C2 (which weighed 11.9 and 10.6 pounds respectively) compared to the relatively heavy Cx1 at 19 pounds. This made a significant difference when transporting the canisters up and down stairs.
Why buy the Blizzard Cx1 Total Care?
In conclusion, while we think the Blizzard Cx1 Total Care is an admirable first step by Miele into the world of bagless vacuum cleaners, we wonder if they might not have built too many compromises into it to justify its price tag. For the same amount of money, you can get the Complete C3 Total Care, which offers a significantly more powerful machine in a lighter package with more upgradability. Alternatively, you can spend less than the Cx1 to get the Compact C2 Total Care, which still offers more cleaning power and even less weight while maintaining Miele's traditional approach to quality.
Canadians can buy the Miele Blizzard Cx1 Total Care here. However, we'd recommend an upgrade to the Complete C3 Total Care in Navy Blue if a stronger cleaning head,  greater range, lower weight, quieter motor, and  electric powerhead upgradability are priorities. Alternatively, you can save money while still obtaining more power and less weight with the Compact C2 Total care here.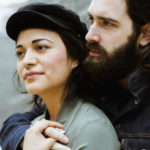 If you find our research on PMC helpful, you can follow our efforts to keep maniacally reviewing home cleaning tools by shopping through our links above. We promise to keep fighting the good fight against every horror children, animals, and grown, yet messy humans can inflict upon a clean home.