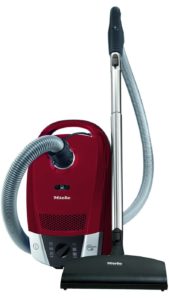 When most homeowners email us for buy-it-for-life vacuum recommendations, our answers typically fall into one of two categories: the best uprights tend to be British-born Dysons, but the best all-around vacuums and by far the best canisters come from a little German company named Miele. We should know; we've reviewed dozens of them. Our standing overall favorite is the Complete C3 Cat & Dog. However, many of our Canadian readers are reticent to spend quite as much, especially when they note how much more Miele canisters cost in Canada than they do south of the border.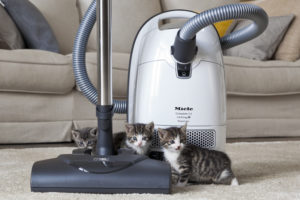 Fortunately, Miele began listening to our complaints some years ago, and they've slowly created a growing line of Canada-only canisters. Little by little, we plan to review them all. Today we're going to take a closer look at the Miele Compact C2 Cat and Dog, Mango Red, and compare it head to head with the Complete C3 Cat & Dog to see which offers more value. To summarize our thoughts in ten seconds, we'd suggest buying the C3 Cat & Dog if you want to clean high-pile and soft-pile carpets in addition to low piles and bare floors, and buying the C2 if you don't have any carpeting higher than low and medium piles.  Our full review is below, and you can buy the C2 Cat & Dog here.
Pros, cons, and key features of the Miele Compact C2 Cat & Dog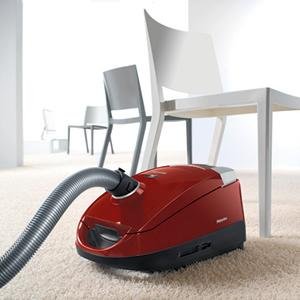 The Compact C2 Cat & Dog is one of dozens of Miele canisters released in the last few years exclusively to the Canadian market. As with models sold on both sides of the border, the Canada-only Mieles are sorted by C-Categories. At the Compact C1 level, you can buy the limited release C1 Celebration we recently reviewed. In the Compact C2 category, Mieles only sold in Canada  include the Cat and Dog we're reviewing today, the Total Care, and the Hard Floor. At the Classic C1 level, there's the HomeCare, Hard Floor, and Cat and Dog. At the Complete C3 level, there's the  HomeCare, Total care, Power Plus, and Limited Edition. And in the Blizzard Cx1 line, which doesn't even exist in the US market, there's the Cat and Dog Cleaner, the Hard Floor Cleaner, and the Total Care Cleaner. If you can't tell these models apart, don't worry; we've reviewed all of them here.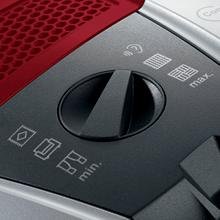 The Compact C2 Cat & Dog's key features include the 1,200 watt Vortex motor found in all current Miele canisters and a 32.8 ft (10m) operating radius. It includes a one touch cable rewind on the 20 foot power cord, a 7 foot crush-proof hose, and an electro-telescopic stainless steel wand. The canister itself weighs a light 10.6 pounds (4.8kg) and includes the standard six power modes, including the quiet setting to make it easy to clean around babies taking their blessed naps. Given the solid external and internal construction, we have no reason to doubt Miele's claims that the canister can last 20 years or more.
Which accessories and cleaning heads ship with the Compact C2 Cat & Dog?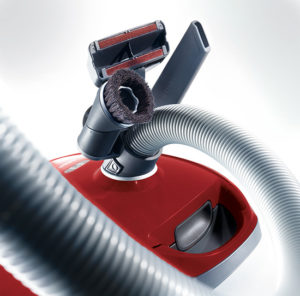 As with every Miele canister, the Compact C2 Cat & Dog ships with an upholstery tool, a crevice nozzle tool, and a dusting brush; you can connect all three to the C2 where the hose leaves the canister. In Canada as in the US, Miele differentiates their canisters by the functionality of their cleaning heads. The Compact C2 Cat & Dog, a mid-range canister in the Miele hierarchy, is targeted toward families and individuals with homes filled with bare floors and low- to medium-pile carpets and area rugs.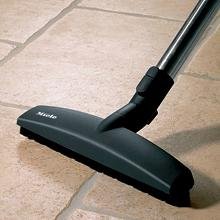 Bare floor cleaning comes from the SBB 235-3 smooth floor tool; it's basically a Parquet head under a different name, and it will make quick work of hardwood, engineered wood, vinyl, laminate, ceramic tiles, marble, bamboo, concrete, brick, and similar surfaces. The other cleaning head supplied with the Compact C2 Cat & Dog is the SEB 217-3 electrobrush, which we've reviewed and found suitable for low- and medium-pile carpets (e.g., typical Saxonies, berbers,and  cut and loops) and area rugs, but not high-pile carpets, friezes, or soft carpets.
What's the difference between the Miele Compact C2 Cat & Dog and Complete C3 Cat & Dog?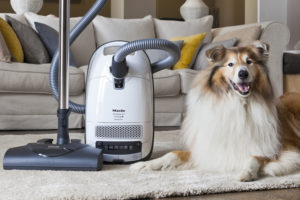 The Compact C2 Cat & Dog is an excellent vacuum for most families. If  you don't have any floors higher than medium-pile carpets, you won't need any other vacuum for the next few decades. But if you do have high piles or soft carpets, you'll want a Miele with the SEB 228 brush head, which features a 5-level height adjustment to tackle every surface from bare floors to plush carpeting .
While you can buy it separately, we'd recommend skipping the Compact C2 Cat & Dog and just upgrading to the Complete C3 Cat & Dog, which includes the SEB 228 as well as the SBB 300 Parquet head and a mini turbo brush for upholsteries. Aside from these differences, the C3 also uses a larger dust bag (the GN series instead of the FJM series), which means it won't need to be changed nearly as frequently. It also has a larger operating radius at 36 feet vs the 32.8 foot radius of the Compact C2. We've reviewed it several times (e.g., here, here, and here), and see it as the best all-around vacuum on the market today.
Why buy the Compact C2 Cat & Dog?
To sum up our thoughts, we'd recommend the C2 Cat & Dog if you want one vacuum to manage bare floors, low-pile carpets, and medium-pile carpets, and don't anticipate owning or cleaning high-pile or soft carpets in the future. It packs Miele reliability and US affordability into a Canadian-friendly package, and is as well designed as Mieles costing thousands more. Our main suggestion would be to upgrade to the C3 version if you want one machine that can truly handle all surfaces on the market.

Canadians can buy the Miele Compact C2 Cat & Dog here. For access to high-pile and soft carpets, get the Compact C2 Electro+ here or upgrade to the best all-around Miele canister, the Complete C3 Cat & Dog, here.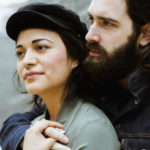 If you find our research on PMC helpful, you can follow our efforts to keep maniacally reviewing home cleaning tools by shopping through our links above. We promise to keep fighting the good fight against every horror children, animals, and grown, yet messy humans can inflict upon a clean home.