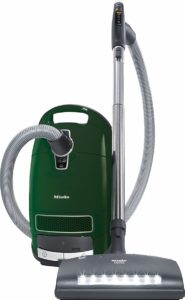 If you want a buy-it-for-life vacuum cleaner, you can spend time trying every brand under the sun, or you can just get a Miele. We've followed their made-in-Germany canisters for years and know they can last for decades. Miele themselves rate their canisters as having 20 or more year lifespans, and the following they've developed shows they'll often work beyond that estimate. However, with all the models Miele's released in the US and Canada alike, it can be hard to tease out what exactly sets one canister apart from another, especially once you get to the high-end Complete C3 line.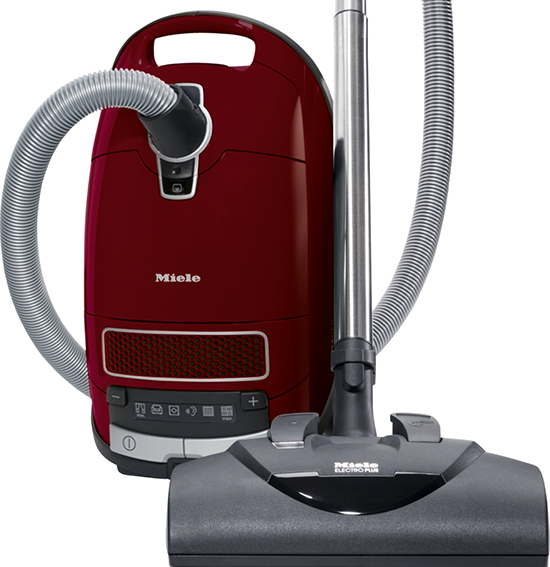 Among US Complete C3 models, we've reviewed the Brilliant, Marin, white Cat & Dog, Kona, Soft Carpet, and Alize, while in the Canada-only C3 line, we've reviewed the red Cat & Dog. Today we're going to review the Miele Complete C3 Power Plus in Racing Green and compare it to the Canadian Cat & Dog to see which provides a better value at the top of the Miele food chain. Our abbreviated thoughts are to choose the Power Plus for lights on the cleaning head and electronic handle controls and to choose the Cat & Dog if you can live without those features. Our full review is below, and you can buy the C3 Power Plus here.
Pros, cons, and key features of the Miele Complete C3 Power Plus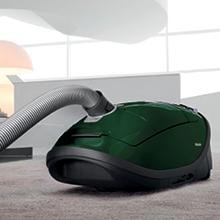 The Power Plus is part of Miele's highest-end Complete C3 series, but unlike the aforementioned Brilliant, Marin, white Cat & Dog, Kona, Soft Carpet, and Alize, which are available in the US and Canada alike, the Power Plus, like the HomeCare, the Total Care, and the Tayberry Red Cat & Dog, is only available in the Canadian market. This exclusivity is a good thing for Canadian readers; it means you get to own a C3 Miele for far less than you'd spend to buy a model available on both sides of the border, as those universally cost significantly more in Canada.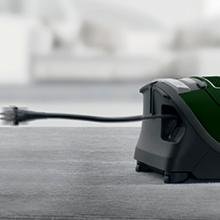 Key features in the Complete C3 Power Plus include Miele's ever-present 1,200 Vortex motor, 36 feet (11 m) of operating radius, and a 24 foot (7.5 m) cable that rewinds at the push of a button. The C3 level also includes a crush-proof hose and electro-telescopic stainless steel wand as standard features; the wand is key as it allows you to power electric and air-powered brushes instead of simply air-powered brushes as in most Miele canisters.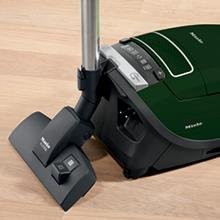 The canister itself weighs a manageable 11.9 pounds (5.4 kg) and features the standard six power settings found on nearly every Miele canister, including the famed silent cleaning mode that makes it safe to vacuum around sleeping toddlers and infants.  However, the C3 level lets you change power settings through + and – foot switches instead of through a mechanical dial, allowing you to clean more efficiently. An illuminated indicator shows the current power setting.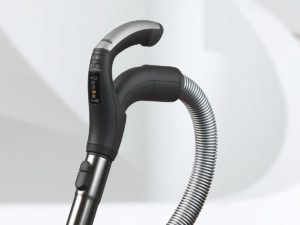 The C3 canisters also allow you to park and automatically turn off the vacuum by stationing the cleaning wand beside the canister whenever you need a cleaning break (such as to answer the phone or to care for a child). A bonus of the Power Plus over most other C3 Mieles is the inclusion of a comfort handle with integrated controls; not only can you control the canister's power levels and track them via an LED power indicator, you can also turn the electrobrush on and off, depending on whether you'd prefer the full power for carpets or simply air power for tackling bare floors.
Which accessories and cleaning heads ship with the Complete C3 Power Plus?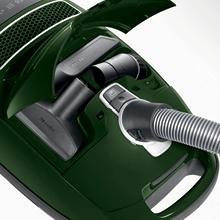 The Complete C3 Power Plus includes Miele's standard three accessories–an upholstery tool, a crevice nozzle, and a dusting brush. Because it's a full-sized canister–it takes the 4.5 L GN dust bags instead of the smaller FJM bags–you can also fit all three accessories inside the canister. As with every Miele canister, the cleaning heads in the C3 Power Plus indicate its standing in the Miele hierarchy. It's a high-end canister, and as a result comes with heads and brushes that let you clean any floor you can buy, from bare floors to low-, medium-, and high-pile carpets and area rugs, as well as soft carpets.
For bare floor cleaning, the Power Plus includes the SBB 300-3 Parquet smooth floor tool, which will make quick work of hardwood, engineered wood, vinyl, laminate, ceramic tiles, marble, bamboo, concrete, brick, and similar surfaces. An additional advantage of using the Parquet head is its tendency to polish bare floors while cleaning them since it includes soft and dense brushes at the head.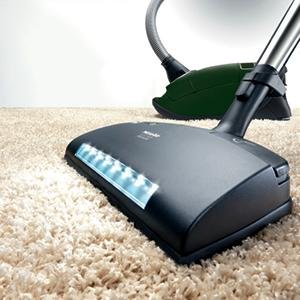 To effectively clean carpets and area rugs of every style and pile, you'll want the included SEB 236 Electro Premium Floor Brush, which we've reviewed and found one of the best powered brush heads currently on the market, although it's not quite our favorite (that would be the SEB 228 Electro Plus Floor Brush). However, we do love the fact that it includes lights, making the Power Plus one of only 3 Miele canisters (the other 2 being the aforementioned Marin & Brilliant) to include lights when cleaning.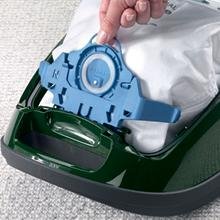 The SEB 236 will give you access to both residential and commercial carpets like Saxonies, berbers, cut and loops, and friezes, as well as soft, plush, and high pile carpets that other cleaning heads will simply get stuck in. We vastly prefer it to the SEB 217-3 electrobrush that comes with most C3 Mieles sold in Canada, as the SEB 217, while a quality head, can't be adjusted in height to make higher pile cleaning possible.
What's the difference between the Complete C3 Power Plus and Red Complete C3 Cat & Dog?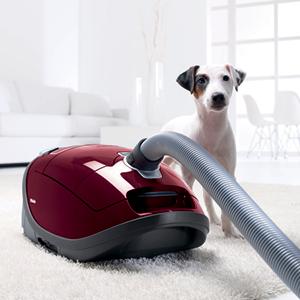 Aside from the built-in handle controls we described above, the only significant difference between the Complete C3 Power Plus and the Tayberry Red Complete C3 Cat & Dog, setting aside color and price, is the electric powered brush head included with each vacuum. The Power Plus uses the SEB 236 while the Cat & Dog uses the SEB 228. Frankly, we prefer the 228, as we feel it's more durable than the 236 and has a longer reputation as perhaps the best cleaning head on the market. At any rate, both vacuums will clean just as well and both are likely to last just as long, which says a lot about the quality of Miele's engineering.
Why buy the Complete C3 Power Plus?
We'd buy the Complete C3 Power Plus if you want one of the absolute best vacuums money can buy. It's not cheap, but it'll clean better and for longer than nearly any other canister on the market, and it'll do so quietly and efficiently. Our main recommendation would be to strongly consider the C3 Cat & Dog if you'd like the same cleaning power but don't necessarily want the lit powered brush head and can live without the electric controls on the handle; skipping these features will save you a few hundred dollars while giving you a machine just as reliable, powerful, and built to last.
Canadians can buy the Miele Complete C3 Power Plus here or choose a more minimal setup by buying the Miele Complete C3 Cat & Dog here in Tayberry Red instead. They have the same level of cleaning power, but the Power Plus offers additional aesthetic touches and conveniences.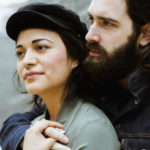 If you find our research on PMC helpful, you can follow our efforts to keep maniacally reviewing home cleaning tools by shopping through our links above. We promise to keep fighting the good fight against every horror children, animals, and grown, yet messy humans can inflict upon a clean home.