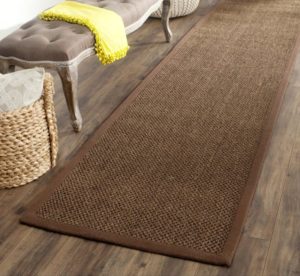 The use of natural carpet fibers has grown exponentially in recent years as homeowners have begun to push back against the tide of ecologically harmful manufacturing processes in the carpet industry. Whether the push-back is due to a rejection of waste, of off-gassing and toxic residues, or simply due to a desire to reconnect our living spaces indoors with the natural world outdoors, ecologically friendly carpets are in and in a big way.
While the majority of carpets on the market are still made, either completely or primarily from synthetic materials, there are a number of completely natural, organic fiber choices. These fibers are gaining small but loyal followings due to the textures, authenticity, and environmentally sustainable standards they represent. Today we'll take a look at the pros and cons of wool, sisal, jute, seagrass, and cuir as natural residential carpeting choices.
Wool carpets – popular and stain resistant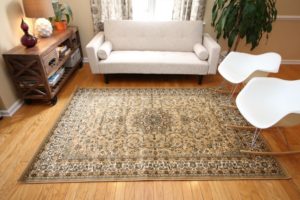 The majority of natural carpets and rugs on the market are currently made from wool. Derived from sheep, wool is a strong and stain resistant fiber. It's also naturally resistant to piling, fire, and water in small amounts due to its hydrophobic properties (which keep sheep dry when grazing). Wool works well for insulating floors because the fibers create air pockets (which, as you can imagine, keep sheep warm outdoors in cool climates). To sum up its pros, wool insulates sound and heat, resists water and stains, and is also soft and pillow like while remaining strong to boot. So why isn't it used everywhere?
First of all, wool, being an animal product, is expensive; a genuine wool carpet or rug will cost more than a synthetic equivalent. Additionally, although wool deflects small spills, it is not waterproof; if you immerse wool in water, mold and mildew can begin to grow. To hardy wool against organic growth, it's sometimes blended with hemp for mold and mildew resistance. It can also be difficult to clean.
Sisal carpets – soft and durable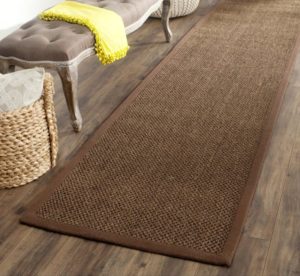 Sisal carpets are soft, durable, and easily dyed, making them a popular choice in a range of home applications. They are prized for their abilities to work in high traffic areas (e.g., stairs or entryways) without breaking down or feeling uncomfortable. Since you can find sisal in nearly any pattern or color you'd like, you can put it almost anywhere in a home. However, as with wool, you do need to watch out for water exposure. Unlike wool, it isn't prone to mildew, but it is easily stained since it is easily dyed; the fibers are hydrophilic and absorb whatever they come into contact with unless they're treated for stain and soil resistance. You'll also pay more for sisal; it's cheaper than wool but more expensive than coir. It's not as soft as wool, either.
Jute carpets – delicate and inexpensive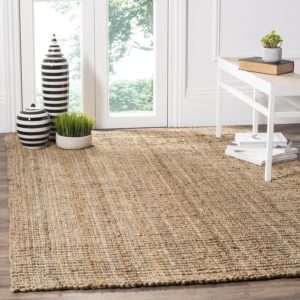 Jute is another plant-based carpet fiber; the plant that produces it grows in the Asian subtropics. After being soaked in water, the stalks are processed into fibers. You've probably heard of jute in the context of rope, but it's also used to make carpet backing.
The advantages of jute center around its softness and economics–it's a a cheap and affordable fiber. However, it's almost too soft; you can't use it in high traffic environments or it'll prematurely wear and tear. To avoid breakdown, keep it to low traffic zones in your home–bedrooms are a good example.
Seagrass carpets – smooth and (almost) waterproof

Like sisal and jute, seagrass is made from plant fibers. It comes from a plant grown like rice in fields flooded by seawater each year; its name comes from this process. The pros of seagrass include its smooth and anti-static properties as well as its strong resistance to water permeation; being effectively waterproof (a necessity in its natural environment), it's unlikely to stain, soil, or discolor with foods and liquids. That's the good news.
The bad news is that seagrass is so impermeable that even manufacturers can't dye it; you can only buy it the way it naturally looks, which is a tan color. Some colored strings can be added to the fibers for contrast.
More importantly, seagrass resembles wool in its susceptibility to mold and mildew damage due to moisture. You'll want to immediately wipe up spills and you'll probably want to keep it out of kitchens and bathrooms when planning installation locations.
Coir carpets – coarse and affordable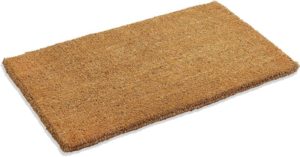 Finally, coir is essentially coconut husks processed into carpeting. It's coarse and rustic and is valued in settings that call for such an aesthetic, including cottages, log cabins, lodges, and rural getaways.
While you'll typically find coir in doormats and sacks, it's too abrasive to work well in children's rooms and bedrooms, where softness and comfort are prized. It can be used in environments where shoes will be present, however, including living rooms and hallways.
Something else to keep in mind with coir is its susceptibility to stains and discoloration; like sisal, it is highly absorbent. You also want to keep it dry, and it won't work in wet areas like bathrooms or kitchens. Because the fibers are woven loosely, you also can't use it on stairs, as it provides dangerously low traction.
Do you need a special carpet cleaner or vacuum to care for natural carpets?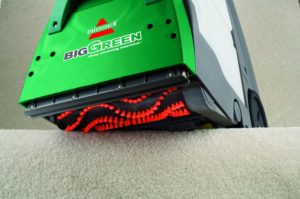 Generally, any carpet cleaner or vacuum that works with synthetic carpets and rugs will also work with natural fibers. However, we always recommend the Bissell 86T3 Big Green for homeowners interested in buy-it-for-life carpet cleaners and the Miele Complete C3 Soft Carpet for families who want one vacuum to take care of carpets of any pile and style as well as all kinds of hardwood and bare flooring.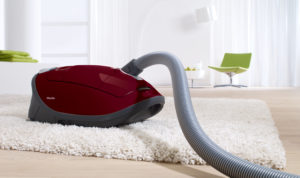 Many machines claim to do everything, but there are few that actually will. There are even fewer that will do so for the next 10 to 20 years (or more!). We trust the Bissell, as noted in our reviews, and while expensive, the Soft Carpet is an investment that will pay off for decades. Both appliances will take care of your carpets and rugs, whether you choose natural fibers or synthetic ones to meet your family's needs.

You can buy the Bissell 85T3 Big Green carpet cleaner here on Amazon. You can buy the Miele Complete C3 Soft Carpet here. And you can buy the sisal rug above here, the Persian wool rug here. The jute rug is available here. You can buy the beige seagrass rug here, and the coir doormat is available here.

Canadians can buy the Miele Soft Carpet here and the Bissell Big Green here.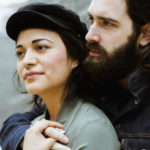 If you find our research on PMC helpful, you can follow our efforts to keep maniacally reviewing home cleaning tools by shopping through our links above. We promise to keep fighting the good fight against every horror children, animals, and grown, yet messy humans can inflict upon a clean home.