When it comes to commercial, industrial-grade carpet cleaners, efficiency is key. Most career carpet cleaners  we know aren't using domestic-grade cleaners like the Hoover Max Extract line (although some are); they're more likely to be using tools like the EDIC Galaxy 2000, because time is money, and fast, reliable extractors means money in our pockets. However, comparisons and reviews of the tools we depend on can be hard to find beyond word of mouth, which is why we're making the effort to review  the leading pro extractors on the market. Today we'll take a look at the Aqua Power C4 Carpet Extractor and the Mytee Mytee Lite II Carpet Extractor, and let our team figure out which they'd rather have on an all day job. If you don't run a business but simply want a clean home and are tired of renting cleaners, here are two you might want to consider buying (although in such a case we'd also recommend the Big Green or Rug Doctor).
We like the Aqua Power C4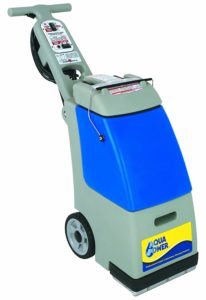 because it's one of the most reliable extractors on the market, as well as one of the best extractors we've ever used. One of our staff members has been using his for a number of years and has around 700 operational hours with it without a breakdown. That kind of reliability is priceless. Another associate uses hers to manage the carpets in a 60 unit apartment complex she owns; the testimonials speak for themselves.
On the surface, the C4 bears a not-so small resemblance to the Rug Doctor X3, and this isn't a coincidence; one of the founders of Rug Doctor left the company and founded Kenti Investment. However, while the Aqua Power is significantly more expensive, it also does a much better job cleaning. In fact, the only machine we'd put above it in cleaning capacity is the EDIC Galaxy, which costs twice as much.
It's important to keep in mind that while the C4 can be used with cold water, it's designed to be used with hot (not boiling) water, and it is pulled backwards, which can make it a bit tricky to navigate in tight spaces. You'll want to use a wand or hose attachment for stairs and upholstery. While you use it, the cleaning solution mixes with the hot (e.g., tap hot) water in its 4-gallon tank, the brush cleans the damp area, and then the vacuum cleans dirt and removes moisture from the carpet. The C4 weighs 44 pounds, is 19″ deep, 12″ wide, and 27″ high not counting the handle, which is adjustable. Despite its heft, it's easy to pull and can handle any flat environment with ease. It's a great machine, and we regularly turn to ours for taking care of pretty much any carpet system we come across.
The Mytee Lite II is another excellent high-end carpet extractor. Unlike most cleaners on the market, it has an in-line heater (like the EDIC Galaxy, but at half the price), giving you 210-degree hot water on-demand to help tackle grease stains and blast away dirt. Unlike with the C4, a vacuum hose (15 feet long) and an upholstery tool are included, which saves a bit of money if you're stretching your budget to bring one home. It also comes with a limited lifetime warranty, which we find very reassuring. At 48 pounds, it weighs slightly more than the C4, and at 50″ tall, 31″ long, and 28.5″ wide, it's also a larger device. However, it does excellent work and feels much smaller than its dimensions would suggest when in use. It's particularly strong when it comes to auto detailing, due to its ability to act like a giant shop vac. We know a number of associates who use theirs both professionally (e.g., in car detailing, in car washes) and personally (for personal houses, vehicles, etc). Construction out of the box is simple and it's also simple to operate.
Conclusion – which high-end cleaner is right for my home / business?
In conclusion, we can't say enough good things about the C4, but we also think highly of the Lite II; the better machine for you will depend on your specific needs. If you're like most carpet cleaners on our team or in our network, however, you'll spend many happy years with the C4. On the other hand, if you do car work or need a hot water supply while cleaning, the Mytee II is king in the under-$1000 market.
You can buy the Aqua Power C4 extractor on Amazon here, and you can buy the Mytee Lite II extractor here.
If you find our research on PMC helpful, you can support our efforts to keep maniacally reviewing home cleaning tools by shopping through this Amazon link. Canadians can use this link. We promise to keep fighting the good fight against every horror children, animals, and grown, yet messy humans can inflict upon a clean home.