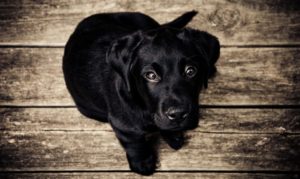 While we're unabashed dog lovers, as our several Golden retrievers can attest, we can't recommend wooden floors as a top choice for dog-friendly homes. Even if you're wiling to constantly trim their claws, your dogs are still going to gouge your finish and they're not going to stay on your area rugs and runners, no matter how many treats you offer them.
If you're lucky enough to own a dog, the best floors aren't going to feature an ounce of wood; we'd recommend materials like vinyl, tile, stone, or carpet instead. But if your heart is set on wood the way it's set on your four-legged friend, you'll want to read this article to figure out which woods stand the best odds of keeping up with your dogs. All of our recommendations are as hard as wood gets, per the Janka hardness scale, the standard way of measuring wood toughness.
Consider Brazilian hardwoods – ipe, ironwood, or walnut is a top choice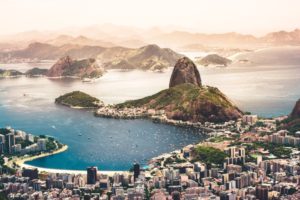 If you're looking for dog-proof hardwood, Brazilian walnut, also known as ironwood or ipe, is about as good as it gets. With a Janka rating of around 3,684 lbf, there are very few examples of solid wood more resistant to gouging.
That said, you can choose from any of the Brazilian hardwoods without sacrificing quality; it's really about your personal tastes and budget. Ipe in particular can even be found on outdoor decks due to its reputation for durability. When it entered the North American flooring scene some years ago, it commanded high-end prices as a high-end wood. These days, however, it's dropped in price enough to be reasonably affordable if durable, pet-proof wood is your priority.
Domestically, look to hard maple for high Janka ratings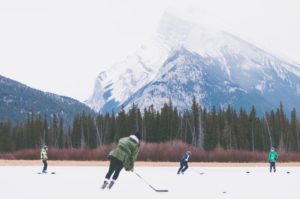 If you don't want wood shipped from faraway forests and jungles but do want toughness grown a little closer to home, you'll want to consider hard maple. While the Janka rating isn't as high–it's typically around 1,450 lbf for either hard or sugar maple–it's still strong enough to work for pet traffic; it's been used for decades as a basketball court floor. That said, if you have particularly heavy dogs or dogs prone to digging behaviors on your floors, you can see some gouging over time. Fortunately, you'll typically be able to sand it out.
What characteristics does wood need for durability in a dog-friendly home?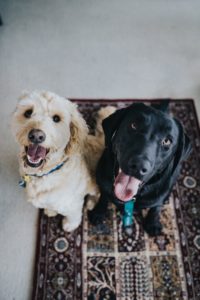 If you want to use wood in a home with dogs, you'll want it, ideally, to be pre-finished, to be an actual hardwood instead of a soft wood, and to be made from solid instead of engineered wood. Let's look at these three factors in detail.
First of all, pre-finished hardwood floors are those that arrive at your home already sealed and stained with urethane to make them highly resistant to scratches, dings, and gouging. The alternative is site-finished or unfinished wood, which will be more water-resistant but less scratch-resistant.
Second, actual hardwoods are essential because you need woods that are "hard" to stand up to scratches. Soft woods, in contrast, simply aren't going to resist dog claws for long, no matter how much they're prepared with sealing and staining. Maple and oak are examples of hard woods; pine and fir are examples of soft woods.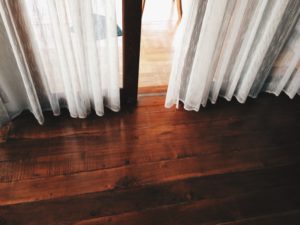 Finally, you need solid hardwood and not engineered wood flooring. The reason here is because hardwood can be sanded dozens of times while retaining its structural integrity. Engineered flooring, in contrast, can only be sanded once in many cases before exposing the plywood base. If you never plan to sand away scratches, this won't be a problem. But if you do, you'll want solid wood and not engineered wood, which is really a hardwood veneer atop a mountain of plywood.
If wood isn't the best choice for dog-friendly flooring, which floors are?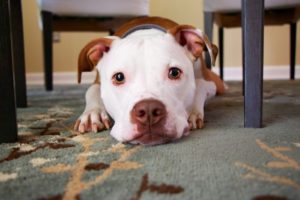 If we've convinced you at this point to choose a flooring besides wood, you might be wondering which options are actually recommended for pet-friendly homes. For us, the answers are simple: carpet, tile, and vinyl, with stone if you have a taste for the exotic. While each of these floors still has its disadvantages, they collectively offer the best blend of durability, aesthetics, and comfort for humans and dogs alike in our books. Carpet, in particular, will give you by far the best reduction in allergens if anyone in your home is allergic to your dogs.
Which vacuum cleaners do the best job of cleaning pet hair from wooden floors?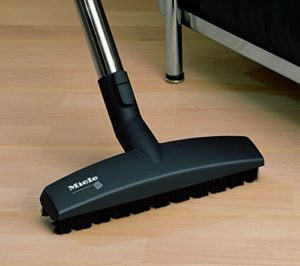 When it comes to removing pet hair from floors, there are two types of cleaning heads you're going to want for your vacuum: a Parquet head and an electric brush head. The Parquet head is essential for cleaning bare floors efficiently, as the brushes will both polish the floors while removing pet fur and hair instead of simply blowing or pushing it around with air currents.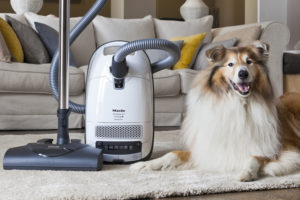 An electric brush head isn't necessary for bare floors, but it's by far the best way to clean carpeted floors, and since most homeowners with pets aren't going to have bare floors exclusively in their homes, it makes sense to have one machine capable of tackling both floor types at once. Unfortunately, there are relatively few machines on the market that include both cleaning heads. Two exceptions are the Miele Complete C3 Cat & Dog (reviewed here and here) and Miele Compact C2 Electro+ (reviewed here and here). Between the two, we prefer the Cat & Dog due to its larger cleaning capacity and the additional powered mini brush that makes cleaning fur from upholstery much easier. However, either will do an excellent job on all flooring types and help you win the war against your four-legged shedders.

You  can buy the Miele Complete C3 Cat & Dog here on Amazon or buy the Miele Compact C2 Electro+ here.

Canadians can buy the Miele C3 Cat & Dog here or buy the Compact Electro+ here.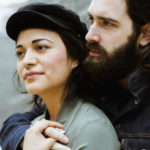 If you find our research on PMC helpful, you can follow our efforts to keep maniacally reviewing home cleaning tools by shopping through our links above. We promise to keep fighting the good fight against every horror children, animals, and grown, yet messy humans can inflict upon a clean home.