When you decide to decorate (or redecorate) your home or apartment, you're going to need to get comfortable making decisions. If you're choosing a carpet, you'll have a lot of factors to keep in mind, including the style of the carpet, the type of fiber you want, the level of quality you need, the warranty coverage it comes with, and of course, the colors that work best with your living space and tastes. Of these decisions, color is often the most challenging, because as humans, we're visual creatures, and process much of our world through a palette of colors and emotions. To put it simply, choosing colors can be scary. If you don't know what's important and what you can let slide, keep reading; we've been through this before, and we wrote this guide for you.
When choosing colors, start with furniture, then carpeting, then wall paint, and finally, bedding
When choosing colors for décor, you'll want to prioritize selection of colors for pieces that are more expensive or come with limited palettes and save the most affordable and flexible areas for last. For example, when searching for colors for a family room or finished basement, choose your sofa or loveseat colors before anything else; in a bedroom or nursery, start with the beds and dressers.
You'll want to use this guideline because you'll typically have fewer options for color with sofas and other large furniture pieces than you will with carpeting or paint. Once the sofas, beds, and dressers have been chosen, then move to the carpeting, then wall paint, and finally your bedding. We place bedding–sheets, blankets, and comforters–below carpeting because it takes less time to change them than it does to change a roomful of paint in most cases.
Neutral, timeless, colors are best for long-term carpeting
Neutral carpet colors are currently en vogue, and will likely continue to be popular for as long as carpets exist. While it's tempting to use bright colors to express your personality, creativity, or life energy, when you do so with carpeting, which covers so much visual space in a room, the effects can quickly become overpowering. Should you decide that you've used too strong of a color palette, you'll spend a good amount of money and time replacing your carpeting.
Unless you don't mind spending that time and money every few years keeping up with carpet fashion, your best bet will be to choose a neutral color set, which will work well indefinitely, regardless of which trends come and go. If you simply love bolder and brighter colors, you don't have to give them up: just put them in parts of your décor that are easier to change. Your wall paint can be changed in less time and with less effort than your carpets; so can your sofa cushions, your bedding, and an infinite number of accent pieces, including framed artwork, lamps, and coffee tables.
Right now, neutral, calming, and timeless carpet colors are those with earthy, nature-like hues. This means warm browns and tans as well as warmer grays and beige tones.
If you want personality, show it through carpet styles
While we'd recommend practical, soothing colors for carpeting, you don't need to surrender your sense of style to stability; you can express your personality through the styles of carpeting you choose. That's most easily done through texture; frieze or twist carpets as well as cut and loop styles are easy ways to pull your carpet beyond the safe and sleepy saxonies and berbers you'll find in most builder's grade homes. At the same time, these carpet styles are still muted enough to keep themselves from becoming the focal points and overpowering the rest of your home.
Alternatively, you can also consider variations in color through berber flecks. While most people think of berber carpets as the protoypical looped style, the term originally referred to the flecks of color variation in carpeting; much like cut and loop patterning, a flecked berber can draw attention tastefully without tiring the eyes. The alternating but complementary colors also help hide dirt and grime that may accumulate in your carpeting between vacuuming sessions.
Be honest with your lifestyle when choosing your colors
No matter which colors you choose, make sure you're honest with who you are and the kind of life you live. We're not talking about your political affiliations or charitable donations; we simply mean that different colors will work better with different levels of activity. For example, if you have children, pets, and busy parents, you're probably going to want to stay away from white carpets or lighter hues in general, as they'll be more likely to show staining and soiling than darker or more earth-based tones. Alternatively, if you use your home for business, you'll want to choose a carpet–whether residential or commercial–that reflects the kind of clientèle you're hoping to attract. Once again, be practical. And if you get the choice to buy solution-dyed carpets, do so; the fibers will be more resistant to fading and staining than traditionally-dyed fibers.
Keep those colors stronger longer with frequent cleaning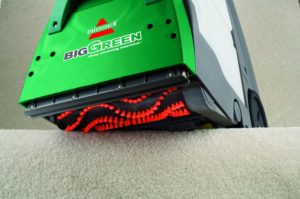 If you've ever heard the phrase "an ounce of prevention is worth a pound of cure," you know where we're going with this. No matter which colors you've chosen, you'll keep them brighter longer if you make regular cleaning a habit. We're not talking about hiring professional cleaners; you can do a very thorough job on your own through a combination of weekly vacuuming and carpet cleaning every few months or whenever you find stains or soiling, as those will quickly change your colors if you don't attend to them.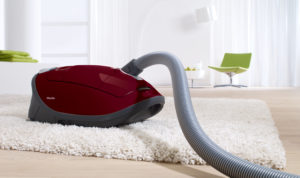 For carpet cleaning, we recommend the Bissell 86T3 Big Green. It holds its own against most industrial cleaners under $1,000  and is used by homeowners and cleaning companies alike for the same reasons: it works well, lasts long, and comes in under budget. For vacuuming, the Miele Complete C3 Soft Carpet and the Miele Compact C2 Electro+ are two of our favorite recommendations; both are capable of cleaning a range of piles and styles and come with buy it for life reliability.

You can buy the Bissell 85T3 Big Green carpet cleaner here on Amazon. You can buy the Miele Complete C3 Soft Carpet here or buy the Miele Compact C2 Electro+ here.

Canadians can buy the Miele Soft Carpet here, the Compact Electro+ here, and the Bissell Big Green here.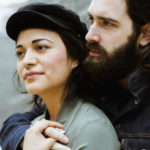 If you find our research on PMC helpful, you can follow our efforts to keep maniacally reviewing home cleaning tools by shopping through our links above. We promise to keep fighting the good fight against every horror children, animals, and grown, yet messy humans can inflict upon a clean home.