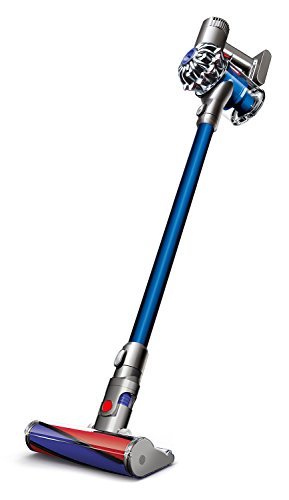 Someday we might live in a world where robots do all of our cleaning for us. In the mean time, though, cleaning takes time, and if you live a life anything like ours, time is a scarce resource once you reach adulthood.
If you're too busy to do any cleaning at all, you're probably a good candidate for a robotic vacuum or mop. But if, in general, you've got the time to push a vacuum around for a few minutes here and there, what really matters is how much power you can get while staying as portable and light-weight as possible.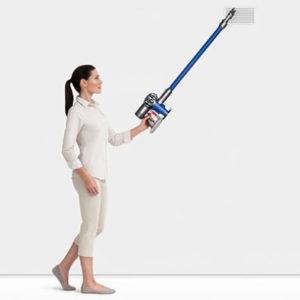 Dyson feels our pain. If they didn't, they wouldn't have so many vacuums in so many different shapes and sizes. If you're on the power end of the power-vs-portability continuum, find a full-sized upright like the Ball Animal 2. Want to maximize portability? They'll sell you a handheld like the  V7 Car+Boat. And for a happy medium, they've got a range of stick vacuums that you can use in both handheld and full-sized modes without dragging a power cord behind you.
If you want one, the top model is the  V8 Absolute. But if you want to save money, you can get the V6 Absolute instead. And if you don't have carpeted  floors, you can really get a deal with the Dyson V6 Fluffy Cordless Vacuum, which we're going to review today and compare to the Absolute. If we had to distill our thoughts down to a ten second summary, we'd suggest buying the V6 Absolute if you want all the accessories available, and sticking to the Fluffy if you only have bare floors. We fully review it below, and you can buy the V6 Fluffy here.
Pros, Cons, and Key Features of the Dyson V6 Fluffy Cord-Free Vacuum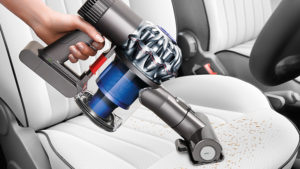 The Dyson V6 Fluffy is a mid-range model in Dyson's high-end portable vacuum line. As a primer, Dyson calls their luxury portables "cord-free" and their low-end models "handheld." The reasons to choose the cord-free line include better battery life, better suction, and an extension hose that lets you turn them into stick vacuums or handhelds depending on whether you connect it or remove it.
The V8 Absolute is the current flagship model, with the V8 Animal coming in a close second. One generation back, you'll find the V7 Motorhead, and if you go back to the V6 generation, you'll find the V6 Absolute, V6 Animal, the V6 Fluffy we're reviewing today, the V6 Fluffy Pro, V6 Motorhead, and V6 Cord-Free. The main differences within generations involve accessories and color; across generations, you'll also see improvements in suction and battery life.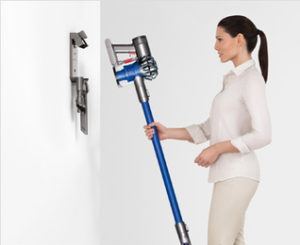 The V6 Fluffy's key features include 20 minutes of battery life (which drop to 6 minutes on max power mode), 100 airwatts of suction, and 5 cleaning tools: a soft-roller cleaner head, a mini motorized tool, a combination tool, a crevice tool, and a mini soft dusting brush. In the box, you'll also find a wall-mounted charging and docking station, an instruction manual, and Dyson's 2 year warranty for parts and labor. The V6 weighs 5 pounds on our scale, holds .1 gallons of dirt in its dust bin, and requires 3.5 hours to fully recharge the included Lithium-ion battery.
What's the difference between the Dyson V6 Fluffy and the V6 Absolute?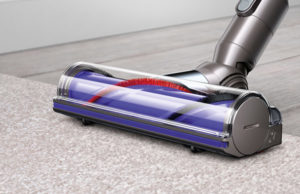 The only significant difference between the Fluffy and Absolute is the presence (or absence) of a direct drive motor head. Everything else–suction, battery life, and accessories–is exactly the same. The importance of the motorized head will depend entirely on how you plan on using your vacuum.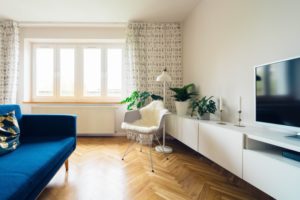 If you only have bare floors (e.g., hardwood, tile, vinyl, or laminate), you don't need the motorized head; the bare floor tool that ships with the Fluffy and Absolute will do just as good of a job on them and will give you the full 20 minutes of battery life instead of chopping it down to 12 minutes. On the other hand, if you have any form of residential or commercial carpeting (e.g., berbers, Saxonies, or cut and loops) or area rugs, you'll need the motorized head, because the soft roller head will be useless with them.
How well will the Dyson V6 Fluffy clean up after kids, pets, and spouses?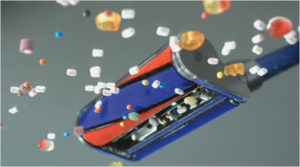 When it comes to practical, real world cleaning, the V6 Fluffy is going to make most owners happy. It's powerful, ergonomic, and easy to use. It doesn't have anywhere near the strength of a Ball Animal 2, but it's also much lighter and far more portable. It'll clean bare surfaces easily and will also handle car seats, couches, the insides of minivans, cars, and SUVs, as well as stairs, countertops, and all the little nooks and crannies where dirt hides in while we're busy at work, at home, and on the go.
Why buy the Dyson V6 Fluffy?
To sum up our thoughts, as long as you keep your expectations realistic, there's no reason why the V6 Fluffy can't be your primary vacuum, even if it you don't decide to make it your only vacuum. We confess that sometimes we'd like more battery life, but that's simply a question of ponying up the money for the V8 Absolute. If we'd like to tackle carpeted floors but don't particularly need more runtime, all we need to do is buy the V6 Absolute. If you don't need to vacuum for more than 20 minutes at a time and don't have carpets or rugs, the decision's easy: get the Fluffy.

You can buy the Dyson V6 Absolute vacuum here on Amazon. If you don't need the motorized head for carpets, you can buy the V6 Fluffy here instead.

Canadians can buy the Dyson V6 Absolute vacuum here on Amazon or save some money with the V6 Fluffy here instead.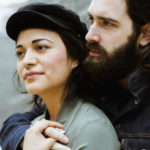 If you find our research on PMC helpful, you can follow our efforts to keep maniacally reviewing home cleaning tools by shopping through our links above. We promise to keep fighting the good fight against every horror children, animals, and grown, yet messy humans can inflict upon a clean home.