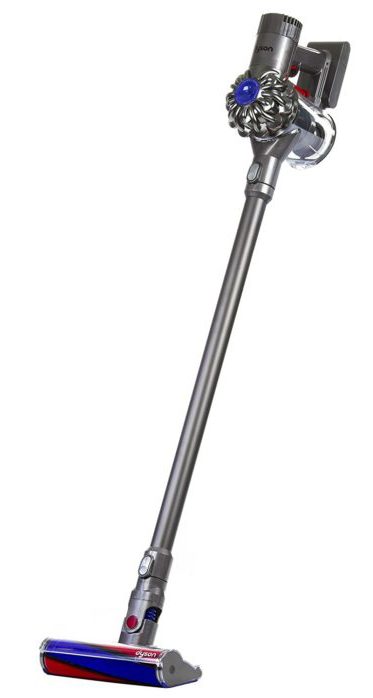 Unless you're reading this post from the future, you probably don't live in a world where robots do all of your cleaning for you. Right now, cleaning takes time, and we seem to have less of it each year. While you can throw in the towel and buy robotic vacuum or mops, most of us still like to feel like we're putting a bit of elbow-grease to things to get the house clean. Dyson get this, which is why they have an endless array of vacuums to fill the space between power and portability. If you want all the power that can fit into a full-sized upright, you want the  Ball Animal 2. If portability's what's most important, you can buy a handheld like the  V7 Car+Boat. And if you're somewhere in between, that's why stick vacuums were invented; you can use a Dyson cord-free vacuum in both full-sized stick mode and in handheld mode without being tethered to a power cord.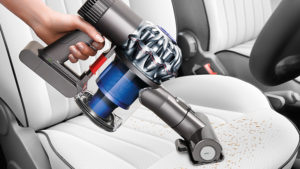 If you want the flagship stick, save yourself some time and buy the V8 Absolute instead of reading this review. But if you're on a smaller budget, you might want to consider a Dyson-refurbished previous-gen model that comes with more accessories than a brand new V8. We're talking about the Dyson V6 Fluffy Pro Cord-Free Stick Vacuum, which we're going to review today and compare to the V6 Fluffy, a sister model. To save yourself some time if you're ready to buy it, here are our thoughts in ten seconds: buy the Fluffy Pro if you have carpeted and bare floors and stick to the regular Fluffy if you only have bare floors. Our full review is below, and you can buy the V6 Fluffy Pro here.
Pros, Cons, and Key Features of the Dyson V6 Fluffy Pro Cord-Free Vacuum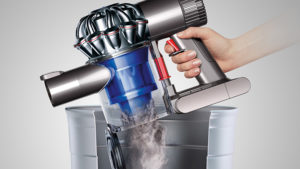 The Dyson V6 Fluffy Pro is a high-end model in Dyson's luxury line of portable vacuums. To get you up to speed in Dyson-speak, they call their high-end portable vacuums "cord-free" and refer to their lower-end models as "handheld." You want the cord-free line for stronger suction, longer battery life, and an extension hose to convert them from stick modes to handheld modes at will. The best cord-free vacuum right now is the V8 Absolute; the V8 Animal is a close second. In the V7 generation, you'll find the V7 Motorhead, while the V6 generation includes the V6 Absolute, V6 Animal, the V6 Fluffy Pro we're reviewing today, the V6 Fluffy, V6 Motorhead, and V6 Cord-Free. Aside from color, the only difference within generations involve which accessories you find in the box. Moving forward in generations, you'll gain battery life and suction power.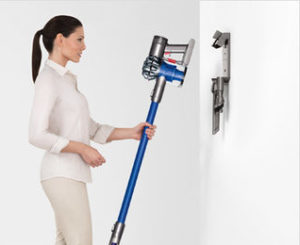 Key features of the V6 Fluffy include a 20 minute battery runtime (this drops to 12 minutes with the direct drive motor head and 6 minutes with max power mode), the ability to generate up to 100 airwatts of suction, and enough cleaning tools to start your own maid service. You get the direct-drive cleaner head, soft-roller cleaning head, combination tool, crevice tool, wide nozzle tool, multi-angle brush, and soft bristle brush.
Aside from the 7 cleaning tools, you'll also find the wall-mounted dock and charging station, an instruction manual, and a parts and labor warranty. If you buy a new Dyson cordless, you get 2 years of coverage, but this drops to 6 months if you buy a Dyson-certified refurbished model. We're not sure why it's less time since they're going to last much longer and they're refurbished in the same factories where new models are made, but those are the numbers on the paperwork. The V6 Fluffy Pro weighs 5.1 pounds on our scale, holds .11 gallons of trash in its hygienic dust bin, and recharges its Lithium-ion battery in 3.5 hours.
What's the difference between the Dyson V6 Fluffy Pro and the V6 Fluffy?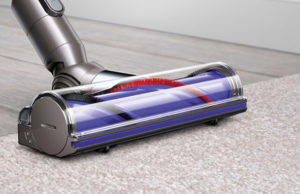 The only meaningful differences between the Fluffy Pro and regular Fluffy are in the accessories with which they ship. Both vacuums have the same suction and battery life. Both vacuums ship with the soft-roller cleaner head, a combination tool, and a crevice tool. However, while the Fluffy adds a mini motorized tool and mini soft dusting brush, the Fluffy Pro adds a direct drive motor head, a wide nozzle tool, a multi-angle brush, and a soft bristle brush. Of these tools, the deal-breaker will be the motorized head that ships with the Fluffy Pro. Whether it's important or not will depend entirely on where you'll use your vacuum.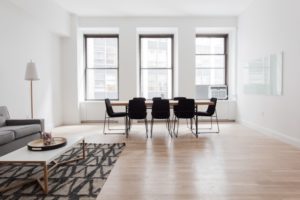 If your living space consists solely of bare floors (e.g., hardwood, tile, marble, vinyl, or laminate), skip the Fluffy Pro and buy the Fluffy; the Fluffy's soft-roller cleaner head will clean those floors just as well as the motorized head on the Fluffy Pro while letting you use the full 20 minutes of battery life instead of throttling it down to 12 minutes. On the other hand, if you live somewhere with residential or commercial carpeting (e.g., berbers, Saxonies, or cut and loops) or area rugs, you're going to want the Fluffy Pro, because the bare floor head won't clean carpets while the motorized head will.
How well will the Dyson V6 Fluffy Pro clean up normal family messes?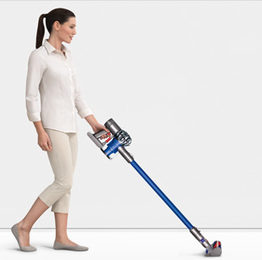 In real-world, day to day cleaning, you're going to be happy with the Fluffy Pro. It's sufficiently powerful, ergonomic, and easy to use to make just about every user with realistic expectations happy. No, it won't suck up stains the way a Ball Animal 2 would, but you'll also get a vacuum that weighs much less and is much more portable than a full-sized upright. The Fluffy Pro will handle pet messes (just ask our Golden Retrievers), carpets, upholstery, and bare surfaces without complaining. It'll take care of car seats, couches, minivan interiors, stairs, countertops, and just about everywhere else dirt hides while you're busy "doing life."
Why buy the Dyson V6 Fluffy Pro?

In conclusion, we like the Fluffy Pro and would easily recommend it to supplement, if not completely replace, a primary vacuum. Yes, we'd like more battery life (who wouldn't in a cordless vacuum?), but if we want it badly enough, there's the V8 Absolute that'll deliver 40 minutes instead of 20. For the money, the Fluffy Pro provides a ton of accessories and a good amount of value in addition to the ability to handle carpets and bare floors competently. If you don't have carpets or rugs, the Fluffy is an equally valid option.

You can buy the certified refurbished Dyson V6 Fluffy Pro vacuum here on Amazon. If you don't need the motorized head for carpets or want it as a completely new vacuum, you can buy the V6 Fluffy here instead.

Canadians can buy the Dyson V6 Absolute vacuum here on Amazon or save some money with the V6 Fluffy here instead. Unfortunately, the Fluffy Pro is not available.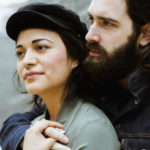 If you find our research on PMC helpful, you can follow our efforts to keep maniacally reviewing home cleaning tools by shopping through our links above. We promise to keep fighting the good fight against every horror children, animals, and grown, yet messy humans can inflict upon a clean home.