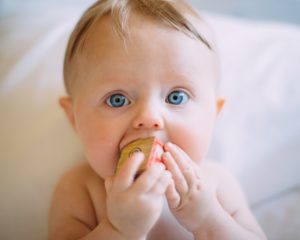 Even though we have more options to cover floors today than at any point in the history of housing, carpet is still the best way to cover a baby's nursery. This comes down to two reasons: carpets are softer than any bare flooring, and carpets make excellent air filters.
The first reason is easy to intuitively understand; carpets are soft, and while babies are crawling or falling as toddlers, carpeting is a cushion to protect their little bodies. The second reason has to do with the fibers and large surface area of carpets. Despite a misperception that carpets can increase allergies, a range of studies have shown that carpets are actually the largest air filters in homes, even in homes that already have air filters. Carpets keep allergens out of the air and out of our lungs.
Given the various benefits of carpeting for your baby's room, your next question is likely to be which kind of carpet will work best for a nursery? We'll answer that question today by examining key features every nursery carpet should include.
A baby's carpet should be soft
As we noted, the most obvious advantage of carpeting a baby's room is the fact that it's softer than any other kind of floor covering in existence. That said, although carpets are, by definition, softer than hard floors, different carpets have different levels of softness. Take the time to figure out which style you want, whether by direct research or by requesting soft fiber carpets from your carpet retailer.
Something to keep in mind is that if you have a hardwood floor in your nursery, all isn't lost. If you don't want to cover it with carpet for financial or aesthetic reasons, it's a good idea to consider a broadloom area rug to soften the flooring throughout the room and enjoy the benefits of carpeting without paying wall-to-wall carpeting prices. It doesn't have to be broadloom, of course; just about any rug will be an improvement over a bare floor for a baby.
Look for a carpet with low VOCs
Volatile organic compounds, or VOCs, are some of the most frequently discussed topics in home furnishing today, and for good reason. Carpets, bedding, furniture, and a wealth of paints and plastics release chemicals as gases (known as off-gassing) into the air. You, your baby, and everyone in your home (pets too) end up breathing these chemical gases, and the health effects are as yet unknown, but studies suggest they aren't good for us. What's a parent to do?
For starters, consider carpets with low VOCs. Carpets made with natural fibers will almost always feature lower VOCs than synthetic fiber carpets, which are the default option in the carpet industry. SmartStrand carpets are a hybrid carpet known for low VOCs than most synthetic carpets and are also worth considering. Additionally, get your carpet installed before your baby starts using the room; if you can get it installed before your baby comes home, that's even better. Open all windows and let the gases out as frequently as possible; this also brings in fresh air to the household, which is good for baby and parents alike. And set up a good air purifier if you can.
Find a carpet you can easily clean
Babies are messy creatures. They're adorable, beautiful, wonderfully mayhem-makers. They spill bottles, spit up milk, pee and poop out of diapers, explore the world with their mouths–they're everywhere and do everything but worry about whatever stains and spills they leave behind on your carpets. Make things easier on yourself by choosing a carpet that highly resists stains. Don't forget to look into stain and soil warranties, as most carpet manufacturers treat them differently when providing warranty coverage. We'll cover good carpet cleaners and vacuums a little later on.
Durability is important
While you won't need as much durability in a nursery as you will in the highest-traffic parts of your home (typically family rooms and stairs) you're still going to want to keep it in mind. That means learning to distinguish what makes a carpet a high quality one, as you can tell a lot about a carpet by looking at it and feeling it if you know what to look for. Taking a few steps ahead of time to secure a quality carpet can increase your odds of being able to use it throughout your baby's childhood (or with any additional babies you have after surviving this one!).
Choose buy-it-for life carpet cleaners and vacuums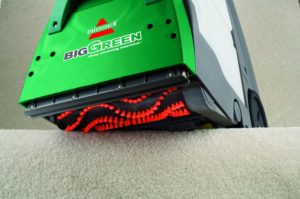 Just as you want a carpet that won't break down quickly, you also want to choose a carpet cleaner and vacuum with equal or greater durability. For carpet cleaners, we recommend the Bissell 86T3 Big Green; it's powerful enough to give carpets the level of cleaning necessary to remove the inevitable spitups, pees, poops, and who knows what else your baby will leave while learning about the world.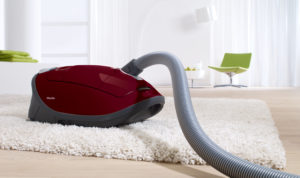 For vacuuming we recommend the Miele Complete C3 Soft Carpet. It'll clean every pile and style of carpet and do so with HEPA filtration, providing one more defense against allergens and other toxins that can make their way into (or out of) your baby's carpets. It's not cheap, but like the Big Green, it'll keep going long after cheaper cleaners have stopped working, making it better for your baby, your wallet, and the environment s/he'll inherit. As a bonus, it's also one of the quietest vacuums you'll ever buy.

You can buy the Bissell 85T3 Big Green carpet cleaner here on Amazon. You can buy the Miele Complete C3 Soft Carpet here.

Canadians can buy the Miele Soft Carpet here and the Bissell Big Green here.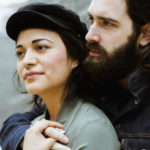 If you find our research on PMC helpful, you can follow our efforts to keep maniacally reviewing home cleaning tools by shopping through our links above. We promise to keep fighting the good fight against every horror children, animals, and grown, yet messy humans can inflict upon a clean home.