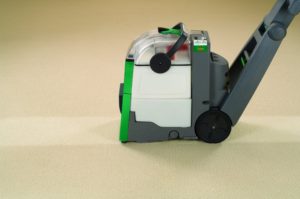 Once you reach the $400 mark for carpet cleaners, you're no longer looking for a machine that simply cleans a few stains out if you push it back and forth a dozen times; you want a quality cleaner that'll make you want to use it, and that won't break down after a year or two. We've had the privilege (and curse) of getting to know most of the carpet cleaners on the market in the $300-$3,000 price range, and we're happy to say that most of them do a reasonably good job once you're past the cheapest models. However, there are always reasons to choose one cleaner over the other, and today we'll take a closer look at the Oreck Revitalize and compare it to one of our favorite carpet cleaners in the $400 price range, the Bissell 86T3 Big Green. Which is the better machine? Let's figure it out together.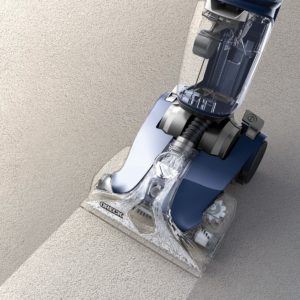 The Oreck Revitalize is perhaps the most attractive carpet cleaner we've ever used. It shouldn't be a surprise coming from Oreck, who have consistently made some of the most attractive vacuum cleaners on the market, but we were pleasantly surprised to find their designers hadn't lost a sense of aesthetics when it came to crafting a machine that looked good while sucking dirty water out of urine-stained carpets.
In terms of specifications, the Oreck was also one of the lightest carpet cleaners we've ever used at 16 pounds without the cord. Size-wise, it's basically an upright vacuum cleaner, and we liked that; this is one of the most senior-friendly carpet cleaners we've yet come across, in terms of ergonomics, if not in price. We'd have liked a power cord at least 30 feet long instead of 26, but it was still long enough to get from one part of a room to another without needing to unplug and replug with a bit of luck. We liked the fact that it came with two dedicated tanks instead of one combination tank, as we've always been a fan of minimizing the number of "all-in-one" devices on professional tools, as when these devices fail, they inevitably take most or all of the machine's functionality with them (e.g., computerized heating elements that require the replacement of entire dishwashers).
When it came to actually using it to clean, we found it did a great job on most carpets, which matched our expectations. It had no trouble pulling out a range of food (e.g., spaghetti), drink (e.g., milk, wine, coffee), and pet (e.g., dog and cat urine) stains. However, we found the clean and dirty water tanks smaller than we'd have preferred. They were fine enough for individual rooms, but if you were planning on whole-house jobs or on using the cleaner professionally (e.g., to clean a dorm's worth of rooms or in an apartment complex), you'd spend a lot of time refilling and emptying tanks, which gets old quickly.
Overall, we felt the greatest strengths of the Revitalize were its size and weight, followed by its cleaning abilities; its greatest weaknesses in our books involved the overly small tank sizes.
It's no secret that we love the Big Green; we've compared it to other carpet cleaners before (e.g., the Rug Doctor) and have consistently found it the better value compared to anything else under the $400 price point. We were excited when we borrowed the Revitalize, as we thought we'd finally found a cleaner with the ability to equal it without costing significantly more. However, this did not turn out to be the case in most aspects.
When it came to dimensions, there was no question that the Revitalize came out ahead. It was much, much lighter at 16 pounds compared to roughly 55 pounds for the Big Green, and it was also much smaller and easier to move from one room to the next. There was no doubt whatsoever that the Big Green would be more difficult to maneuver than the Revitalize for a small, debilitated, or elderly individual. However, once we got past the clear differences in heft, every other advantage went to the Big Green. It cleaned well–very well.
We went over carpets we'd cleaned with the Revitalize and picked up additional dirt we didn't even know was there. We attacked human vomit (children after too much Halloween candy), animal vomit (the dogs' failed attempts to eat the candy the children didn't get to), baby vomit (just because the baby noticed everyone else was vomiting), and a wide range of food and drink stains (pretty much everything you could imagine occurring when college students got together over winter break to celebrate).
The Big Green didn't blink; it just cleaned. It's no wonder it comes with a 5-year warranty for personal use; it's designed to keep going. It's important to note that this warranty only applies to personal use, and not commercial or rental use. It also doesn't cover filters, belts, or brushes. But compared to the Oreck, which offers a 4-year warranty (which is not at all shabby), it was just one more sign that the Big Green was designed to go the distance.
Which is the Better Carpet Cleaner for $400: the Oreck Revitalize or the Bissell Big Green?
In our books, the better all-around machine was definitely the Big Green. We felt it was simply easier to use due to its much larger tanks and stronger cleaning ability for heavy duty or large-scale tasks. However, for personal use, particularly among senior citizens or individuals with weight or mobility restrictions, we feel the Revitalize would be the stronger choice due to its functional similarity to a vacuum cleaner. It's hard to go wrong with either choice; the better one simply depends on your intended needs. If you can't decide between the two, go with the Big Green.

You can buy the Bissell Big Green here on Amazon  and you can buy the Oreck Revitalize here on Amazon.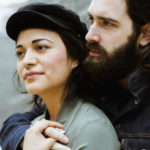 If you find our research on PMC helpful, you can follow our efforts to keep maniacally reviewing home cleaning tools by shopping through our links above. We promise to keep fighting the good fight against every horror children, animals, and grown, yet messy humans can inflict upon a clean home.