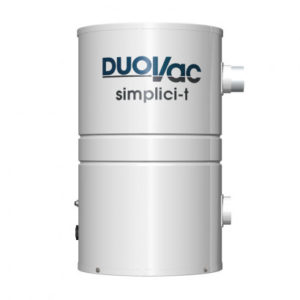 If you want a central vacuum to replace an existing model or have simply moved into a home with the hookups for a whole house vacuum but without the unit, we've got good news: there are more options now than ever before, and just about any you choose will last longer than the models that existed when your parents had to shop for central vacuums through the Sears catalog. Some things haven't changed– upright and canister vacuums are still going to be easier to move from house to house–but others have; for example, today's central vacuums run longer, run stronger, and require far less maintenance to keep in good condition. If you've got a larger budget, models like the DuoVac STAR can deliver almost unlimited power.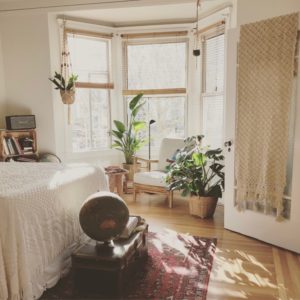 But if you're on a smaller budget or simply need a smaller unit to fit in an apartment, townhouse, RV, boat, or a modest home, there are still a number of appealing choices, including the Prolux CV12000, the DuoVac Air 10 and the model we'll review today, the DuoVac Simplici-T Central Vacuum Unit. We'll also compare it to the aforementioned Air 10 to find out which offers more value for the price. Between the two, we'd choose the Air 10 for the larger square footage coverage and  hybrid bag system and the Simplici-T if you're fine with less coverage and don't mind buying replacement bags. Our full review is below, and you can buy the Simplici-T here. If you're in Canada, buy it here.
Pros, cons, and key features of the DuoVac Simplici-T Central Vacuum System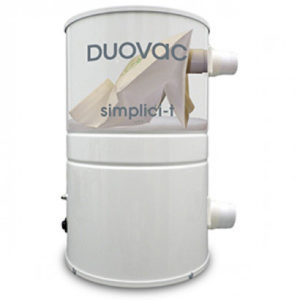 The DuoVac Simplici-T is one of a range of DuoVac central vacuum units you can currently buy in the US and Canada; other options include the Typhoon, Design 550AW, STAR, Air 10, and Select. Marketed as a simple and compact central unit, the Simplici-T is capable of cleaning homes up to 3,500 square feet in area and is powered by a motor that can generate up to 642 airwatts in suction with 134 inches of water lift and a peak airflow of 134 cubic feet per minute, or CFMs. It's important to remember that this is a central vacuum, and not a standalone or portable unit. To use it, your home, RV, boat, or apartment needs to be ducted for central vacuuming. If you don't have such ducting, you'll either need to DIY it or hire an HVAC. To avoid the time and money that would take, we'd recommend simply buying a Miele Complete C3 Cat & Dog instead. But if your place of residence is already fitted for a central unit, this is a compact, affordable, and reliable solution.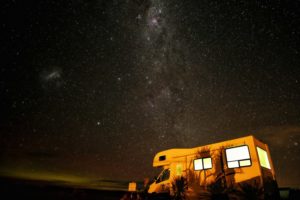 Unlike all other DuoVac vacuums, the Simplici-T doesn't include a hybrid filtration system; it only uses disposable cloth filter bags for HEPA filtration. Measuring a scant 19 inches tall and 11.4 inches in diameter, it's one of the most compact central vacuums on the market, and will easily fit in tight spaces such as boat or RV compartments, apartment closets and laundry rooms, and the standard garage and basement installation sites.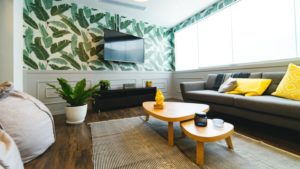 As with other DuoVacs, it can be mounted easily with a bracket. The dust bin capacity is 2.7 gallons and the steel canister weighs 17.1 pounds on our scale. It uses 110-120V AC and draws a maximum amperage of 13.2A. Noise levels are barely noticeable at 52 decibels. The Simplici-T doesn't include full canister or filter replace indicators, and it includes a 10 year limited warranty where labor costs are only covered for the first 5 years.  You're also required to have the unit inspected by a Duovac approved technician when the machine is 5 years old to maintain the remaining 5 years of warranty coverage.
What are the differences between the US and Canadian DuoVac Simplici-T?

As is the case with all DuoVacs, there are few meaningful differences between the US and Canadian Simplici-Ts. The main to be aware of is motor power. The Canadian Simplici-T is limited to 602 airwatts and up to 2,000 square feet of home coverage while the US model achieves 642 airwatts and up to 3,500 square foot living areas. Both power figures are more than powerful enough to cope with messes in any home environment. The Canadian square footage coverage, however, will not be enough for large homes, and we'd recommend the Air 10 as a minimum model instead, as it offers 4,000 square feet of coverage in the Canadian edition.
What are the differences between the DuoVac Simplici-T and the Air 10?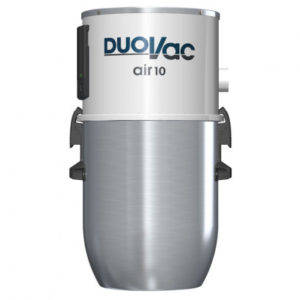 The Air 10 is a significant upgrade over the Simplici-T in two key areas: square footage coverage and filtration. Because the Air 10 is equipped with a stronger motor (it generates 694 airwatts compared to the 642 in the Simplici-T), it can cover up to 6,500 square foot living spaces compared to the 3,500 square foot limit in the Simplici-T.
The difference is more dramatic in the Canadian versions; while the Air 10 drops to 4,000 square feet of coverage, the Simplici-T drops to 2,000 sq. ft., making it impractical for a number of modern homes, unlike the Air 10. The Air 10 also includes a hybrid filtration system that lets you choose  between using the washable filter and buying additional disposable filters for double filtration. With the Simplici-T, you're required to buy filters and don't have the option of just using the included reusable filter, adding to its long term expenses.
How difficult (or easy) is it to install the DuoVac Simplici-T?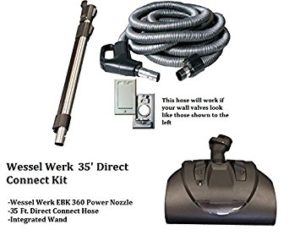 While every central vacuum installation will vary to some degree due to ducting, home arrangement, and power setup difference, we'd rate the DuoVac Simplici-T as a straightforward installation. Mount it beside your 2 inch inlet pipe, hook up the unit to your piping via  PVC pipes and elbows or an inlet hose, and plug everything in. Remember that piping isn't included; you can buy that at a hardware store if you don't have it already.
We'd also recommend buying new hoses and a quality cleaning head unless you already have a setup you particularly like; a good head can make the difference between an acceptable central unit and an amazing one. We recommend a 35-foot hose and power head that works with either direct connect or pigtail connections. The Wessel Werk EBK 360  is our top choice for homeowners who'd prefer to only buy one tool to clean both bare floors and every kind of carpet (including high-pile and soft carpets) without constantly switching cleaning heads.
How well can the DuoVac Simplici-T clean floors, furniture, and pet hair?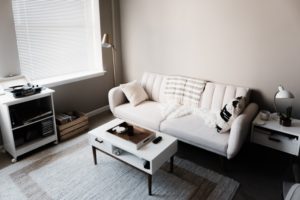 When paired with a quality powered brush head like the EBK 360 we profiled above, the DuoVac Simplici-T is a strong and capable central vacuum unit. It'll handle any bare floor (e.g., hardwood, engineered wood, vinyl, laminate, ceramic tiles, marble, bamboo, concrete, brick, and more) or residential (e.g., Saxonies, berbers, cut and loops, and friezes) or commercial carpet with ease, including soft, plush, and high pile carpets that you won't be able to clean with any portable vacuum besides Miele canisters. Its compact size means you can fit it just about anywhere, and the simple internal design increases your odds of being able to maintain it as the years go by without expensive repairs.
Why buy the DuoVac Simplici-T?
The Simplici-T is perhaps the best choice on the market if you want as small of a central vacuum as possible to fit in a small home, townhouse, apartment, RV, or boat. It's decently powerful, exceptionally quiet, and well-designed. We'd strongly recommend pairing it with the EBK 360 to make the most of its suction and upgrading to the Air 10 if you need more square foot coverage, a longer warranty, or the hybrid filtering system, but still want to maintain the compact profile of the Simplici-T.

You can buy the DuoVac Air 10 central vacuum system here on Amazon or choose a more minimal setup with the Simplici-T instead. We'd also recommend buying a Wessel Werk EBK 360 central vacuum kit with a long hose and power head if you don't have one already.

Canadians can buy the DuoVac Air 10 central vacuum system here on Amazon or save some money with the entry-level Simplici-T instead. We'd pair either with this Wessel Werk EBK 360 central vacuum kit with a hose and cleaning head.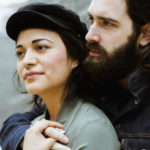 If you find our research on PMC helpful, you can follow our efforts to keep maniacally reviewing home cleaning tools by shopping through our links above. We promise to keep fighting the good fight against every horror children, animals, and grown, yet messy humans can inflict upon a clean home.