If there's anything more than a decade of professional cleaning has taught us, it's that all-in-one tools rarely work as well as single-function devices. In this case, it's hard to combine an air purifier and humidifier in one box, but a number of manufacturers continue to try, and we're happy to review their efforts. The other day we looked at a number of dedicated air purifiers, including the Oreck AirInstinct, Dual Max, and ProShield Plus, and found pros and cons in each. Today we'll look for machines that not only clean the air but moisturize it, and will compare and review the Oreck Air Refresh and Humidifier and the  Venta Humidifier & Airwasher. If you're in a hurry and ready to buy, we recommend the Air Refresh if you have a small room and the Airwasher if you don't.
Pros, Cons, and Key Features of the Oreck WK15500B Air Refresh 2-in-1 HEPA Air Purifier & Ultrasonic Humidifier for Small Rooms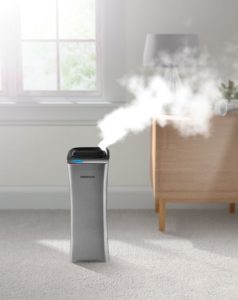 The Oreck Air Refresh was easily the more attractive of the two air care appliances out of the box, and if we were only considering the better looking air purifier and humidifier, we wouldn't have done any further testing. It took up minimal space, it blended in well wherever we took it, and it was very light to move. In other words, it was like our favorite Oreck vacuum (the Magnesium RS) or carpet cleaner (the Revitalize). What more could we want?
Well, we also have clients with pets that shed, or with children with asthma and other respiratory conditions; we had a lot of ground to cover, so we looked more closely. And we liked what we saw.
First of all, the Oreck features a 2-stage filter: the first involves HEPA filteration with 99% effectiveness down to .3 microns while the second involves charcoal for odor removal. The pros here are that the Oreck cleaned the air very efficiently and left it with a pleasant smell each time we used it. The cons are that it put us on a timeline of two separate filters to replace over time. However, the Oreck also includes a filter indicator at the top of the machine with digital readouts of the remaining lifespans of each filter, which allows you to plan for their replacement instead of being surprised one day by a lack of clean air.
The humidifier was the other big part of the Oreck that we enjoyed. It's an ultrasonic design, which is standard among most modern humidifiers due to its greater levels of safety compared to traditional humidifying (which involves releasing hot steam). The water released was cool and misty and we were easily able to adjust humidity levels to our preferences. We found the automatic modes accurate and responsive, and the integrated humidistat did a good job of sensing the relative humidity in whichever room we installed the Oreck to obtain and maintain our desired levels of humidity.
However, the topic of rooms brought out the Oreck's biggest weakness: it's only designed to cover small rooms. How small is small? Oreck defined it as 115 square feet. This is a bedroom or a nursery; it's not a living room or a basement or a dining room. It's essentially a 10 ft x 12 ft space–a little less, to be precise. We can't hold this against the Oreck because we measured between 100 and 130 square feet of humidity coverage and air purification each time we moved it, backing Oreck's claims. It's just that we'd have preferred more. With that said, we found the Air Refresh an excellent choice for families with allergies or respiratory illnesses who were looking for single room solutions for air purification and humidification; it's just important to remember that it's designed for one room, and will not be stretchable in any way to cover an entire home.
Pros, Cons, and Key Features of the Venta LW45G Humidifier & Airwasher (Charcoal Gray), (White)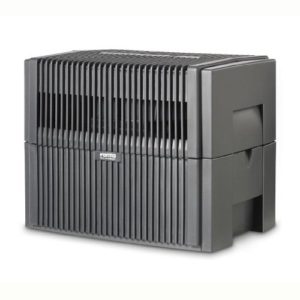 If we liked the Oreck because of how well it did in small spaces, we loved the Venta for the job it did in every other environment. Right out of the box, it made no bones about its abilities: 800 square feet of coverage and available in grey and white. That wasn't whole house coverage, but it was almost 7x as much coverage as the Oreck. It was the difference between covering a room and covering a floor, and we measured between 750 and 850 square feet of effective humidification each time we brought our meters out, so we'd classify Venta's claims as accurate. For those of us on the team who were looking for recommendations for families in need of larger coverage, this immediately put the Venta in first place and put the Oreck out of the running. It's also worth noting that the Venta is also sold in 400 sq. ft. (the LW25) and 200 sq. ft (the LW15) sizes; we didn't take the time to perform a full review of these because they function exactly the same way as the LW45, but we can confirm that they were built to the same standards.
However, not all that glittered was gold; we were somewhat dubious of the Venta's purification capabilities compared to those in the Oreck, especially since the Venta claimed to clean and purify the air at once through water, and not through any dedicated filtration system. We like things we can see and replace, even though we don't like the costs that come with such replacements, and while we weren't fans of the six month filter replacement schedule in the Oreck, we were comforted in the knowledge that we'd remove a chunk of dirt and allergens from our home each time we stuck to that schedule. The Venta's claims of "no fliter, no trash" gave us pause. That said, those of us with allergies found we breathed as easily in rooms where we'd run the Venta as we had in rooms where we'd run the Oreck; despite our misgivings over Venta's declaration that water was the filter, it seemed to work as well as the Oreck system. We were also pleased at how light the device was at only 13 pounds, how little energy it used at 8 watts, and how long the warranty was at 10 years.
Which is the better air purifier and humidifier between the Oreck Air Refresh and Venta Airwasher?
Between the two, we found ourselves liking one tool for one purpose and the other for another. Specifically, the Air Refresh was our favorite air care appliance when it came to purifying and moisturizing the air in small spaces, but we ultimately preferred the Airwasher due to its flexibility in larger spaces. We'd recommend the AirFresh if you either a.) had single room coverage needs or b.) wanted replaceable filters, and we'd recommend the Airwasher if you needed a.) more coverage or b.) didn't want to bother with filter replacements. Both do a solid job in their respective wheelhouses.
You can buy the Oreck Air Refresh here on Amazon. You can buy the Venta Airwasher here in Grey and here in white.
If you find our research on PMC helpful, you can follow our efforts to keep maniacally reviewing home cleaning tools by shopping through this Amazon link. Canadians can use this link. We promise to keep fighting the good fight against every horror children, animals, and grown, yet messy humans can inflict upon a clean home.