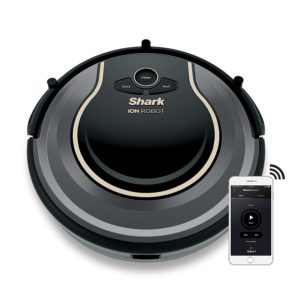 If you feel like you've been hearing a lot more about robotic vacuums lately than just a year or two ago, you're right. Folks we talk to in the home cleaning industry are telling us that one out of every four vacuums sold this year are robotic, and that the number may rise to one in three next year. With this sea change, it's no surprise prices are dropping. If you've always dreamed of having a little whirring machine clean your low pile carpets and hardwood floors, it's time to wake up: you can make that dream come true for a few hundred dollars.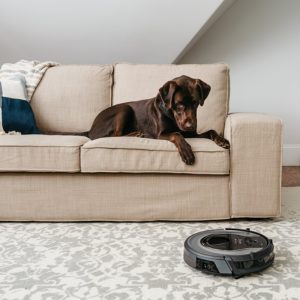 While you're not going to get, in most cases at least, the same amount of power or durability as what you'd find in high end uprights and canisters, the hands-free convenience of robotic vacuums makes them a desirable option for busy families and working professionals alike. We're currently touring the best the sub-$300 robo-vacuum market has to offer, and have seen standouts like the Roomba 690 and Roomba 652. Today we're going to take an in-depth look at the Shark ION Robot 750 Vacuum RV750 and compare it to the competition. If you don't have much time and just want a bit of confirmation before buying it, here's the ten second summary: it's a match for the Roomba 690 with several additional features built in and a slightly better battery life. You can buy it here.
Pros, cons, and key features of the Shark ION Robot 750 (RV750)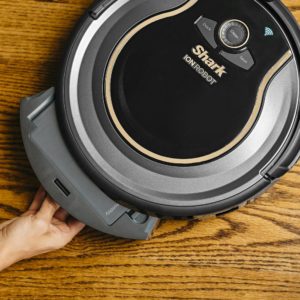 The Shark ION Robot 750 is one of a small but growing range of Robots by SharkNinja, a company that's not shy of releasing many closely related vacuums (e.g., the cheap Rotators, mid-priced Rotators, fancy Rotators…). Its key features include Wi-Fi and smart phone compatibility, scheduling and programming abilities, Amazon Alexa and Google Assistant compatibility, and a 70 minute runtime. It has a minimum clearance of 2.6 inches, which is low enough to fit beneath almost all furniture, bedding, and cabinets in the average home. The 750 has a 13 inch cleaning radius and weighs a scant 5.5 pounds on our scale. The Lithium-ion battery takes 3 hours to charge; the 750 will automatically return to it to charge whenever it runs low during a cleaning job or once it's finished cleaning.
How do you set up the Shark ION Robot 750 app and Wi-Fi with your smart phone?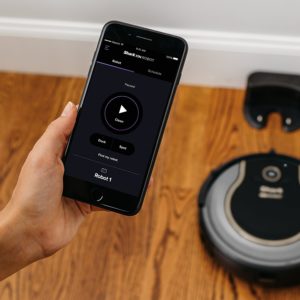 Although you can use the Robot 750 without a smart phone, if you're like most people, you're going to enjoy being able to take care of scheduling and programming directly from your phone instead by tapping on the vacuum itself. Keep in mind, too, that the 750 does not ship with a remote. That said, you could also use a voice control device to control it if you were so inclined.
Syncing your phone to the 750 is easy: download the app for your Android or iPhone, make sure your Shark is on its home base and then enter your registration information as well as your Wi-Fi login and password. Keep in mind that you'll need 2.4 GHz Wi-Fi; very few robotic vacuums are 5 GHz compatible yet. Once you have the app set up, you'll be able to tell the 750 when you want it to clean, whether on a one-time basis or on a repeated basis in the future.
Something we'd have liked to have seen in the app is the ability to manually steer the 750 for spot cleaning potential. This is a hit-and-miss feature in other robotic vacuums; some have it and some don't. The 750 doesn't. That said, it generally got every area we wanted to see it clean if we gave it enough time.
How does the Shark ION Robot 750 compare to the Roomba 690?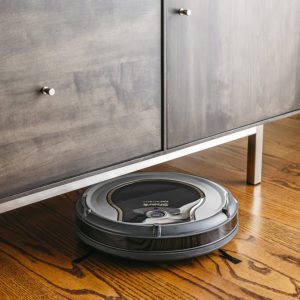 One of the most significant differences that stands out when watching the Robot 750 and Roomba 690 clean are that the 750 can clean under significantly lower furniture than the 690. It makes sense when you compare their heights, but it's still impressive to see in person. This makes the 750 a more efficient cleaner, as it can clean more of your house without your help.
When you pick them up, you'll also notice a difference: the 750 weighs less. It's only a few pounds, but the difference adds up every time you tote your vacuum up and down stairs, which you'll need to if you want multiple floors cleaned, since no robotic vacuum on the market will climb stairs for you.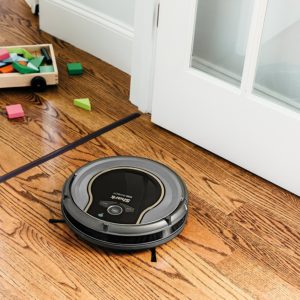 When you put them down and set them to work, you'll notice the third significant difference: the 750 has a slightly better battery life. We'd estimate the difference to be on the order of around 10 minutes, which on one hand isn't very much. However, when you consider that both require around 3 hours to fully charge, those extra 10 minutes can make the difference between a "good enough" job and a job you need to finish later, particularly if you've got company coming.
Additionally, the 750 provides magnetic tape to cordon off areas where you don't want it to travel. Roomba offers similar technology (which they call "virtual walls") in higher-end models such as the Roomba 980 and Roomba 960, but they also cost much more than the Robot 750 or Roomba 690. We were pleased to get this ability without spending hundreds more, and as a bonus, it worked well; our kids found another way to avoid picking up their toys.
How well does the Shark ION Robot 750 clean carpets, hardwood floor, and homes with pets?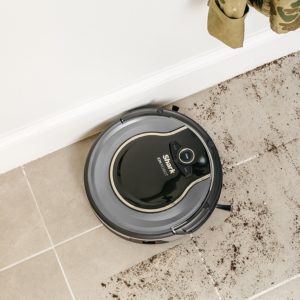 When it comes to cleaning, we'd expect a vacuum in the $200-$300 price range to handle hardwood floors, tile, laminate, and concrete flooring easily, and to be able to do an equally good job on area rugs and low-pile carpets, even if this required pushing the battery life a bit harder.
This is precisely what we got with the Robot 750. It didn't struggle on any surface until we reached medium-pile carpeting, which it had trouble moving through, and high-pile carpeting, which it was barely able to work with. This is the state of nearly every robot vacuum below $500; the Robot 750 did as expected and we were satisfied with it. If you want to effectively clean medium-pile and high-pile carpeting on a budget, we recommend the Miele Compact C2 Electro+, the Miele Classic C1 Titan, or the Miele Classic C1 Delphi.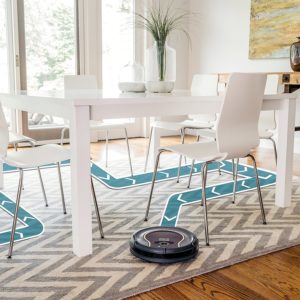 In terms of navigation, we were happy with the brain programmed into the 750. It wandered to some degree, the way nearly every robotic vacuum in this price range will, but it seemed to repeat itself less than many sub-$300 vacuums we've come across, which meant it spent more time cleaning and less time confusing our cats.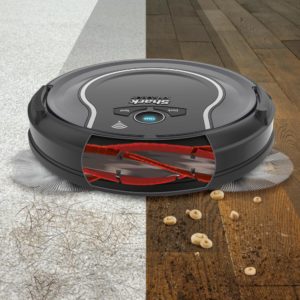 And speaking of animals, we were pleased with the degree to which it picked up cat and dog hair, dander, and other strange things pets seem to leave behind wherever they go. Our golden retrievers are professional shedding machines, and while the 750 didn't catch everything, it did catch enough to leave us satisfied. After cleaning, we were also pleased to note how simple it was to remove the dust bin and empty it. Shark describes it as an "easy-empty" bin, and we'd agree with their description.
Regarding noise levels, we were also pleased with how quiet it was when cleaning. It wasn't quiet enough for us to forget it was there, but it was quiet enough for us not to care. We could easily hold speaker phone conversations with people without their becoming aware that a little robot was cleaning in the background.
Why buy the Shark ION Robot 750?
In conclusion, the Robot 750 makes a convincing case for buying it over the dizzying array of options in the sub-$300 robotic vacuum space. It cleans low-pile carpets and bare floors easily, it's smart phone compatible, offers a good amount of battery life for the price, and has enough of a brain to make it around your home without frequently bumping into things or getting lost. We're particularly fond of how light it is and how low of a profile it has; it makes a big difference in the additional cleaning it's able to do vs vacuums that just give up and turn around when their clearance levels are exceeded. The main thing we'd like to see at this price range is a warranty longer than one year, which is something we're still waiting for from nearly every robot vacuum manufacturer on the market. Aside from that, as is often the case with SharkNinja, we can't complain for what we're getting for the money.

You can buy the Shark Robot 750 here on Amazon. Alternatively, you can buy the Roomba 690 here for around the same price.

Canadians can buy the Shark Robot 750 here or buy the Roomba 690 here instead.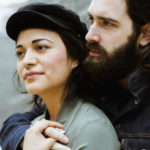 If you find our research on PMC helpful, you can follow our efforts to keep maniacally reviewing home cleaning tools by shopping through our links above. We promise to keep fighting the good fight against every horror children, animals, and grown, yet messy humans can inflict upon a clean home.