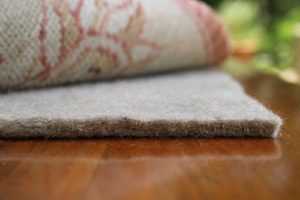 When you buy and install a carpet, you're going to need an underpad to go with it. Also known as an underlay, carpet cushioning, or carpet padding, a carpet underpad serves two main functions: to protect your carpet from premature wear, first and foremost, and secondly, to make your carpet more comfortable when walking, sitting, or lying on it. It's roughly analogous to a box spring for a mattress; you'll feel the effects of a cheap one over and over again, while you'll ideally not notice a good one is even there.
Now that we've established what it is and why you need it, we're going to go over the different types you're likely to find for carpets in domestic settings. Typically you're going to choose a polyurethane foam carpet padding, and it's going to be sold as bonded foam, prime cushion, or frothed foam. Let's look at these in detail and examine how much you need of each to have a long-lasting, comfortable, and well-supported carpet.
Bonded foam – the most common
Bonded foam, which is also called chipfoam or rebond, refers to a bonded polyurethane foam cushion put together from additional segments of a range of foams. You can tell it apart from other styles because it is invariably multicolored, like a patchwork quilt or particle board.
Bonded foam is the dominant form of carpet underpad in home carpet installations. The Carpet Cushion Council states 85 percent of carpet cushioning produced today in the US is rebond. You can find it in a range of thicknesses and densities, which means you'll be able to get the density you need for just about every carpeting situation. You'll also get the best padding per dollar with bonded foam. And as a plus, because it's made primarily from scrap bits of foam, buying bonded foam is more ecologically responsible than buying the other two kinds of foam, as it reduces landfill waste.
Prime cushion – the least durable
On the other end of the ecological spectrum, we find prime cushion. It's made explicitly from non-recycled foaming material. You can find it in low, medium, and high density. Prime foam is basically the foam you'll find in upholstery (sofas, couches, love seats) cushions, but with greater density.
Aside from the ecological ramifications of prime cushion, it's also important to consider a pad's specifications. Many made from prime cushion aren't dense enough for trafficked areas of a home (e.g., the stairs or the family room), and some won't be dense enough to keep you in line with carpet texture retention warranties. The last thing you want to do is buy a carpet and find out years later that its warranty coverage was rendered invalid by using a low density underpad.
The reason prime cushions are a riskier choice for underpadding is because they often include air pockets in their design. These pockets provide initial softness, but they inevitably deflate with foot pressure, resulting in a weaker underlay that doesn't support carpets in the long term. You can buy densified prime foam, which uses tiny air pockets to increase pad density and cushion longevity.
Frothed foam – the most expensive
Frothed foam is a dense foam made from the same machinery used to back carpets. As a result, carpets with attached cushions (e.g., KangaBack carpets) are made exclusively with frothed foam. However, you can also buy frothed foam separately from carpets; such underlays are made in similar fashion but the foam is connected to unwoven materials instead of to carpet fibers.
A common example of cushions made from frothed foams is memory foam, which is technically a form of visco-elastic foam. It has the capacity to compress under weight before returning to an uncompressed form. This is high-end technology in the carpet world, and you're going to pay high-end money for it; frothed foam cushions typically cost a lot more than those made from bonded or prime foam.
How much carpet underpad do you need for comfort, durability, and warranty protection?
While we can't guarantee just how much backing you need to stay in the good graces of the carpet warranty gods, we can share recommendations from the Carpet Cushion Coucil and U.S. Department of Housing and Urban Development regarding minimal levels of thickness and density for bonded, prime, and frothed foam underpads.
Cushion density can be expressed as the ratio of carpet weight in pounds to each cubic foot of cushioning; cushion thickness is measured in fractions of an inch. When used in residential applications, you'll see two classes mentioned. Class 1 applications involve light-and moderately-trafficked areas in a home, like family rooms, living rooms, dining rooms, and bedrooms. Class 2 applications involve high-traffic areas like stairs, hallways, apartments, duplexes, and other multi-family living arrangements.
Bonded foam should have at least 5 pounds of density and 3/8″ thickness at class 1 and at least 6.5 pounds of density and 3/8″ thickness at class 2.
Prime foam should have at least 2.2 pounds of density and 3/8″ thickness at class 1; it is not recommended to use in class 2 environments. Densified prime foam should have at least 2.2 pounds of density and 10/32″ thickness at class 1 and at least 2.7 pounds of density and 1/4″ thickness at class 2.
Frothed foam should have at least 10 pounds of density and 1/4″ thickness at class 1 and at least 12 pounds of density and 1/4″ thickness at class 2.
At the other extreme, a carpet cushion's thickness should always be less or equal to 1/2." A too thick cushion reduces traction  and becomes a safety hazard. And while you can get away with the minimum densities per the guidelines above, we generally recommend at least 2 pounds of density beyond the minimum guidelines for cushions in low-traffic areas and at least 3 pounds beyond minimum guidelines in high traffic areas to maximize longevity.
To protect the underpad, protect the carpet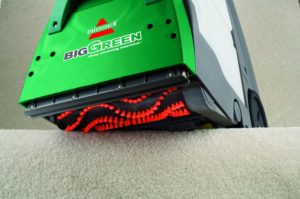 A question we receive from time to time is if there's any way to protect the underpad itself from damage, given how much of a role it plays in carpet longevity and overall comfort. Our answer is invariably to protect the carpet itself, and the easiest way to do this is to clean it regularly with quality machines.
While you're never going to directly clean your underpad with a carpet cleaner or vacuum, we still recommend choosing durable and capable machines to clean and maintain the carpets themselves, particularly to avoid staining and soiling from penetrating your carpets and embedding themselves into the underlay.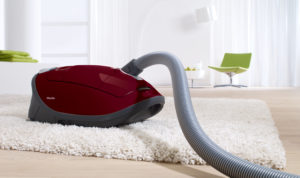 When it comes to carpet cleaners, you'll want to skip the flashy but ultimately disposable budget machines and stick with tried-and-true technology. In our books, that's the Bissell 86T3 Big Green. For vacuuming, we recommend buy-it-for life canisters capable of tackling carpets of every pile and style like the Miele Complete C3 Soft Carpet or the Miele Compact C2 Electro+. The Soft Carpet is the better of the two, but the Electro+ is a strong second at a significantly cheaper price.

You can buy the Bissell 85T3 Big Green carpet cleaner here on Amazon. You can buy the Miele Complete C3 Soft Carpet here or buy the Miele Compact C2 Electro+ here.

Canadians can buy the Miele Soft Carpet here, the Compact Electro+ here, and the Bissell Big Green here.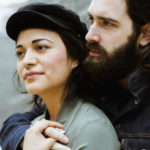 If you find our research on PMC helpful, you can follow our efforts to keep maniacally reviewing home cleaning tools by shopping through our links above. We promise to keep fighting the good fight against every horror children, animals, and grown, yet messy humans can inflict upon a clean home.