In our neverending quest to find the best canister vacuum, we've spent the last several years reviewing nearly every machine on the market. Most of the time, our favorites have been Mieles. However, since Miele has increasingly (and unfortunately) begun to suffer from model bloat, it's become next to impossible for the average family to figure out which model to choose. We're putting together a full fledged guide to make this feasible without needing a doctoral degree, but until then, we'll keep reviewing different vacuums for different kinds of budgets and needs.
In this review, we've come to the conclusion that the average family with up to 3 kids, 2 large pets, low-to-medium-pile carpeting or hardwood flooring, and a $400 budget will probably be best served by the Miele Complete C2 Limited Edition. Read on to learn more about how we came to our conclusion. If you're ready to buy and simply need assurance that this vacuum's worth buying, we'll save you some time: it's the best vacuum under $400, and you can buy it here.
Pros, Cons, and Key Features of the Miele Complete C2 Limited Edition – Corded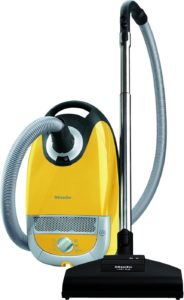 The Complete C2 Limited has an exclusive-sounding name, and in a way, it sort of is. Miele had trouble promoting it because they slotted it between the mid-range Compact C2 series and the high-end Complete C3 series, giving it some qualities of both while firmly pricing it among its mid-range peers. What this means is that it's one of the best current Miele canisters that isn't part of the C3 line. We'd rank it just behind the C2 Electro+ and C2 Onyx in functionality but beside the Compact C1 Turbo in price, which means buying it is a way to get a lot of cleaning power for the money.
It includes the same 1,200 watt Vortex motor found in the C3s but is curtailed to the 33-foot operating radius of the C2s (as contrasted to the slightly longer 36-foot radius in the C3 line). It includes the silent setting to let you vacuum without waking sleeping infants. It includes the AirClean sealed system found in the C3s, making it a good choice for families with members who suffer from allergies, as a sealed system results in fewer allergens dispersed both during the process of vacuuming and during the process of dirt disposal. The standard accessories are included-the crevice tool, the upholstery tool, and the dusting brush–while the C2, being a C2, features the standard rotary dial of the C1 and C2 line for controlling 6-way suction control. At just over 19 pounds, it's the standard C2 weight–not too much to drag about, especially with the silk-smooth castors on hardwood floors–yet not so light enough that you forget it's there, as you might with the Classic C1 Olympus, which clocks in at under 13 pounds.
However, where the Complete C2 particularly distinguishes itself is with the inclusion of two dedicated brushes–the STB205-3 Turbo Comfort Turbo brush and the AllTeq Combination floor tool. The combination floor tool isn't the most impressive brush out there for smooth flooring (that would be the Parquet brush, which you can get in the C2 Onyx, C2 Electro+, or C3 Calima in yellow), but it's good enough to clean them without pushing too much dust around in the process.
The Turbo brush, on the other hand, is a great tool that makes smooth flooring, low-pile carpeting, and medium-pile carpeting not just cleanable, but pleasant to tackle. Miele talks about a rotating roller brush that helps loosen floor dirt while collecting thread and lint, but what we noticed was how good of a job it did at pulling out pet fur and dander. It wasn't nearly as effective as the electric brush heads in the C3 Cat & Dog, but at the same time it also cost half as much while definitely offering at least 75% of the functionality. We also found the Complete C2 capable of making quick work of dirt and mud stains left by children after a hearty hour at the local park or practicing any number of outdoor sports, and we'd classify it as a toddler- and preschooler-friendly vacuum cleaner, if there is such a thing.
Was the Complete C2 the perfect vacuum cleaner? Not quite. We wouldn't recommend using it on high-pile carpeting or on soft-pile carpeting; if you have any of that, the cheapest vacuum we've found to do a superb job so far is the C3 Soft Carpet. However, for anything you're likely to encounter in a typical single family home, you'll be hard pressed to find a vacuum cleaner better capable of handling it for less than $400 than the Complete C2 Limited. And if it matters, it's also a fine looking and well-engineered machine. Unlike the Compact C1 line, which has been outsourced to China to save on labor costs, the Complete C2 is still made in Germany, which we liked because as small business owners, we're very much in favor of workers being paid living wages.
Why Buy the Miele Complete C2 Limited Edition?
We recommend the Complete C2 Limited because, frankly, for most families, it's all the vacuum they'll ever need. It's designed to last for at least 10 years (although we know a number of people whose Mieles have seen daily use without failure for more than 20), it offers more suction than any canister and most uprights in its price range, it can handle hardwood and other smooth flooring, low-pile carpeting, and medium-pile carpeting, and it's quiet enough to be used around pets and sleeping children without scaring or waking them. It's not the most powerful or sophisticated canister Miele offers (we'd consider that the Marin, which costs a pretty penny) or the absolute best for families with pets (we'd suggest the Cat & Dog), but for the vast majority of families looking for a "buy-it-for-life" vacuum, this will fit the bill without costing more than they'd pay for a couple of Kenmores or Hoovers, while lasting for decades longer.

You can buy the Miele Complete C2 Limited Edition here on Amazon.

Canadians, unfortunately, the C2 Limited is unavailable, but you can buy two close alternatives, the Titan here and the Capri here.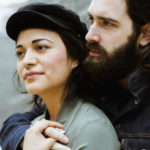 If you find our research on PMC helpful, you can follow our efforts to keep maniacally reviewing home cleaning tools by shopping through our links above. We promise to keep fighting the good fight against every horror children, animals, and grown, yet messy humans can inflict upon a clean home.