It's no secret that we're fans of Miele's canister vacuums; we take them on most jobs that don't explicitly require upright vacuums and we've taken the time to review nearly every canister they currently have on the market. However, Miele also makes upright vacuums, and one of these–the Dynamic U1 Cat and Dog–is marketed as the upright equivalent of our favorite pet vacuum cleaner, the Complete C3 Cat & Dog. We'll save you some time and let you know that the Complete C3 Cat & Dog is a far superior machine for dealing with pet fur and dander; however, it also costs several hundred more than the Dynamic U1 Cat and Dog. As a result, today we're going to compare the Dynamic U1 Cat and Dog to the Compact C2 Electro+; both cost just under $600 and both are marketed as capable, do-anything machines. Which is the best vacuum for pet care below $600? If you're in a hurry and ready to buy, it's the Electro+. If you can stretch your budget to $900, it's the Complete C3 Cat & Dog. Read on to find out why.
T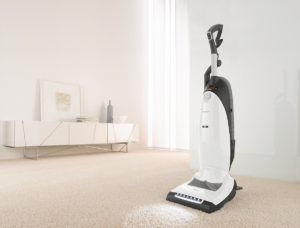 here's a lot to like about the Dynamic U1 Cat and Dog out of the box, at least in theory. It features the same 1,200 watt Vortex motor found up and down the Dynamic U1 and Complete C3 / Compact C2 / C1 upright and canister lines. It comes with a much wider cleaning radius than that in any canister at 54 feet due to the extraordinarily long power cord. Unlike all but a handful of high-end canisters (including the Complete C3 Cat & Dog), it's rated for not only hard floors, low-pile, and medium-pile carpeting, but also for high-pile carpeting. You can adjust power settings via a rotary dial and the crevice and upholstery tools, as well as the dusting brush, are integrated. It's an attractive, sleek, and well-designed cleaner. At just over 21 pounds, it's on the heavier end for an upright these days, but it's barely heavier than its canister counterparts and is still easy to push across all surfaces. What's not to like?
Well, it has some reliability issues. When we test vacuums, we don't just use them for an hour or two; we use them for months at a time in a variety of frankly hellish conditions. We take them on cleaning jobs with us and we note how they do, because tools that don't stand up to daily use in our hands aren't going to last for more than a few years for the average user. We'd estimate we put one year of normal use on a vacuum with every month we keep it in active rotation in our business. With that in mind, we started seeing clogs in the first months of on-the-job use. In other words, we started seeing the kinds of issues the average family might discover in a year or two. It seemed to struggle with both cat and dog fur (think Maine Coons, Golden Retrievers, and German Shepherds). We were able to declog it each time, but it left us with concern; time spent diagnosing is time we can't spend on the job, and that time cost us money.
When it works, the Dynamic U1 works wonderfully; it cleans as well as the C3 Cat & Dog we loved so much. But it gave us significantly more problems than the C&D; in the end, we put it away and brought back the C3 for any jobs involving animal fur, and we put hundreds of hours on it without issue.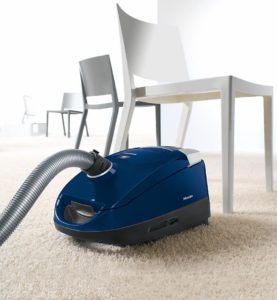 It might seem strange to have a canister vacuum that's not explicitly marketed as a pet-focused vacuum cleaner compared to an upright that is, but we couldn't in good conscience recommend the Dynamic U1 for the money when we knew that there were machines that did a significantly better job while also slotting into the same price range. The Compact C2 Electro+ (which we've reviewed and loved before) is a simplified version of the Complete C3 Cat and Dog, which is the vacuum cleaner the Dynamic U1 Cat and Dog unsuccessfully tries to imitate. What this means is that you'll get most of the performance of the C3 by buying the C2 instead of by buying the U1. How do we know this? We own all three and used them together when writing this review.
For starters, the Electro+ distinguished itself from the Dynamic U1 by greater levels of reliability. Rather than trying to figure out why suction had dropped for the umpteenth time, we just went on our way cleaning. We cleaned St. Bernard kennels. We cleaned homes with Irish Setters and Wolfhounds. We cleaned pet-friendly hotels with all kinds of cats and dogs and exotic parrots, and it didn't skip a beat. It didn't clean quite as well as the Complete C3 Cat & Dog; we had to make a few more passes in certain areas since the electro brush in the Electro+ (the SEB 217-3) wasn't quite as effective at pulling fur from medium-pile carpeting as that in the C3 Cat & Dog (the SEB 228). We also noticed a huge difference when tackling pet dander and fur in high-pile carpeting (this was possible in the C3 Cat & Dog but a frustrating experience in the Electro+), which made sense since the Electro+ isn't recommended for high-pile carpeting while the C3 Cat & Dog is. However, aside from these issues, it was clearly the superior machine compared to the Dynamic U1; it worked as well in most surfaces and was far more reliable in the long term.
Which is the Best Vacuum for Pets Below $600? The U1 Cat and Dog or C2 Electro+?
We recommend the Dynamic U1 Cat and Dog with caution. It's a competent, but in many respects, flawed vacuum. If you're looking for the best vacuum for pet hair, we'd wholeheartedly recommend the canister counterpart to the U1, which is the Miele Complete C3 Cat & Dog. However, it costs several hundred more, which makes it a difficult upgrade if you're set on spending under $600 (although we'd argue the savings are more than worth it in the long term).
If you're absolutely set on spending less than $600, we'd honestly recommend the Compact C2 Electro+. While not explicitly marketed as a pet machine, we found it did a much better job in handling fur, dander, and in the overall cleaning experience. To put it simply, it's a better designed and more effective machine for the money. We'd only recommend the Dynamic U1 Cat and Dog if you absolutely needed an upright vacuum.

You can buy the Miele Compact C2 Electro+ here on Amazon. You can buy the Miele Complete C3 Cat & Dog here or the Miele Dynamic U1 Cat and Dog here.

Canadians can buy the Electro+ here or the C3 Cat & Dog here. Unfortunately, the Dynamic U1 is no longer available.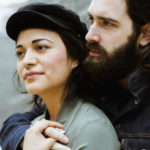 If you find our research on PMC helpful, you can follow our efforts to keep maniacally reviewing home cleaning tools by shopping through our links above. We promise to keep fighting the good fight against every horror children, animals, and grown, yet messy humans can inflict upon a clean home.