Bissell and Rug Doctor are two of the biggest names in carpet cleaning, and the Bissell DeepClean 66E1 and the Rug Doctor Deep Carpet Cleaner both claim to do a better job providing a "deep clean" to your carpets than most other upright cleaners. As we've mentioned in a range of carpet reviews, whether you're working with berber, SmartStrand, nylon, or anything in between, the more you care for your carpets, the longer they're going to last. We picked up both cleaners and had our team put each through its paces to figure out which was more likely to rejuvenate carpets in high traffic areas, as well as carpets that had suffered heavy soiling from humans or family pets. Which cleaner kept its deep cleaning promise? Read on to find out!
Rug Doctor claims their Deep Carpet Cleaner features 75% more suction than comparable uprights. We weren't able to verify the precise percentage, but we can confirm that it outperformed any sub-$200 cleaner we've reviewed so far; the first cleaners to significantly outperform it were another Rug Doctor (the Mighty Pro X3) and the Bissell Big Green, each of which cost quite a bit more. We found the Rug Doctor solid and sure on its wheels, and despite its 25 pound weight, it was not a struggle to push or turn.
We were also happy with how little time it took carpets to dry after we'd been over them with the Rug Doctor; it certainly wasn't instantaneous, but we'd estimate that in comparison to a baseline of 3 hours for most cleaners, the Rug Doctor was able to leave carpets essentially dry in just under 2. We credit this too to the much better than average levels of suction it could generate.
Other things we were fond of included the wide 12″ cleaning path that saved us at least a few laps around our test carpets and the 1.1 gallon tank that allowed us to spend more time cleaning and less time refilling and emptying water.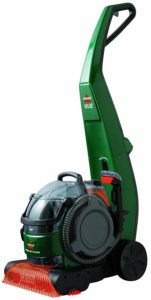 The 66E1's main selling point is its ability to combine an upright carpet cleaner and a portable (removable) cleaner in one product. We found the little ball-shaped cleaner adorable and probably used it in scenarios where the full-sized cleaner would have been more appropriate simply because we enjoyed using it. At any rate, it worked well on tough-to-reach or tiny areas, such as inside cars, on upholstery, up and down stairs, and on random spots and stains throughout the house.
Another feature we were keen on trying was the heatwave technology, which allegedly kept water at a constant temperature. However, this was more of a disappointment, as the water consistently cooled as we used it. We don't feel such a feature will actually stand up to its marketing without a dedicated heating element, which the 66E1 did not have. However, we were fans of the 3-year limited warranty that came with the 66E1, especially given how common a 1-year warranty is at this price point. At a shade over 25 pounds, the Bissell was no lightweight, but like the Rug Doctor, it didn't feel particularly heavy as we used it.
In terms of pet care, we found the Bissell did a good job of removing dog and cat fur from carpets, and we were particularly impressed with how well they pulled fur from our carpets after we'd already vacuumed; this cemented our feelings that the Bissell was no slouch in deep cleaning, even if we felt the Rug Doctor was ultimately the stronger machine in this area.
Conclusion – Which $200 carpet cleaner is the better deal?
In conclusion, while we admired the Bissell 66E1's two-cleaner-in-one feature, we ultimately felt the better machine of the two, in terms of cleaning ability, was narrowly the Rug Doctor. The main advantage of the Bissell clearly lies in its ability to turn into a portable cleaner at the push of a button. If this feature is essential, the choice is clear: you want the Bissell. If overall cleaning and drying abilities take priority, however, you'll want the Rug Doctor; we certainly did.
You can buy the Rug Doctor Deep Carpet Cleaner from Amazon here, and the Bissell 66E1 here.
If you find our research on PMC helpful, you can support our efforts to keep maniacally reviewing home cleaning tools by shopping through this Amazon link. Canadians can use this link. We promise to keep fighting the good fight against every horror children, animals, and grown, yet messy humans can inflict upon a clean home.