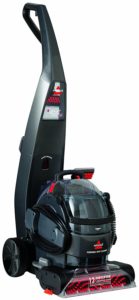 When it comes to keeping your houses from being overrun by pet fur and urine stains, it helps to have a good carpet cleaner on your side. Bissell makes a range of pet-focused carpet cleaners (the DeepClean series) designed to help make keeping pets compatible with owning nice things. Today we're taking a look at two of their most popular DeepClean cleaners, the Bissell DeepClean Lift-Off  24A4 and the Bissell DeepClean 36Z9, which we've reviewed before here. Both are marketed as being specifically suited to pet owners, but, as is often the case, we came away with a slight favorite when we compared them head to head. Let's look at the features and flaws of each below.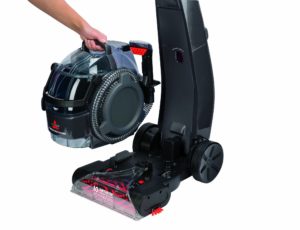 We've always had a soft spot in our hearts for multifunctional carpet cleaners, and the Bissell Lift-Off 24A4 checked our box handily. We liked how easy it was to switch from using it in the full-sized, upright mode to using it in the go-everywhere portable mode. We primarily used it in the upright position, such as when cleaning large areas of carpet throughout our test homes. However, we enjoyed being able to detach the helmet-shaped portable unit and use it whenever we got to a particularly narrow area (e.g., inside closet spaces or on stairs) or whenever we simply didn't feel like lugging the full-sized unit around.
A downside to the 24A4 for several team members was the weight; at 32 pounds, it's not exactly a lightweight. However, this just made us appreciate the ability to separate the cleaner even more; this was not an option in the 36Z9, and believe us when we tell you that we missed it dearly.
In terms of pet protection, we found the 24A4 did a great job with both cat and dog stains of the liquid or solid kind, and we also didn't have trouble removing stains that had set in for a few weeks (or even months) in our test homes. One situation involved an apartment complex with an apartment full of college students who had decided to keep a number of small dogs with even smaller bladders with them. The smell was awful, but the 24A4 performed admirably and was able to remove a number of stains from the living room, the bedrooms, the hallways…it went on and on (unfortunately). Fortunately, the 24A4 was up to the task.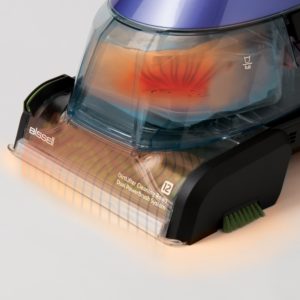 As noted above, we've reviewed the Bissell 36Z9 before, and we found it to be a very capable cleaner, even if it wasn't up to the level of something like a Bissell Big Green. While we still feel this way, we'd also place it slightly behind the 24A4, at least if the ability to separate the cleaners matters to you. When it came to cleaning, we felt both cleaners did about the same job on most surfaces, which was, as noted earlier, entirely satisfactory. However, when it came to weight, we sometimes (frequently) got tired of lugging the entire cleaner around…up the stairs…down the stairs…up the stairs when we realized we'd forgotten to clean behind certain bits of furniture; you get the idea. While we were building our muscles and getting our steps in, we found ourselves wishing we could end the review early and go back to the 24A4 (we were honest and stuck with the 36Z9, but we wanted you to know we were tempted).
Additional features we were fond of in the 24A4 was the large tank; at 1.25 gallons, it helped us spend more time cleaning and less time emptying or refilling it at the sink. However, we weren't fans of the fact that we needed to empty out clean water completely (even if it wasn't empty) just because we needed to empty the dirty water. This, unfortunately, is a flaw of most single-tank carpet cleaners (including the 24A4), so we can't exclusively fault the 36Z9 for this. We also liked the presence of the hair basket, which was designed to make it easier to catch and dispose of pet hair; we didn't find it particularly necessary (our pets had shorter hair), but we liked its presence.
Which pet-focused deep carpet cleaner did the better job?
In conclusion, while we felt both carpet cleaners were well-suited to the task of cleaning up after our four-legged friends, if we could only choose one, we'd choose the 24A4. The 2-in-1 feature in particular sealed the deal, especially when keeping the weight of the cleaners in mind. That said, if you don't mind the weight, the cleaning capabilities of both are approximately equal, and they'll both get the job done.
You can buy the Bissell DeepClean 24A4 on Amazon here, and you can buy the Bissell DeepClean 36Z9 here.
If you find our research on PMC helpful, you can support our efforts to keep maniacally reviewing home cleaning tools by shopping through this Amazon link. Canadians can use this link. We promise to keep fighting the good fight against every horror children, animals, and grown, yet messy humans can inflict upon a clean home.