If you're like most people, when spending $300 on a vacuum cleaner, you're going to want something better than entry-level quality. After all, there are lots of cheaper machines out there. We've had the chance to use and break hundreds of vacuum and carpet cleaners over the years, and we'd generally agree that some of the benefits to spending more include better cleaning power, yes, but also less obvious advantages like greater reliability, longer warranties, more sensible ergonomics, and a general intangible ability to make you look forward to cleaning, or at least dread it less. With that in mind, today we'll take a look at two of the better choices we've found at this price point: the Oreck Graphite and the Sonicare Soft Carpet vacuum cleaners. Which is a better value? Read on to find out; we didn't have a clear winner, and frankly liked both for different reasons.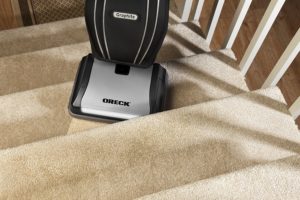 Out of the box, the Oreck Graphite was hard not to like. We loved how light it was; while it wasn't the 9 pounds Oreck claimed (for that kind of featherweight, you'll want their Magnesium RS, which at under 8 pounds is one of the lightest uprights we've ever had the pleasure of using) but at just over 12 pounds, it was certainly light enough to take from place to place without feeling overly tired after a few minutes. A good illustration of what we mean here involved the push factor. While it's definitely not a self-propelled vacuum, it almost felt like one when pushing it along; it definitely didn't have the lawnmower feel some vacuums out there do.
Something we loved about the Graphite was the present of a built-in HEPA bag. It's no secret we're fans of HEPA filtering for reducing allergies and helping family members with illnesses; the Graphite's filter is the best you'll find in an Oreck upright and equals those in the $500 Magnesium RS and Oreck Elevate Conquer; it's rated at 99.97% filtration at 0.3 microns. Oddly enough, however, Oreck doesn't really advertise this feature in the Graphite, which makes us think they're trying to steer buyers toward the higher end models. 
Like virtually all mid-end and higher Orecks, it features the two-speed approach; low power is for tile and hardwood (bare) floors while high power is for carpets. As in other Orecks, the system is simple but effective; we felt we were able to power through most human messes (e.g., wine spills, coffee stains, and various kinds of boxed juices) as well as animal messes (e.g., cat and dog pee as well as the occasional hairball). Overall, it was a solid machine and one of the best we've come across at this price range.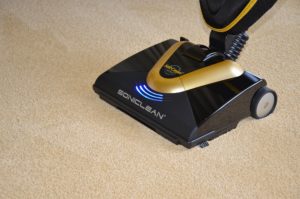 We liked the Soniclean for pretty different reasons than those that drew us to the Oreck Graphite. Yes, it does a good job cleaning general stains–we'd hope any vacuum made recently at this price point would–but where it really came alive was in dealing with more delicate carpeting. True to its name, the Soniclean Soft Carpet was less likely to damage exceptionally fragile or worn carpeting than the Oreck Graphite. This isn't to say that the Graphite was a bad choice for soft carpets; it's just that the Soniclean was a much better one. To sum it up, there's a vent system you slide open and shut to change the cleaning power. In particular, we found we were able to push the Soniclean through soft carpets that the Graphite tended to get stuck in. This was the primary area where the Soniclean pulled ahead of the Graphite.
When it came to the top features of the Graphite, the Soniclean was generally up to the task; it weighed slightly less at just under 11 pounds compared to just over 12 in the Graphite, making it slightly easier to push. It came with a longer power cord at 35 feet instead of 30 as in the Graphite, giving us more range when cleaning and less need to play the unplug-replug game (it's not a fun one). It also came with a significantly better warranty at 5 years for the motor and a lifetime for the belt. Like the Graphite, it also came with HEPA bags capable of filtering to the 0.3 micron level at 99.97% efficiency.
Which is the better upright vacuum cleaner for $300?
In conclusion, we were fans of both vacuum cleaners, and each had particular tasks it did better than the other. If you're looking for a vacuum you can safely use with "premium soft" carpets or soft carpets in general, you'll want the Sonicare.  If you want a vacuum that'll give you more cleaning power for thick, old, or especially soiled carpets, you'll want the Oreck Graphic. In either case, it's hard to go wrong.

You can buy the Oreck Graphic here on Amazon. You can buy the Soniclean here, or buy it with the handheld vacuum combo here.

Canadians can buy the Magnesium LW100 here or two similar vacuums, the Oreck LW1500RS Magnesium RS here and the Oreck LW100LR Magnesium here. Unfortunately, the Elevate is not available. You can also buy the Soniclean here alone or buy the Soniclean and handheld combo here.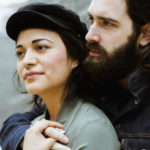 If you find our research on PMC helpful, you can follow our efforts to keep maniacally reviewing home cleaning tools by shopping through our links above. We promise to keep fighting the good fight against every horror children, animals, and grown, yet messy humans can inflict upon a clean home.