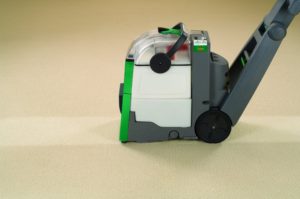 If there's anything a few decades of collective carpet cleaning experience has taught us, it's that choosing a good carpet cleaner is only half the battle; you also need the right carpet cleaning solution for your cleaner. Choose the wrong one, the manufacturers tell you, and not only will it fail to clean anything, you'll also set your carpet cleaner on fire while burning a hole in your carpet. Whether you own a berber, Saxony, frieze, or cut-and-loop carpet, it's going to benefit from good technique.
Fortunately, we've put in the time so you don't have to; here are our top 3 recommendations for carpet cleaning solutions to feed your carpet cleaner. We love the Bissell 78H6B, the Bubba Super Steamer, and the Hoover AH30035, and w'ere going to tell you why. Keep in mind that the degree of effectiveness of each will depend on a range of factors, including which cleaner you're using, what kind of carpet you're cleaning, what you're trying to clean out of said carpet, and the phase of the moon. A thorough carpet cleaning is still somewhat of an art, after all. If you'd like to learn more about carpeting, you'll want to review our thorough guides here, regardless of what you buy to clean yours.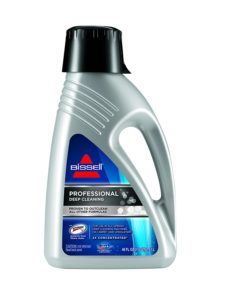 The Bissell is our favorite cleaning formula for most of the day-to-day jobs we do. Bissell states it's safe for use in full-sized machines, which means pretty much anything upright, from a Bissell (one would hope) to a Hoover, Dirt Devil, Rug Doctor, or any other device that looks like a stereotypical upright cleaner will work with the formula. In our experience, that has been largely correct, and we're happy to not have any records of early machine death that we could attribute to the cleaning formula.
The procedure for use is pretty standardized; vacuum the area, and add 1.25 capfuls (if you lose the cap, as we have in the past, that's 2.5 oz) to every gallon of hot water. If you've got a Bissell with a combination formula / smartmix tank, you instead add a cup of hot water to the tank and then fill to the fill line with formula. Because you get 48 oz per jug, that works out to 19 cleaning sessions if you use the cap / gallon mix.
Practically speaking, you can expect to cover a normal-sized living room's worth of carpet (say 20×40 feet) per cap / gallon mixture, although your results will, as noted earlier, vary considerably. We're particularly big fans of how well the formula does with animal stains and smells; a particularly happy client once told us that she'd never be able to tell she had 5 dogs if she simply looked at her carpets. We didn't inquire about how she'd managed to acquire that many dogs.
Our biggest suggestion for anyone considering the Bissell would be to buy the multi-packs; each jug lasts a while, but you're going to want to use them a lot when you see the job they do on your carpets.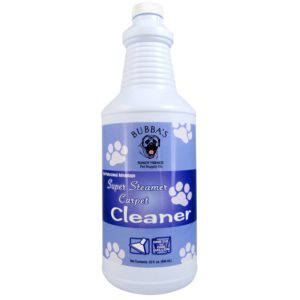 The wonderfully named Bubba cleaner is made specifically by a pet supply company, which bodes well when you apply it to pet products. They describe it as a good solution for fighting pee odors from dogs and cats, and we support their assertion. In our experience, it was certainly capable of erasing dog and cat urination assaults on things we held dear, such as our carpets, sofas, beds, loveseats…the list is long.
Like the Bissell, the Bubba is designed to be compatible with any major carpet cleaner, but it also is described as compatible with any "national brand" carpet shampooer, which effectively means anything you'll find on Amazon or in department stores. Their claims matched our experience. We also like how miserly the solution can be used at only 1 oz needed per gallon of water; our armchair math suggests 30 cleaning sessions, or 11 more than those from the Bissell. If there's anything negative we can say about it, it's that it didn't seem to remove as many food and drink stains from deep carpets as the Bissell, which did negate all of the mathematical advantage it initially had over the Bissell. We'd estimate you'll get around 15 uses per bottle if you use it the way we did.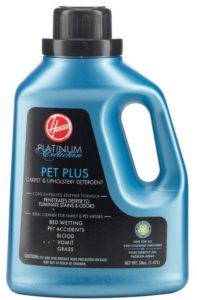 Finally, even if it's not our favorite of the three, we'd still recommend the Hoover cleaning fluid over many others on the market. You get the most liquid per jug, but in our experience, you also end up using the most to get equivalent results.
When we ran all three fluids through the same machine (a Bissell 86T3) and went over three different areas of the same carpet, we consistently felt we needed around 4 oz of cleaning fluid, yielding about 12 sessions per bottle.
Depending on your unique setup, of course, you might end up using much less–or much more. We generally recommend being sparing when using carpet cleaning solutions, and you'll of course want to keep in mind what you're cleaning to get the best results. Wool, for example, requires a more careful cleaning technique than most other carpet fibers.
Conclusions – which is the best carpet cleaning liquid?
For us, the Bissell was a clear winner, followed by the Bubba in second place and the Hoover in 3rd. However, it's important to remember that even in 3rd position, the Hoover made a lot of other fluids we've tried seem like those other jugs were filled with water. It's hard to go wrong with any of these.
You can buy the Bissell 78H6B on Amazon here, the Bubba Super Steamer here, and the Hoover AH30035 here. We recommend pairing whichever cleaner you use with the Bissell Big Green, which you can buy here.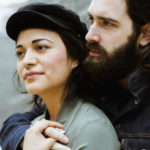 If you find our research on PMC helpful, you can follow our efforts to keep maniacally reviewing home cleaning tools by shopping through our links above. We promise to keep fighting the good fight against every horror children, animals, and grown, yet messy humans can inflict upon a clean home.