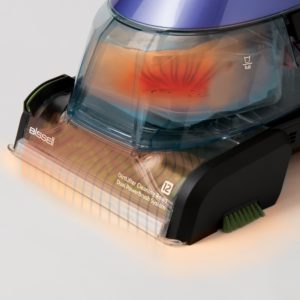 The Bissell DeepClean 36Z9 is one of the top three carpet cleaners you're likely to consider once you move beyond the basic models. With more than 400 reviews on Amazon, there aren't many other mid-end cleaners that can compete with it in either cleaning prowess or brand loyalty; the only other two relatively close its price range that come to mind are the Rug Doctor X3 and the Bissell 86T3. However, let's be honest; each of those costs about $100 more; can the 36Z9 truly hold a candle to them?
That's precisely what we set out to find out.
Compared to the Big Green (the Bissell 86T3)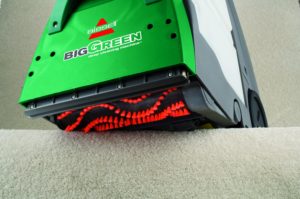 Compared to the Big Green, our team was surprisingly split in our evaluations. While there's no question that the bigger Bissell is the machine you'll want to turn to when you've got a whole house (or larger) job to tackle, the truth is that when you're only dealing with one or two rooms at a time, the extra weight and heft of the Big Green can be more of a liability than an advantage. One of our teammates felt like the Big Green was simply too big and bulky; it also took off the top layer of carpet on a job she was working on, which lowered her opinions significantly. The 36Z9, on the other hand, is a lot easier to maneuver and comes with all of the little accessories you're likely to need through the lifetime of the machine. That said, we do want to emphasize that if you're looking specifically to clean entire houses, you'll want to consider the bigger sibling.
Compared to the Rug Doctor X3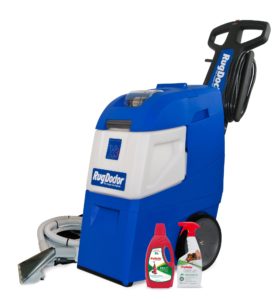 Compared to the Rug Doctor, we were again of varied opinion. Some of us on the team felt the Bissell was every bit as good as the Rug Doctor while costing much less. Some of us also felt it was easier to use (it took a bit of effort to pretend we'd never seen either machine before, but we managed) without needing the background of years professionally cleaning rugs. However, not everyone on staff was impressed; some of us felt we spent more time soaking up soapy water spread by the unsealed suction valves than time spent cleaning anything. This was difficult to replicate, and it might just have been a quirk of the particular model we were using at the time, but it left a rather, err, damp impression.
How does it stack up overall?
Overall, we agree that the 36Z9 is a strong contender in its price range and is one of the best all around machines you can buy to make amends for the sins of your furry friends. We like the 22 foot cord, the 1.25 gallons available in the tank, the ease with which it cleans up petty crimes (OK, that was a bad one), and the 3 year limited warranty it comes with. Things we didn't like included the somewhat weak suction at times that might have been due to the machine itself, or due to a less than effective design. We wouldn't hesitate to buy or rent one if we needed one in a pinch. It's not a commercial or industrial machine, but it doesn't have to be at this price range.
You can buy the Bissell Deepclean 36Z9 on Amazon here. At the risk of sounding like Tim the Tool Man, if you need more cleaning power, you can buy the Bissell 86T3/Q on Amazon here, while the Rug Doctor X3 is available here.
If you find our research on PMC helpful, you can support our efforts to keep maniacally testing carpet cleaners by bookmarking and shopping through this Amazon link. We promise to keep fighting the good fight against child and animal droppings everywhere.