If you've got a soft carpet (e.g., berber, plush, saxony, or anything made by Mohawk), you probably already know that you can't clean it with just any vacuum. There are only a few good vacuum cleaners on the market actually capable of pushing through soft carpet without damaging the carpet or damaging their warranties. On the expensive end, there's the Miele C3 Soft Carpet. But if you don't like canisters or don't fancy spending $800 on a vacuum, you're going to want the Soniclean Soft Carpet instead. Is there that much of a difference between them? And if you buy the Soft Carpet, what kinds of carpets can it handle and how do you set it up to do the best job possible? We'll tackle these questions and more below.
Which Sonicare Soft Carpet should you buy? The standalone or the handheld combo with extra tools?
Perhaps the most frequently asked question we come across is whether or not the additional tools and handheld combo are worth buying, or whether it's better to save a bit of money and buy the individual Sonicare instead. We recommend buying the combo set because if you're anything like us or most owners, while you'll primarily use the upright, you'll find yourself using the handheld vacuum for all kinds of odd tasks around the house and you'll be glad you picked it up. Most people who buy the individual vacuum, on the other hand, either end up buying the additional tools piece by piece, which inevitably costs more, or end up with some degree of buyer's remorse, which is even worse. It doesn't cost much over what you're already spending on the Sonicare to buy the combo the first time.
Can you use the Sonicare to clean deep pile shag rugs and other thick or plush carpets?
This is another frequent question, and we'll generally answer yes to it with some qualifiers. First of all, Sonicare actively discourages owners from using the Soft Carpet with shag carpets, recommending straight suction vacuums without brush rolls instead. This is understandably confusing, since when most people think of thick carpets, shag carpets are one of the first (and only) carpets that come to mind. Sonicare's reasoning is that any fibers with pile lengths beyond one inch can get caught in the Soft Carpet's brush roll.
However, practically speaking, most people aren't going to pay attention to this information and are going to assume that their "Soft Carpet"-labeled vacuum can clean…well…soft carpets. And practically speaking, the Sonicare does just fine with deep pile shag rugs and carpets. It also will clean Mohawk Smartstrand carpets and similar brands with very little effort. The main thing to do is to read the directions regarding opening the vents in the cleaning head. It'll also do a good job on premium soft carpets and low pile carpets, but as noted earlier, the reason most people buy it will be to tackle plush, thick carpets, including shags, and it will clean them with confidence and ease.
Which filters do you need for the upright and handheld vacuum, and when and how often do they need to be replaced?
Both the upright and handheld vacuum, presuming you buy the combo (which we recommend: see above) will need HEPA bags. The bad news is that they use different kinds of bags. The good news is that both are cheap and last a decent amount of time. The upright uses Soniclean Upright HEPA Filter Bags. Each package includes 8 bags, or approximately a year's supply; each bag is around 7.5 liters in capacity and will last for around 6-8 weeks, depending on how often you vacuum and what you're sucking up. The handheld uses aptly-named Soniclean handheld Vacuum HEPA Filter Bags; like those in the upright, you'll get 8 at once and they'll last about one year in total and around 6-8 weeks each.
Can you use the Sonicare Soft Carpet on hardwood floors and tile flooring?
Absolutely; even though the Soft Carpet is designed to work particularly well with carpeting, you can use it with hard flooring all day long. You'll want to set it on the low mode for floors; the high mode is for carpeting. The biggest adjustment will be learning to push it more slowly when you transition from carpeting to hard flooring, but this isn't that different from the adjustment you'd need to make with any vacuum.
How does the Sonicare Soft Carpet compare to the Miele C3 Soft Carpet?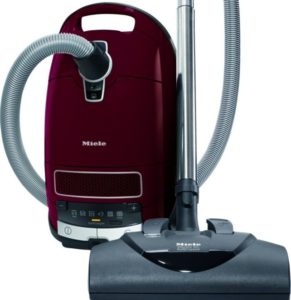 While we like the Sonicare Soft Carpet and consider it the best soft carpet vacuum under $300 in our review, if you're looking for the best overall soft carpet vacuum cleaner, it's not the Sonicare; it's the Miele Soft Carpet. It pains us to say so, as we're always on the lookout for a good deal, but if you want the best results, you've got pay for them.
While the Miele Soft Carpet isn't perfect (no vacuum is), compared to the Sonicare, it's stronger, quieter, more customizable, and simply does a more thorough job when it comes to cleaning all kinds of soft carpets. Sonicare explicitly discourages owners from using their vacuum with frieze carpets as well as with shag carpets, while Miele has no such restriction for the Soft Carpet; it will clean your shags, silk strands, tigress, caress, smart strands, and whatever else is on the market. As we've noted in our FAQ for the Miele, it's not a cheap vacuum, but it does certain things that pretty much no other vacuum will do when it comes to caring for rugs and carpets that cost more than many people spend on their cars. We call it a buy-it-for-life vacuum, because it's truly the kind of vacuum that can last for a lifetime while giving the same levels of cleaning power year after year.
You can buy the Soniclean Soft Carpet and handheld combo here on Amazon. If you just want the vacuum, you can buy the standalone Soniclean Soft Carpet here. If you're ready to buy your last vacuum, you can buy the Miele C3 Soft Carpet here. It's more expensive, but you'll never look back.
If you find our research on PMC helpful, you can support our efforts to keep maniacally researching home cleaning tools by bookmarking and shopping through this Amazon link. Canadians can use this link. We promise to keep fighting the good fight against every horror children, animals, and grown, yet messy humans can inflict upon a clean home.